Although the Oxley Road dispute seemed to have concluded last year itself, Prime Minister Lee Hsien Loong's younger siblings seem to indicate that the family feud may be far from over by continuing to prominently feature a painting depicting their family home – the cause of the dispute – on their social media pages.
Last July, the family feud spilled into the public domain when founding Prime Minister Lee Kuan Yew's younger children Dr Lee Wei Ling and Lee Hsien Yang accused their elder brother of abusing his power to preserve their family home against their father's willed desire to demolish the house.
They also accused the PM of convened a secret committee to make a decision on the house and claimed that state organs were being used against them.
PM Lee addressed the allegations against him in a Parliamentary debate where he declared that he has been cleared of all charges. He added that he does not intend to sue his siblings.
Lee Wei Ling and Lee Hsien Yang reinforced their allegations, following this, but offered a ceasefire on releasing further evidence in favor of settling the matter in private, on the condition that they nor their father's will be attacked or misrepresented.
But that was not all.
Lee Hsien Yang's eldest son, Li Shengwu earned the ire of the Attorney-General's Chambers (AGC) after posting a private "friends-only" Facebook post, criticising Singapore's government and judiciary.
Linking a Wall Street Journal article that offered a thorough analysis of the public Oxley Rd feud, Shengwu had said in his own words: "Keep in mind, of course that the Singapore government is very litigious and has a pliant court system. This constrains what the international media can usually report."
He then linked a New York Times article on censorship and the use of defamation laws by both Lee Kuan Yew and Lee Hsien Loong to censor the foreign press.
The AGC has commenced a lawsuit against Shengwu – a Harvard associate professor at the University next year – has asserted that he has no intention to disrupt his "happy" and "fulfilling" life in the US by returning to Singapore to face the legal proceedings initiated by the AGC.
Both Shengwu's father and aunt have publicly given their support to him. Dr Lee Wei Ling notably wondered whether government staff are used to monitor her family's private musings and suggested that this case could be an example of how Singapore may be governed by a "big brother" system:
"I am surprised that AGC takes such negative reaction to a private post. Is there a government servant whose duty is to follow the Facebook activity of all people related to Hsien Yang and I, including our private musings. Also, what Shengwu posted is a common topic amongst Singaporeans who are well informed. Is this not an example of " big Brother government". Perhaps it is a case of "if the hat fits, take it."
In October, Lee Hsien Yang – the youngest of the three Lee siblings – revealed that PM Lee had not made any effort to reach out to resolve matters in private. His comments followed PM Lee's own remarks that the family feud remains unresolved and that the trio have not communicated recently.
Describing the family feud as being in "abeyance," the head of government said, "I'm not sure if it's solved," before adding that he was still saddened by the dispute over the siblings' family home, but expressed hope that relations with his siblings will improve in future, when "emotions have subsided."
He added: "Perhaps one day, when emotions have subsided, some movement will be possible."
Taking issue with his brother's words, Lee Hsien Yang hit back: "Our brother says he is unsure that the feud is solved. Notwithstanding his public statements, Hsien Loong has made no attempt to reach out to us to resolve matters in private.
"Meanwhile, the Attorney General is busy prosecuting Hsien Loong's nephew for his private correspondence. The AGC's letters make repeated reference to the family feud."
Earlier this month, Lee Hsien Yang garnered immense attention when he met Dr Tan Cheng Bock – a former presidential candidate who has been asked to lead an opposition coalition against the ruling party – for breakfast.
While some speculated whether the meeting indicates whether relations between PM Lee and his siblings remain sour, the fact that the younger siblings still feature a painting of their family home on their social media walls may suggest that the feud may be unresolved.
Dr Lee Wei Ling changed her Facebook profile photo to this picture in September 2015, about a year and a half before the feud reared its head in the public domain, while Lee Hsien Yang changed his Facebook cover photo to the Oxley house picture in May 2017 – two months before the siblings publicly levelled allegations against PM Lee.
Both siblings continue to feature the picture on their Facebook walls almost a year and a half after they reached a ceasefire with their elder brother.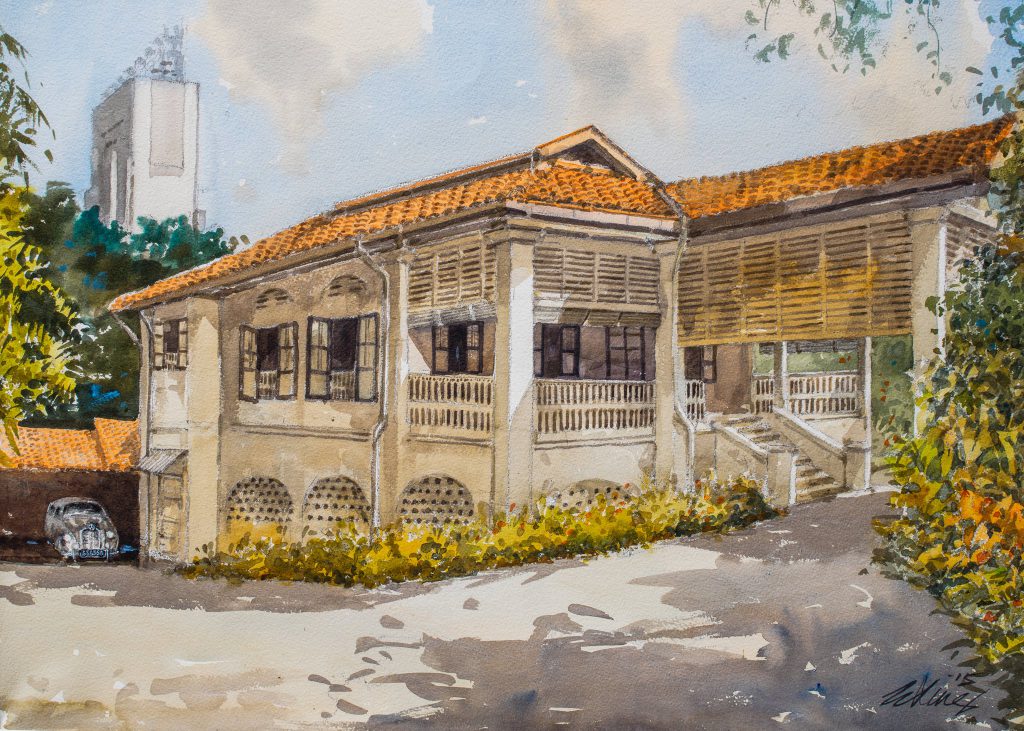 https://theindependent.sg.sg/dont-know-what-will-cause-lee-kuan-yew-more-grief-what-happened-to-our-family-or-the-state-of-singapore-institution-li-shengwu/Follow us on Social Media
Send in your scoops to news@theindependent.sg