Over 80 per cent of nearly 5000 people who participated in a recent poll conduccted by Yahoo Singapore have disagreed with Emeritus Senior Minister Goh Chok Tong's assessment that Prime Minister Lee Hsien Loong's wife Ho Ching would have made a good minister.
ESM Goh revealed his assessment of Ho Ching in his new authorised biography. When biographer Peh Shing Huei asked ESM Goh about whether he spoke "to Ho Ching at any point about joining politics," Goh responds that he did and that she would have made "a good minister, a different kind of minister."
He added that Ho Ching did not say no to him when he approached her to join the ruling party but that she said that she was not ready for politics then.
ESM Goh, however, did not approach Ho Ching again when she got married to current PM Lee Hsien Loong. He says that neither Ho Ching, her husband, nor Singapore would have wanted her to join politics after her marriage to his successor:
"I knew you would ask! I did approach Ho Ching and ask her if she would be interested in politics. It was quite early on. She was about 28, 29 or 30, before she married Hsien Loong.
"I spotted her in Mindef and thought that she had the intellect and attributes we were looking for. I knew she was a President's Scholar, but I didn't know her well – only superficially because she was in the science part of Mindef.
"Through briefings and so on, I could see that she had a lot of substance. She would have made a good minister, a different kind of minister.
"She did not say no. She said not at this stage. She was still young. After that, I was overtaken by events! She and Hsien Loong got married.
"As she was part of the Lee family, I never approached her again. I would not have asked her to be a politician. Hsien Loong would be against it. She would be against it. And Singapore would be against it."
83 per cent of respondents have since indicated to Yahoo that they disagree with ESM Goh's assessment and asserted that Ho Ching would not have made a good minister.
10 per cent out of the 4959 respondents said she may have made a good minister while 7 per cent agreed with ESM Goh's take and expressed confidence that Ho Ching would have done well in politics: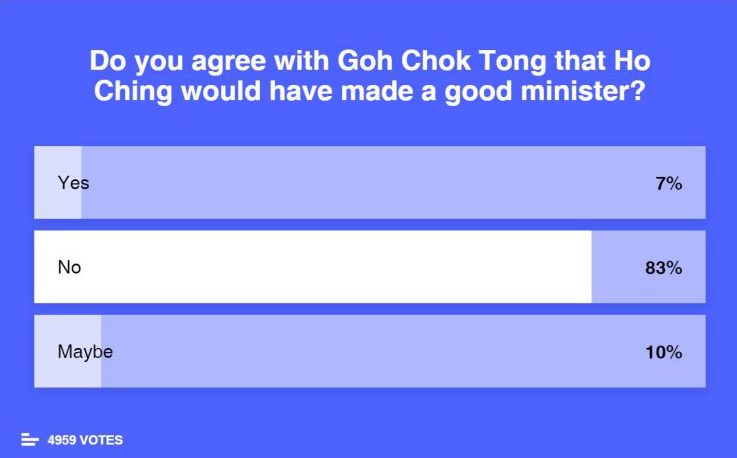 Ho Ching went on to lead Singapore sovereign wealth fund, Temasek, and still serves as CEO of the Government-linked entity.
This year, Ho Ching will complete 16 years at Temasek. She joined the organisation, then called Temasek Holdings, as a director in January 2002 before she was promoted to executive director just four months later, in May. Two years after she joined Temasek, Ho Ching became its Chief Executive Officer on 1 January 2004 – a role she has held for the past 14 years.
Interestingly, next year (2019) will not only mark a decade and a half since Ho Ching took the reins of Temasek, it will also mark a decade after leadership succession plans for a new CEO to replace Ho Ching fell through in a boardroom bust-up in 2009 – just three months before the new CEO was supposed to take over.
https://theindependent.sg.sg/esm-goh-reveals-he-approached-ho-ching-to-join-politics-but-lee-hsien-loong-and-singapore-would-be-against-it/
https://theindependent.sg.sg/ho-ching-remains-temasek-ceo-nearly-a-decade-after-failed-leadership-succession-plans/Follow us on Social Media
Send in your scoops to news@theindependent.sg