It's mission impossible for the time being, former student activist Tan Wah Piow said during a forum on Saturday in Johor, on the prospects of the Singapore opposition toppling the ruling party.
Mr Tan, a former student leader who has been in exile in the United Kingdom since the 1970s, said there were several factors why "doing a Malaysia" was improbable in Singapore.
One of these was the failure of activists and "those who want to have a more democratic space" to present a compelling alternative vision of Singapore to voters. The task is made harder because of how the ruling People's Action Party (PAP) has monopolised the narrative.
The PAP has sold the idea that they are the most competent in terms of performance, that they are able to deliver, he said, agreeing with fellow panellist, Singaporean historian Thum Ping-tjin.
Dr Thum had argued that the PAP would not be brought down by any values-driven failings but by incompetence in governing the country.
But at the moment, Singaporeans believe the PAP is competent.
"This is not just the rhetoric of the PAP," Mr Tan explained. "This is what is manifestly true to many voters, even for those who are the poorest, and even for those who are critical (of the PAP). And that is the problem faced by those seeking the alternative way."
"[To Singaporeans] the question is why do we have to do a Malaysia?" he said. "As far as they are concerned, everything works [in Singapore]. Everything not just seems to work, everything works."
He observed that the kinds of issues which rankle Singaporeans and which make them critical of the government are those like ministerial salaries and the value of HDB flats.
But, Mr Tan said, such problems can be easily resolved by the PAP government.
"It will not be difficult for the PAP to search for a solution and miraculously… by the time of the next election a solution will be found, expensive it might be," he said.
"If we argue just within that limited parameters of current issues, then there probably is very little chance of Singapore being able to do a Malaysia," he added.
Instead, the opposition has to have a wider vision "to provide an alternative way of looking at how Singapore society ought to be."
These include fundamentals, such as the rule of law and the economy, and will involve both non-governmental organisations (NGOs) and the political opposition having a unity of purpose, working together.
This, he argued, was what effected the change in Malaysia.
Mr Tan said "doing a Malaysia", to him, would require not just wanting a change of government, or getting a ex-prime minister to head a campaign.
"Malaysia achieved what they did not because of Dr Mahathir," he said, referring to the Malaysian Prime Minister who led an opposition coalition to victory in May's general election. "[The movement for change] started many years ago with the Reformasi movement and then Bersih."
Bersih was a nation-wide movement involving civil society groups and opposition parties which campaigned for reform over the course of more than 10 years.
"Malaysia would not be here today if their politicians were not able to collaborate with the NGOs," said Mr Tan.
In Singapore, however, it was a very different scenario.
"We have very few NGOs, and the NGOs do not want to deal with political issues other than the very narrow remit of their work," he said of the situation in Singapore.
Even Singapore's opposition parties will shy away from attending forums or meetings like the one he was speaking at, he added.
"Here we have a government MP willing to share a platform with [an activist]," Mr Tan said. He was referring to fellow panellists, YB Hassan Karim, and Hishamuddin Rais.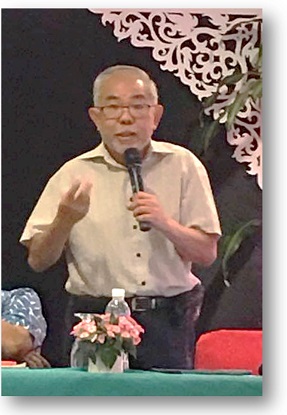 "This is where in Malaysia they have a unity of purpose," Mr Tan said. "Not just among the NGOs but with the opposition parties as well. And this for me is one important ingredient which is lacking in Singapore."
Nonetheless, one of the most critical things he hopes activists and opposition parties will address is the control of the grassroot organisations by the PAP, through the People's Association (PA).
"The PAP is funded by over $1.3b of your money through the PA, which has been hijacked by Lee Kuan Yew since the day he came to power," Mr Tan said. "And it is structured in the constitution in such a way that anyone who is involved in the grassroots organisations have to be by default a pro-government person."
Mr Tan explained how when he was a student activist, he had encouraged supporters to join the trade unions, instead of shying away from them. It is only in being part of the union that change could be wrought from within, he said.
This, he said, was the reason why the authorities sought to arrest him, which eventually led to his exile in the United Kingdom to this day.
"I believe that if one were to start a battle for the control of the People's Association, then that is the time when the PAP will start to crumble because they are unable to defend the impossible," he said.
Given the situation presently in Singapore, however, Mr Tan said he is doubtful that Singapore can "do a Malaysia", and dislodge the PAP from power – at least not in the foreseeable future.
"The question of whether Singapore can do a Malaysia, my answer is: Yes, we can but it is still mission impossible for the time being," he said.
——————————–
Is Tharman the man for change?
Mr Tan also made mention of Deputy Prime Minister Tharman Shanmugaratnam in his speech. The two men are not strangers, as they had spent time together in London in the 1970s.
Mr Tharman's "imagination as a youth was stirred by the trial of… Tan Wah Piow", according to the book, "Singapore: The Unexpected Nation" by Edwin Lee.
The two men had met at the London School of Economics in the UK and later formed a study group "to discuss Singapore issues and alternative economic models."
On Saturday, Mr Tan suggested that Mr Tharman could leave his footprints in history if he "[contributed] more by getting rid of the politics of elected dictatorship" which Mr Tan believes Singapore is being ruled by.
Mr Tan said he believed Tharman is sincere, but asked if the latter could envision a different Singapore.
"I think if he wants, he can get a lot of support and he can make history," Mr Tan said. "And that is where I feel there is a potential for him to leave that footprint and it will be a valuable contribution to Singapore.
He said the idea of separation of powers and getting rid of an "electoral dictatorship" is something that Mr Tharman "ought to philosophically accept as good for Singapore."
"To me, Tharman has to decide whether he is part of the solution for the renewal of Singapore to become a genuine democracy; or remain as part of the problem by defending an archaic elected dictatorship whose survival depends partly on its exclusive monopoly of the taxpayer-funded People's Association," Mr Tan said.
"Intellectually, I cannot see how Tharman can justify that monopoly of continuing control of the public space by the PAP once the public starts the battle for return of the People's Association to people's control," he added.Follow us on Social Media
Send in your scoops to news@theindependent.sg