Senior Minister Of State for Defence Heng Chee How said on Tuesday that his ministry will reject Ben Davis' appeal for National Service deferment if no new facts are presented in the appeal.
"We have conveyed the decision with regards to the earlier application, and all applications, all appeals will have got to be based on facts and we'll have to evaluate the facts, and if the facts are no different then our position will be consistent," he said.
"For a country like Singapore, we want to value every Singaporean and we want to develop our talent of course," Mr Heng explained, "but at the same time, we must also remember that the purpose for all this development is that we have a country and that all of us actually have a duty to one another and this country.
"So we have got to make a good balance between our duty to this country and our very genuine urge to enable everybody to reach their highest potential."
Mr Heng's comments are the latest from the authorities on the 17-year old footballer's predicament, following the Ministry of Defence's (Mindef) rejecting of Ben's original request to allow him to fulfill his 2-year contractual obligations with English Premiership side Fulham Football Club.
Mindef had described Ben's football career as a "personal pursuit" which did not qualify for NS disruption.
"Davis' signing of a senior contract with Fulham FC is a personal pursuit, no different from the personal pursuits by other pre-enlistees like university studies or working in other professional fields," Mindef said in a note to commanders on Tuesday.
"We know that football is popular among Singaporeans and the EPL has a keen following here. However, granting deferment to Davis would be unfair to other pre-enlistees who put their personal pursuits on hold to serve NS dutifully."
On Monday, 16 July, former ambassador-at-large, Bilahari Kausikan, weighed in on the controversy and agreed with the government that Ben's case was not so unusual as to warrant special consideration.
Mr Bilahari also compared Ben to tertiary students who also are required to do National Service.
"[This] is an opportunity for the boy, but it is a professional or work opportunity, no different in principle from say, an opportunity to study or work overseas which many other male Singaporeans have had to defer to serve NS before taking up."
The former diplomat asked: "If he is allowed to defer NS, what grounds can others in the same non-football situation, be denied deferment?"
Former Non-constituency Member of Parliament (NCMP), Yee Jenn Jong, however, disagreed with the position of both Mr Bilahari and Mindef.
Explaining this on his Facebook page, Mr Yee – who is involved in the education sector – highlighted how those given overseas scholarships by the Public Service Commission (PSC) were given NS deferments.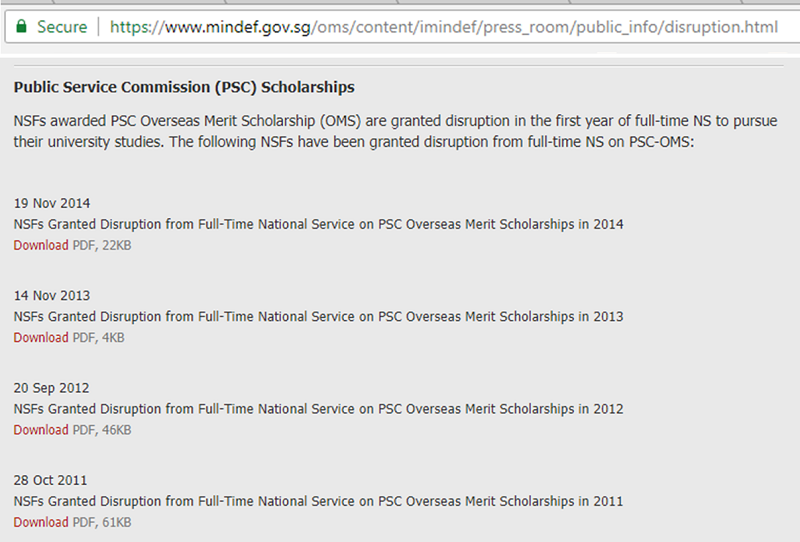 On the Mindef website, the ministry says: "NSFs awarded PSC Overseas Merit Scholarship (OMS) are granted disruption in the first year of full-time NS to pursue their university studies."
It also provided a list of past awardees of the scholarships who were granted NS deferments. Successful applicants can apply for extension of their deferments to continue their studies. 
In 2006, then Defence Minister Ng Eng Hen explained in Parliament:
"As for disruption for scholarship holders, only PSC scholars have been given special consideration for disruption after serving 6 to 10 months of NS to do their university studies, before returning to complete the remainder of their full-time NS.  Now annually, only about 30 are granted such early disruptions. This is not extended to other scholarship holders as early disruption has significant impact and needs to be minimised.  Such special consideration is only given to PSC scholarship holders as it is an important conduit for bringing key talent into the Public Service."
These deferments for scholars nonetheless seem to contradict Mindef's most recent statement on Ben – that he does not merit deferment because his situation "is no different from the personal pursuits by other pre-enlistees like university studies [sic]."
Mr Yee asked:
"So if I follow Mr Kausikan's argument, why have we been giving deferment to PSC overseas scholars for the longest time already? Are the deferments better for these scholars for their professional development or better for Singapore? Can these scholars finish their NS and then pursue their studies? Would it lessen their contribution to Singapore? Perhaps after serving NS, they could be more matured and can even do better in their studies and still return to serve their bond even better. Is it so time sensitive to defer their NS obligations so as to allow their academic pursuit?"
The NCMP then went on to explain why it is different for sportsmen.
"In football and most other sports however, especially at the highest level, most athletes have to make or break in their late teens," he said.
Mr Yee said that he does not begrudge the deferment of these scholars but asked why the authorities couldn't be more lenient when it comes to sports at a high level.
"Sometimes, officials apply high standards and arguments to justify certain decisions but forget that they are sometimes too complacent when it comes to selected groups," he said.
The NCMP compared the number of deferments given out for academic pursuits with the numbers for sports.
As disclosed by Mindef, only 3 such deferments have been given to sportsmen.
For scholars, Mr Yee said about a dozen or more are given deferments to pursue their studies overseas.
He asks what this says about the government's position that there are many paths to success.
"Books matter more than sporting or other achievements," the Workers' Party NCMP said. "Books can get you deferred from NS if you win prestigious scholarships. But hey, if the government truly believes there are many pathways to success and there are different strokes for different people, then consider this. … there are more than a dozen scholars that qualify for deferment from NS each year but so far, how many teenagers had qualified to play in a top league in the world in sports?"Follow us on Social Media
Send in your scoops to news@theindependent.sg