Yesterday, an NSman who served active NSF time training in New Zealand alleged that everyone at the Singapore Armed Forces (SAF) "is pressured to break safety procedures for the sake of meeting expectations."
The soldier, Shane Sim's views were published hours after the Ministry of Defence (MINDEF) announced the death of Corporal First Class (National Service) [CFC (NS)] Pang Wei Chong, Aloysius.
Pang – an armament technician – had been undergoing his reservist training in New Zealand. He had been carrying out repair works inside a self-propelled howitzer with his team last Saturday when the gun barrel was lowered, crushing him. Pang suffered serious injuries and passed away, despite the best efforts of medical professionals.
Referring to Pang's untimely passing, Shane Sim wrote on Facebook: "At this rate my wall will be filled with soldiers that passed away unfortunately. I was deployed to NZ myself, I was from the artillery unit too."
Sim, who serves in the artillery unit, alleged that everyone in the SAF is briefed about the importance of safety "but intrinsically they instilled fear for failing to meet expectations or positive reinforcement if you meet expectations. Everybody is pressured to break safety procedures for the sake of meeting expectations."
Pointing out that soldiers are expected to unload weapons within minutes despite the focus on proper checks and safety, Sim alleged:
"They told us to do things proper, do the safety checks and what not. But on the other hand they expects us to unload a truckload of bombs and deployment equipments within 12 to 15 mins which also includes deployment ground setup. Many of us succumbs to stress and peer pressure and crossed safety boundaries to achieve this."
Asserting that the confinement and "informal derogatory punishments" that soldiers who fail to do their tasks in the set time limits turn activities into a "sad battle between safety and psychological torture," Sim asked: "The system would probably change for the better, but in the due process, how many more injuries and deaths are we going to witness?"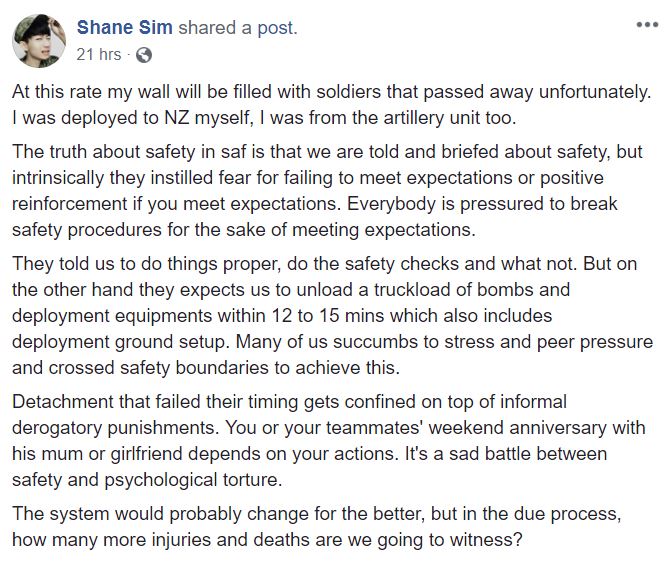 While some thanked Sim for his sharing, others responding to his post felt that it is important for soldiers to be operationally ready and to be prepared to work quickly, especially when they are facing an enemy: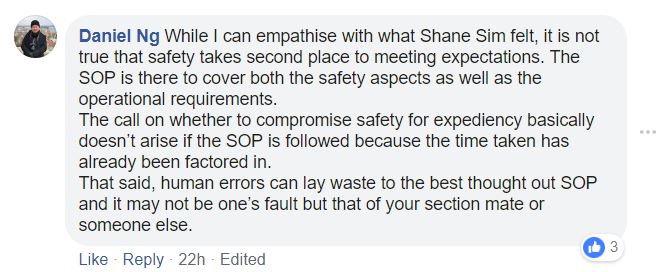 Sim edited his post to clarify that he made this post as Pang's death has greatly disturbed him. He added that his post is a "factual recount of what my batch mates and I had gone through. I do make extra care not to mention any individuals or provide falsified info. I'm aware that this incident involves an arty tech whilst i'm an arty gunner."
Sim added: "I understand the military requirement to be operational ready. But what I'm trying highlight here is that many of us can relate to what I've mentioned.
"We are required to go through mandatory military training, during your service, you are required to make many decisions. You don't always have the luxury of questioning your logic while making decisions.
"You are prepared to be military ready under one mould to tries to fit all, but are you psychologically prepared to make sound decisions under such situations?"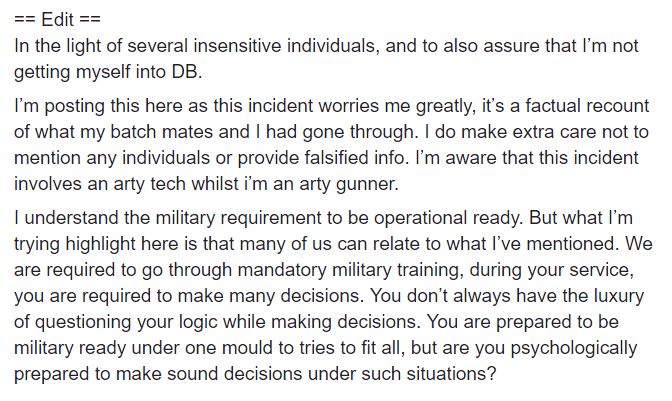 https://www.facebook.com/simplysxn/posts/10156462921179915?__xts__%5B0%5D=68.ARAn4yxzo0LEzHe5K6l0XH-lc-xTVfv1gxAZCF1jdAGuVd3UUTLxNgVG9EVEFVnBjHr5rGKzwQoovH35JgsHzpEOkfko78Kxi06X6_hqtr9pkCxGoyBQ1C7TXFdRCACSnPeHMXvre2pCnlRRYc9r8SU_F0OfbEVXm-mSY7W3Kq2tP5ai002ixFRXx71yPtvSgIYOi3-zRMCW5bu9Aqkh3c_GPv7NIyTpr3EYmKhapBH8wQ5PMugu-VnlrQyWAOGPGBJ3lj4a0IciK3AmyJ-5-Tm-u_5y1jYKxaW6Thx-vTIkBpy72Q9T3kLX8_2PZhBVjG7uqZY_WKXiSzLH&__tn__=-RFollow us on Social Media
Send in your scoops to news@theindependent.sg 
No tags for this post.