Even as the hashtag #NotMyPresident abounded on social media yesterday as President Halimah Yacob attended her first National Day Parade as head of state, some netizens have noticed and criticised the former ruling party politician for being shown who to greet at the parade.
A video showing the President inspecting the Guard of Honour, as is custom in past NDPs, curiously shows the President being directed to servicemen she should speak to. The President can be seen being directed to speak to four servicemen who appear pre-selected, before being shown where to stand and where to face:
https://www.facebook.com/ChannelNewsAsia/videos/10155788931972934/
Netizens responding to the video have pointed out that this practice of the President being shown who to greet appears new, since past Presidents seem to have been given the freedom to inspect the Guard of Honour as they please: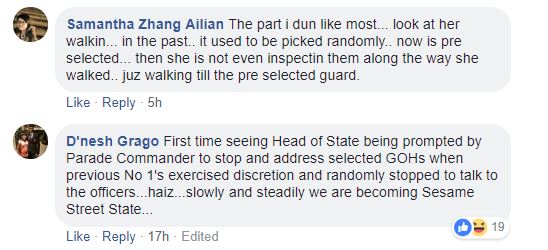 Meanwhile, others have pointed out how fierce one security personnel attached to the President was after live telecast of the NDP on Mediacorp's Okto channel shows the officer repeatedly pushing a cameraman away as the President makes her way forward:
https://www.facebook.com/lukas.godfrey/posts/10216942397656868
Follow us on Social Media
Send in your scoops to news@theindependent.sg 
No tags for this post.