A Financial Times journalist has been criticised online after she wrote that the "impeccable planning and a reverence for rules" in Singapore "leave little room for spontaneity or mental elasticity" and shared an example of being refused three scoops of ice cream at a local shop to illustrate this point, in a recent article.
In an article entitled, "Exploring Singapore — city of 'Crazy Rich Asians'" published in the House & Home section of the website last Friday, journalist Stefania Palma shared her reflections on Singapore, where she has stayed for the past five months after moving here from London.
The majority of the article involves Palma fondly describing local foods, the country's year-long tropical weather and her favourite spots to visit, before she notes: "But I occasionally find myself at odds with the inflexibility of this city."
Palma goes on to comment on the success of the nation, which she attributes to "rigorous, forward-thinking planning policies and a dose of paranoia," before recalling an incident at an ice cream stand as an example where Singapore's "impeccable planning and a reverence for rules leave little room for spontaneity or mental elasticity."
According to Palma, an employee at a local gelato stand refused to give her three scoops of gelato even though she offered to pay extra, since the shop has a policy of only selling one scoop or two scoops of the Italian dessert. Palma writes: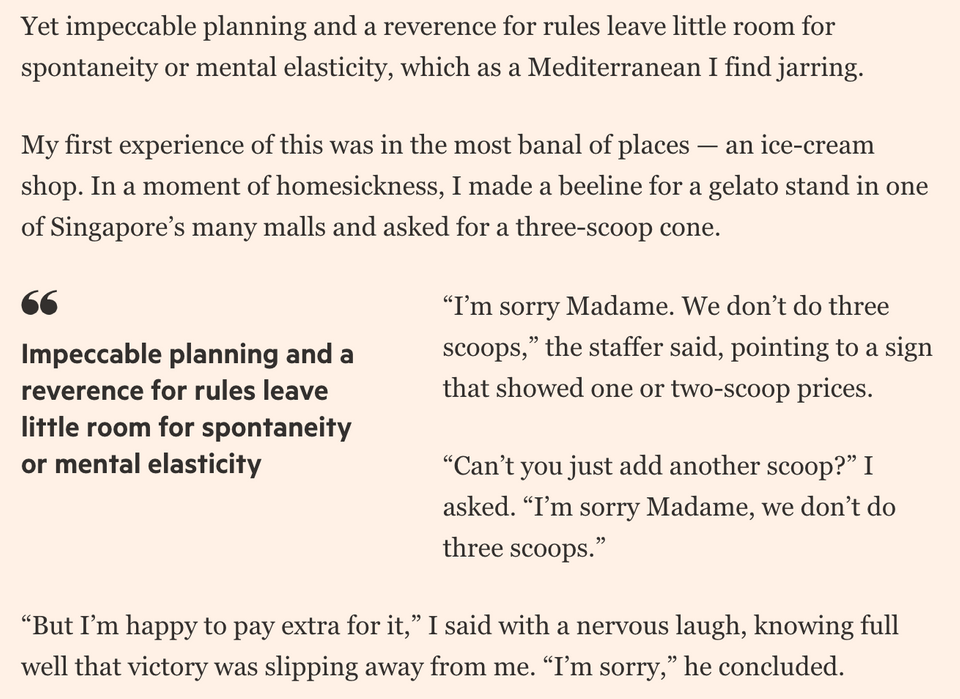 Netizens responding to Palma's experience at the ice cream stand defended that the employee was only following the rules and indicated that this was not such a bad thing:



Others online also accused Palma of oversimplifying the issue and seemingly using one experience and extrapolating to the rest of the nation: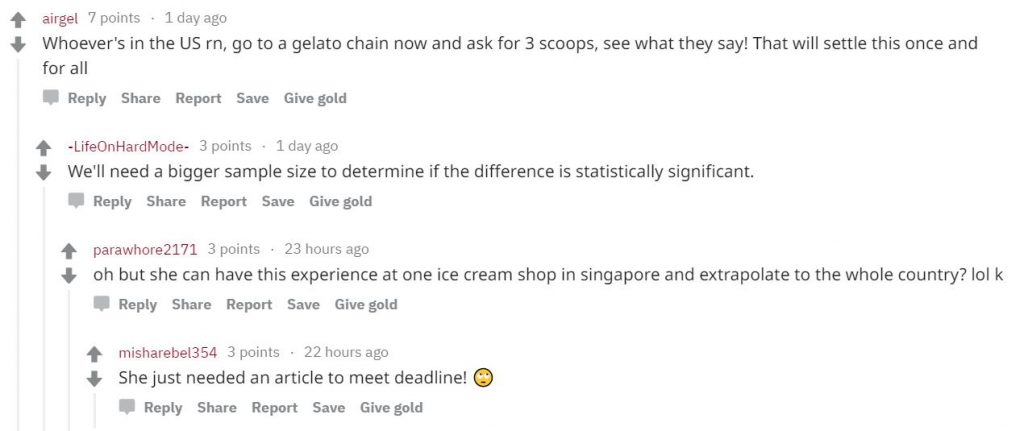 Meanwhile, Palma went on to comment on the political atmosphere of Singapore and noted that "spontaneity is perhaps bound to remain curtailed" in this nation that has been led by the same ruling party since independence.
Pointing out that many still do not feel comfortable openly discussing politics, Palma revealed that talkative cabbies stop speaking and ask not to be quoted when they find out she is a reporter.
Palma added, "I do not think Singapore will be breaking rules any time soon, especially with an election looming that is already unsettling locals." Calling Singapore politics thus far "predictable," Palma went on to note that the search for Prime Minister Lee Hsien Loong's successor was "fraught".
Read her reflections in full at The Financial Times: https://www.ft.com/content/c1508424-ede5-11e8-89c8-d36339d835c0Follow us on Social Media
Send in your scoops to news@theindependent.sg