The vast majority of netizens have sided with the CERTIS CISCO officers, after a group of cyclists accused a few auxiliary officers of bullying and endangering them by driving recklessly.
One of the cyclists involved in the altercation, Facebook user Joseph Lee, shared that the incident occurred around 10.30pm last night, along Yishun Ave 1 towards Yishun dam. Lee claimed on social media:
"We were riding two abreast on a three lane road when we heard the siren from the Aux police car. We continued riding as usual as it was perfectly legal to ride 2 abreast.

"The car then drove dangerously close to the cyclists, in the left most lane while continuing to sound the siren, forcing us to the side of the road.

"When confronted, it was evident that the driver was clueless about the traffic rules and had insisted that he forced us to the side of the road for our own safety! It was so dangerous!"
Sharing a video from the incident and an uncensored picture of the CERTIS CISCO officer's ID, Lee said that he "never expected to be bullied while out cycling on the road after so many years….bullied by Aux Police who was clueless about the law and driving recklessly, endangering the life of cyclists."
Lee argued: "We should know the law and our rights and not be allowed to be bullied on the road. Cyclists are legitimate road users and we have every right to be on the road, abiding by the rules and riding safely."
Netizens, however, seem to be firmly planted on the side of the CERTIS CISCO officers even though it is unclear why auxiliary police intervened instead of the traffic police.
The vast majority of the most-liked comments in Lee's Facebook thread excoriated the cyclists and praised the officers for trying to uphold the law: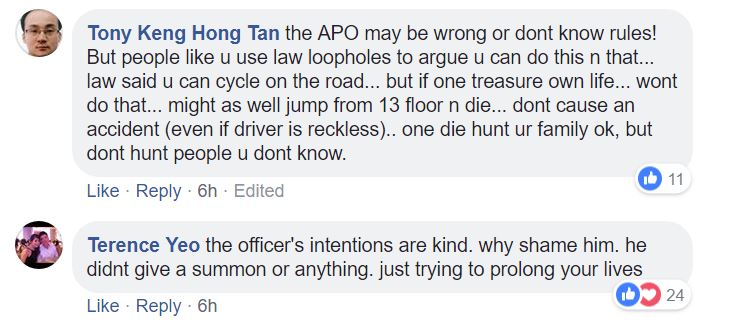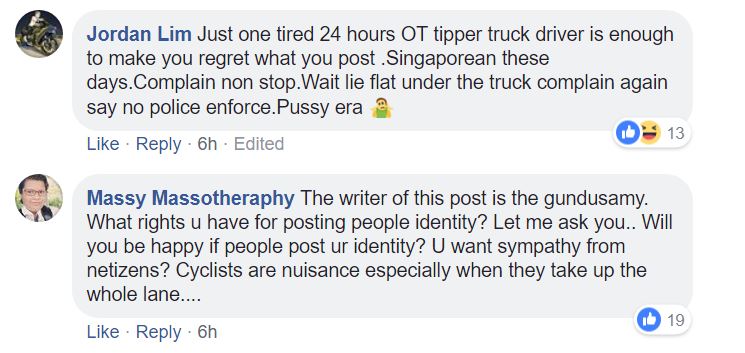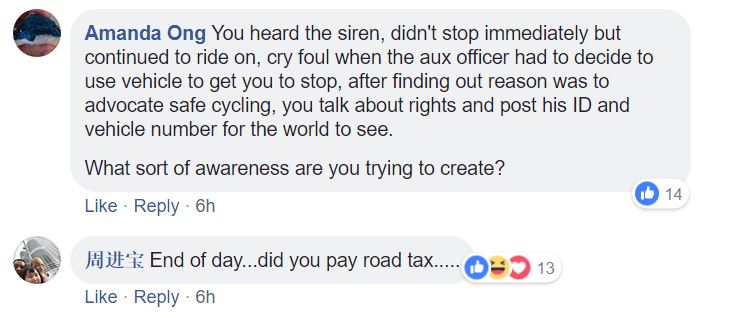 Follow us on Social Media
Send in your scoops to news@theindependent.sg