Hundreds of netizens blasted the Media Literacy Council after the Government-linked group published a post on signs one's child is a cyberbully, on social media last week.
In the post, the Council paints children who hide their computer screen from adults, children who laugh excessively at computer screens and children who get upset when their gadgets get taken away as potential cyberbullies and warns parents to watch out for these "signs".
You may have noticed that your child acting a bit different lately, especially when it comes to their online habits. Have a hunch that something is wrong? Here are some signs to consider.

Posted by Media Literacy Council on Thursday, 25 October 2018
Netizens promptly flamed the Media Literacy Council for the ill-informed post, pointing out that many children and adults who are not cyberbullies exhibit the behaviours the agency listed as "signs of cyberbullies," as a normal part of their lives.
Pointing out that it is common for growing children to hide their computer screens from adults, netizens also highlighted that it is normal to laugh when one is online because the Internet is chock full of stories and footage that many find hilarious.
Some students also noted that children who become upset when their computers are taken away could behave so because they are rushing to meet a deadline.
Many slammed the Council for perpetuation misinformation or "fake news" – this is especially interesting since the regularly preaches about the importance of being a "responsible digital citizen" and since the agency was set up partly to combat "disinformation" online.
The Council, which is part of the Government's Info-communications Media Development Authority (IMDA), even has a page on their 'Better Internet' website dedicated to fake news, offering examples of fake news and tips on how netizens can spot fake news.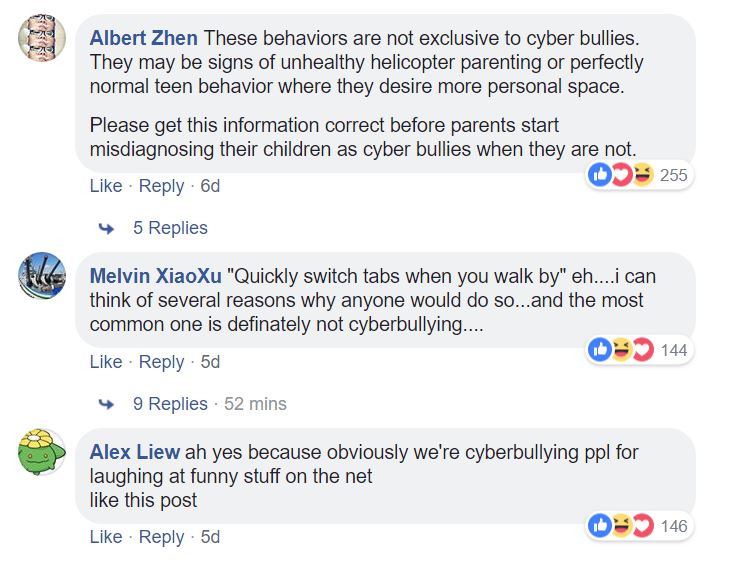 Responding to widespread backlash, the Media Literacy Council issued a follow-up statement on the misleading post on young cyberbullies. Instead of apologising, the agency preached that the episode teaches a few lessons about how netizens' comments can be screenshot and shared elsewhere.
In the emoji-filled response, the Council said: "This is why we encourage everyone be kind to one another, because posts and comments can have unexpected and long-lasting effects," before adding, "We'll take one for the team so feel free to have a laugh on us, but remember the important lessons here!"
Netizens were quick to call the agency out for trying to laugh off the issue and reiterated how serious it was that an agency called the Media Literacy Council can easily spread what some have categorised "blatant misinformation":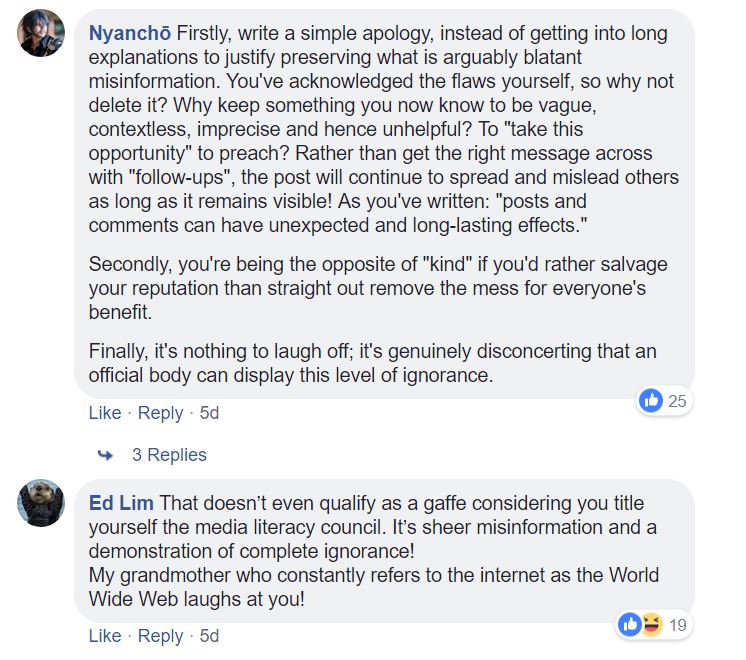 Follow us on Social Media
Send in your scoops to news@theindependent.sg