Facebook announced on Thursday, September 6, that it will be building its first data center in Asia, investing over S$1.4 billion for the construction of the building, which will be located at Tanjong Kling. The eleven-story building will offer "hundreds of jobs," according to Facebook's press release. Netizens, however, are concerned that most of those jobs will go to foreigners instead of locals.
The vice president for Infrastructure Data Centers at Facebook, Thomas Furlong,  says that the new center will require thousands of workers for construction, and the facility itself will employ hundreds of people for a wide array of positions varying from logistics to network maintenance.
Facebook highlighted that the data centre will be "hyper-efficient" in how land, energy and water are utilized. The social media giant is using a liquid cooling technology ignorer to minimize the consumption of power and water. This new technology has the potential of reducing the amount of groundwater needed by 20 percent.
Additionally, the facade of the center will be made of a perforated material that is lightweight, allowing for better flow of air. And since the building is being constructed upward and not outward, this will conserve more land.
Fortis Construction will be Facebook's general contractor for the date center, since they have much experience in building data centers that are efficient.
Operations are expected to begin in 2022, with plans for expansion after  that.
Facebook's new data center launch was attended by Chan Chun Sing, the country's Trade and Industry Minister, who remarked that the social media company's decision to build its first data center in Asia is a  "significant milestone" for Singapore. Mr. Chan also said that Facebook's presence in Singapore shows Facebook's growing connection to the world, and that locating the data center here will cause talent, creativity and ideas to flow into the country, as well as serve to strengthen Singapore's role in the storage, protection, security and analytics of data.
Netizens were quick to comment, voicing their concerns that jobs that would be available at the data center would go to foreigners instead of to Singaporeans.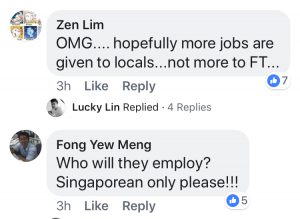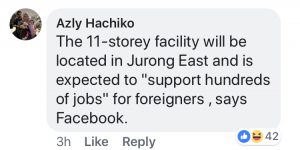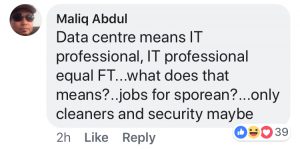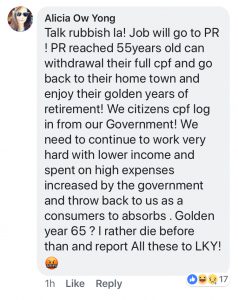 Specifically, they surmised that these jobs might end up with Indians or Filipinos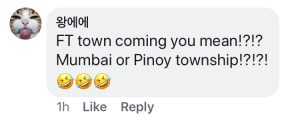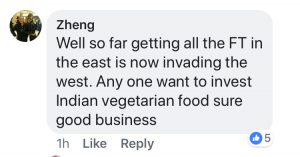 However, there were also others who expressed their thanks to the social media giant as well

And another netizen joked that Facebook co-founder Eduardo Saverin, with whom Mark Zuckerberg, the site's big boss, had a falling out years ago and who now lives in Singapore

Follow us on Social Media
Send in your scoops to news@theindependent.sg