Students from Deyi Secondary School in Ang Mo Kio took matters into their own hands over an alleged case of injustice. They alerted media company mothership.sg via email on November 1 concerning what they felt was an unjust firing by the principal of a drink stall owner at the school.
Netizens have expressed their support and praise for the students who stood up for the owner, a Madam Yap, who seems to be well-beloved by the students. She was reportedly fired without warning, ostensibly over the use of disposable cups for takeaway drinks.
The email says that Yap is a widow of limited resources. When asked by the students, Yap said she was "fired without proper warning" for giving some students disposable cups for taking home some drinks, an action that is against the school's eco-friendly policies. The students returned to their classes with the cups and were seen by the school principal, Madam Lim Ai Poo, who reportedly used the incident to dismiss the stall owner.
The student who emailed mothership wrote, " This issue and mistreatment of our beloved drink stall aunty has made many Deyians furious and this is most definitely the most popular topic in my school.
Therefore, on behalf of my school, I would sincerely hope that you would help us spread awareness of this issue."
When asked about the matter by the media outfit, De Yi Secondary's principal answered via a statement. She said that the contract of Yap was not renewed for the coming year because she failed to maintain the correct hygiene practices, even while given notices to do so several times within the year. She had also allegedly failed to offer healthier food and beverage options for the students, even after the school had requested this. The statement further said that the issue was never about disposable cups since Yap had been using reusable ones since last year.
The school's statement is as follows:
"This is an unfortunate episode.
The school's canteen committee regularly briefs all stall owners on the importance of providing healthier food and maintaining strict stall hygiene, for the sake of the students' health and wellbeing. The school conducts periodic reviews to ensure that our stall holders abide by this.
The school informed Mdm Yap in February and May this year that she did not maintain proper hygiene practices for her stall (e.g. cardboard boxes stored behind her stall frequently attracted pests). Despite this, her stall hygiene did not improve, which led to a further reminder in August 2018.
The school also made several requests to Mdm Yap throughout the year to include the sale of cut fruits, fresh fruit juice, and other healthier food items to encourage healthier eating habits among students. However, Mdm Yap continued selling only canned and packet drinks.
As a result of these incidents, the school had to make the difficult decision not to renew Mdm Yap's contract for 2019. The use of disposable cups was never an issue, since Mdm Yap had already switched to reusable cups in 2017."
Mothership wrote an article about the matter, to which the granddaughter of Madam Yap responded, grateful to have been given an opportunity to air their side. As for the principal's statement, I'd like to first mention that my grandmother was only given 1 warning letter throughout her whole career. It was definitely a shock, as it was about her hygiene practices.
"NEA has issued her an A grade for hygiene consistently year after year, I'm sure that speaks for itself, and moreover, I live with her and I can vouch that she's a very clean person, almost to the extent of a clean freak honestly.
As for the cardboard boxes, right after my grandmother was informed to stop using it, she went to Toyogo and purchased over $600 worth of plastic containers to store the drinks in, so as to comply. The plastic containers are now all stacked up at home now, she had already complied and changed and spent so much money, and yet was fired.
All of her drinks sold have the healthier choice symbol and she sells fruits as well, so I don't understand what she is saying about selling unhealthy drinks?
What bugs me most is that we only get a statement here, and not directly to my heartbroken grandmother."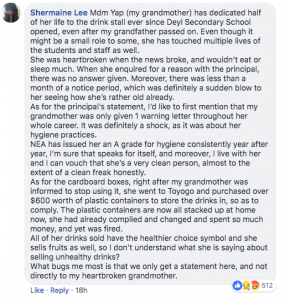 Netizens applauded the students for standing up for Madam Yap.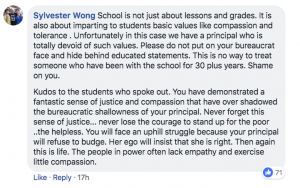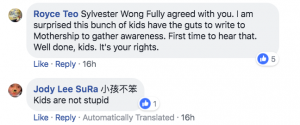 One netizen even gave them advice as to how to proceed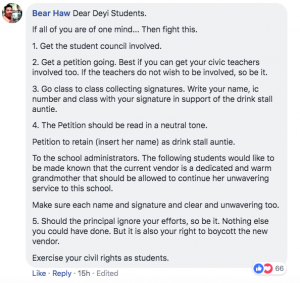 A number of commenters replied to Madam Yap's granddaughter

One woman even contacted the Minister of Education, Ong Ye Kung, on her behalf

Read also: Ong Ye Kung tells NIE teachers to be a role model and walk the talk as $365/year parking permit for MPs continues to rile localsFollow us on Social Media
Send in your scoops to news@theindependent.sg 
No tags for this post.