Taufiq Mohamad took a video of burning incense papers in the common corridor outside his HDB flat and posted it on his Facebook page, asking advice fellow netizens what he should do.
He explained that he had no desire to be racist, but he was concerned about the health of his baby girl at home.
The video showed a trashcan beside his neighbour's door, with something burning inside it and smoke emitting from it. In the photo that Mr. Mohamad posted, a neighbour is seen poking at the fire with a stick.
https://www.facebook.com/TaufiqTohpit.net/posts/746373355754281?__xts__[0]=68.ARDQZJLCwgqpSe_flyirwY9tBsMC9Loi-WyxWCTfxHBSqyubTYn0mx1WPpp4bZaSp6z85ettMcOTgk3Js1UAQORTkivqtcOcJd06S4NaQwNh6vmYrborqpp6-9TZjnyBuNDO4DoFUD7A&__tn__=-R
By and large, commenters told Mr. Mohamad to report the neighbor to the town council, or the police. He said that the police did arrive later on, and said the burning was "too much."



Netizens also offered other helpful advice.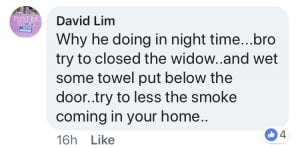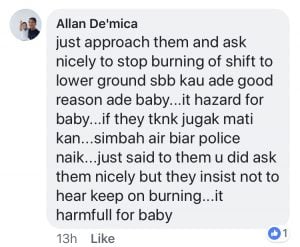 Rules in HDB housing says that offerings and joss papers must only be burned in designated bins placed outside the buildings. Incense paper is burned as part of Taoist practices during the festival of the Hungry Ghost.
However, should several bins be lit in front of people's homes, the National Environment Agency (NEA) would take note of this. In an advisory, the NEA wrote, "Devotees who wish to burn incense as part of their religious observance should do so with consideration for others. For example, they should burn paper offerings using enclosed containers or containers provided by the Town Councils at various locations within the estates and not damage public property by burning indiscriminately on pavements, common corridors, void decks and other common property."
Follow us on Social Media
Send in your scoops to news@theindependent.sg