The National Environment Agency (NEA) has released a statement on social media, revealing that the electrical devices Singaporeans have been spotting at HDB housing estates are cameras meant to detect high-rise littering.
The statutory board's statement comes after two netizens posted photos of electrical devices emblazoned with the NEA logo attached to what appeared to be cameras trained at HDB blocks.
The photos caused alarm among many Singaporeans, since the devices were spotted mere weeks after ruling party MPs raised the issue of banning smoking in one's own flat.
Presently, smoking inside one's HDB apartment is allowed while smoking remains strictly prohibited in common corridors, stairwells, staircase landings and void decks, under the Smoking (Prohibition in Certain Places) Act, which is administered by the NEA. Since June 2016, it has become unlawful to smoke in public parks within residential estates, as well.
In the past few years, the Government has been ramping up anti-smoking efforts. To this end, Parliament passed a new Bill earlier this month to amend the Smoking (Prohibition in Certain Places) Act, empowering NEA officers to enter smoking-prohibited places even if they are private premises in order to investigate smoking-related offences.
Concerns that enhanced anti-smoking efforts would lead to homes no longer being private spaces arose when some MPs asked whether more could be done to prohibit smoking within homes and after Khor confirmed that NEA is exploring "the use of thermal cameras to deter indiscriminate smoking" in residential areas with "persistent feedback on smoking issues", including corridors, lift lobbies and staircase landings.
Some netizens fanned the flames of alarm by alleging that NEA issued fines and summons to their friends and relatives who were found smoking within their homes: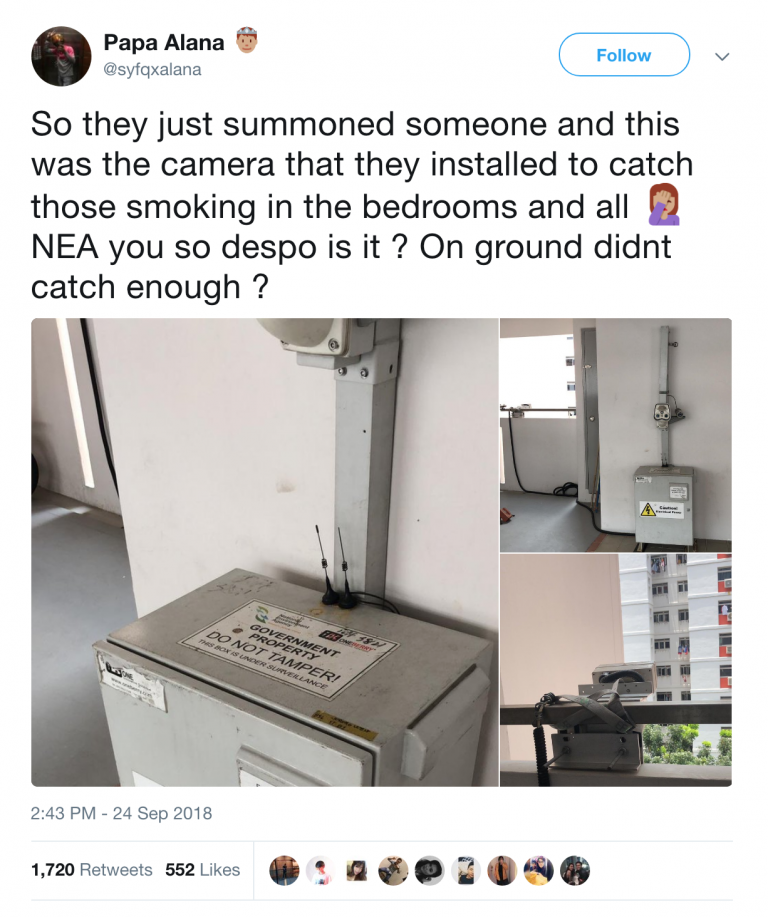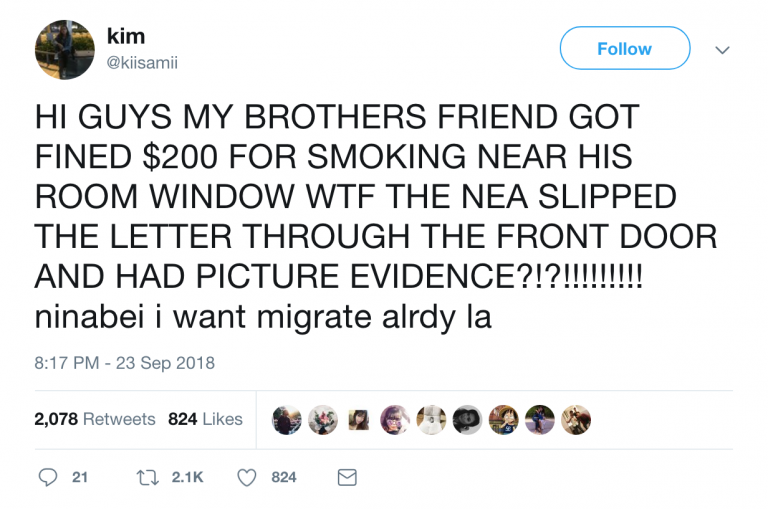 NEA has since responded that such stories are fake and said that the devices were installed to aid in high-rise littering enforcement. It said on Facebook:
"Those cameras you spotted are only used for high-rise littering enforcement. NEA c

urrently deploys surveillance cameras in areas with persistent high-rise littering to catch the culprits. Such cameras are placed and positioned to focus only on the external façade of the housing units or common areas that are being investigated. There are strict protocols for the use of the video footage, and it is shared only for the purpose of court prosecution or to facilitate investigations. "
The authority also reiterated that it is not unlawful to smoke within one's own flat but said that "acts of kindness need no law. Smokers can be considerate and show kindness to their neighbours by not smoking near the windows, balconies or doors":
"The law does not prohibit smoking in residential homes. NEA therefore does not enforce against smoking in homes. However, acts of kindness need no law. Smokers can be considerate and show kindness to their neighbours by not smoking near the windows, balconies or doors."
NEA also shed more light about the thermal cameras that will be deployed to detect unlawful smoking and said that these surveillance cameras will be installed next years:
"And yes, we also have thermal surveillance cameras for smoking enforcement. NEA will be deploying thermal surveillance cameras at smoking prohibited areas with persistent smoking infringements in public spaces, such as common corridors, lift lobbies and staircase landings, starting from first half of 2019."
Read the statement in full here:
Send in your scoop to news@theindependent.sg