Are you planning to buy the iPhone 11 upon its global release on Sept 20? Are you willing to give up more than a week's wages to do so?
Picodi's iPhone affordability index compared countries' average monthly incomes to the local prices of the iPhone 11 Pro (64 GB).
The index showed that Singaporeans earning minimum wage need to work 8.4 days in order to afford the iPhone 11 Pro, Apple's newest top of the line device.
The iPhone 11 Pro (64 GB) is priced at S$1,649 upon release.
According to the Ministry of Manpower, the average monthly earning in Singapore is S$5,410 before deducting Central Provident Fund (CPF) contributions and personal income tax. The take-home pay after necessary deductions is S$4,137.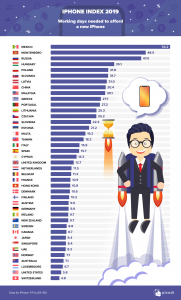 Singapore is seventh on the list of countries with the least number of work days needed to afford Apple's new shiny gadget.
Japan also shares the seventh spot with Singapore needing 8.4 days of work.
In contrast, average income Malaysian and Chinese workers need to work an entire month in order to afford the iPhone 11 Pro.
Switzerland tops the list where average income workers need only to hustle for 4.8 days to get their hands on the iPhone 11 Pro. Mexico is at the opposite end of the list where workers need to sacrifice 54.2 days just to earn enough cash for the iPhone 11.
Picodi calculated the iPhone Index 2019 using iPhone 11 Pro prices on local Apple or authorised seller websites. The average salaries, taken from the countries' official ministry or statistical office pages, were then divided by 21 work days in a month./TISG
What you need to know about the new iPhone 11, including its lower price