(graphic image below)
On February 16, an instantaneous death of a contorted monitor lizard occurred at Serangoon Park Connector Network (PCN) after it was entangled in the front wheel of a bicycle.
It was alleged that the monitor lizard scuttled across the PCN pavement and got itself entangled in the spokes of the bicycle's front wheel, causing it to die instantly as its body was twisted and bent in unnatural angles.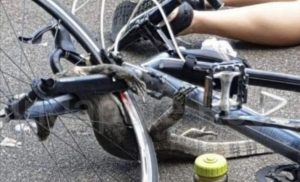 The cyclist was also injured as she fell off the bicycle which had overturned. While the severity of her injuries were unknown, she was fortunate to have been wearing a helmet and there were passers-by around to attend to her.
It was unknown why the monitor lizard had appeared at the point when the cyclist was cycling on the pathway but according to the National Parks Board, monitor lizards are "naturally shy" and "would rather stay away from humans". They are harmless unless provoked and are safe as long as a distance is kept within them and humans.
Netizens' reactions on Facebook have been mixed as they expressed both concern and criticisms towards the cyclist and the monitor lizard.
Some netizens felt that the death of the monitor lizard should deserve greater attention. One person named Jackie commented," There is no space in Singapore for wildlife now. R.I.P".
Another person named Marcus alleged and blamed the cyclist for speeeding. He even asked," How many demerit points for speeding?"
Another person named Gusti Suci simply wanted the cyclist to be charged for "reckless riding".
There were also some others concerned with the cyclist's injuries as she seemed to be badly hurt.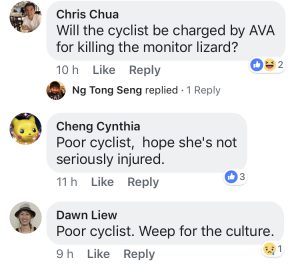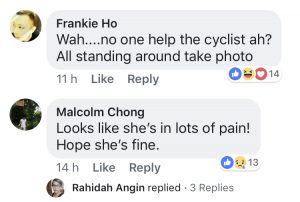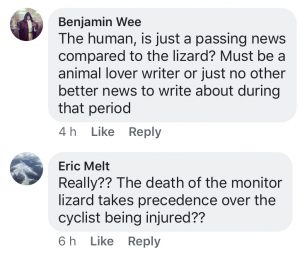 Send in your scoops to news@theindependent.sg