Singapore – On February 10, Sunday, an angry mother expressed her annoyance towards "a revolting individual" who advised her kids to stop playing with their shop's bicycle on display.
Posted in Facebook, the mother of two shared how a personnel of SunnyHills located at Ngee Ann City resorted to calling security to have her children removed from the area because they were spinning the wheels of their bicycle on display outside the shop.
This is what she wrote:
The guy standing behind the counter just called security to have my two children removed from the premises because they were spinning the wheels of the bicycle on display outside of the shop. What a revolting individual to have as the face of your brand, you cannot expect to not have children pass by and be interested in the bike. He accused them of breaking the bike (which they were not). Absolutely unnecessary, what a bad taste left in my mouth.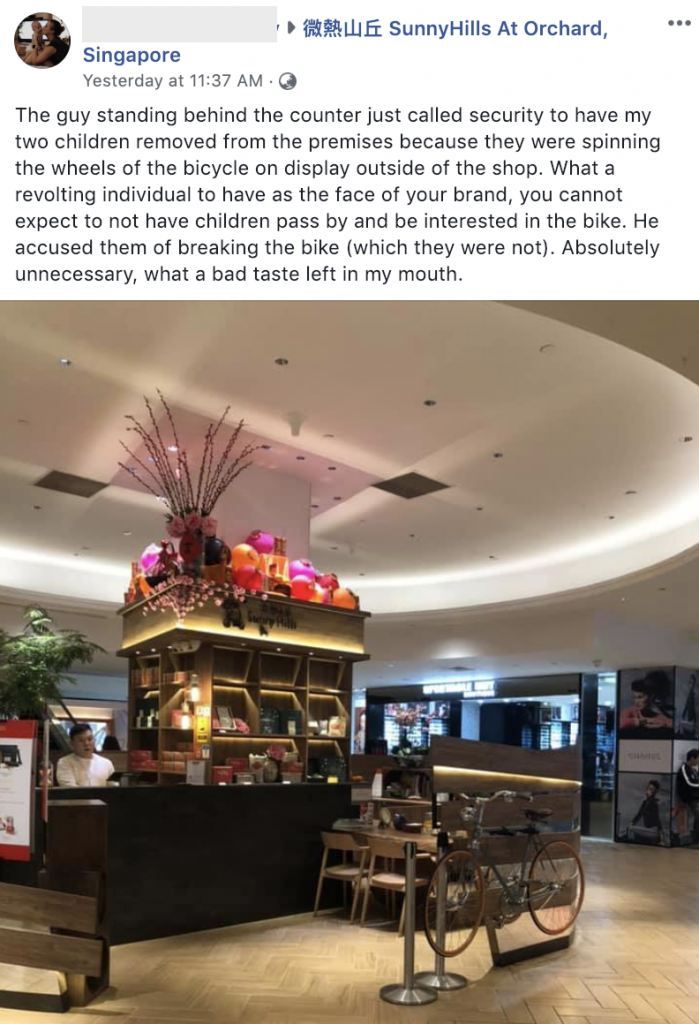 Netizens defend the shop
The online community was quick to defend the shop by indicating that the bicycle was first and foremost the property of the shop and should respect the shop's policies if it was not meant to be played with.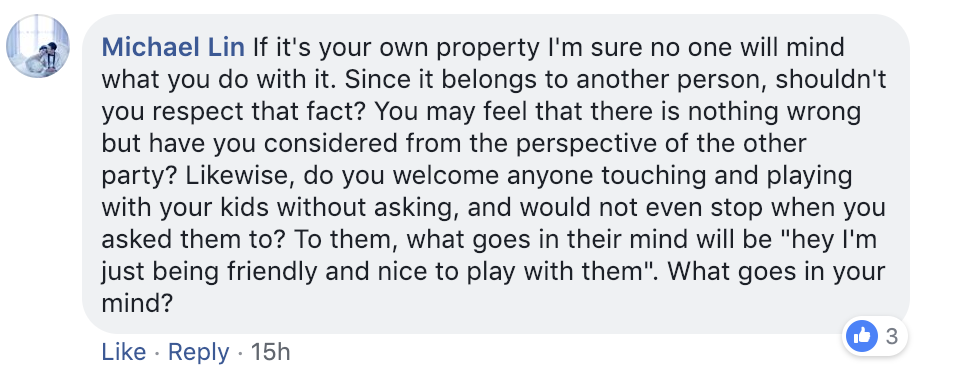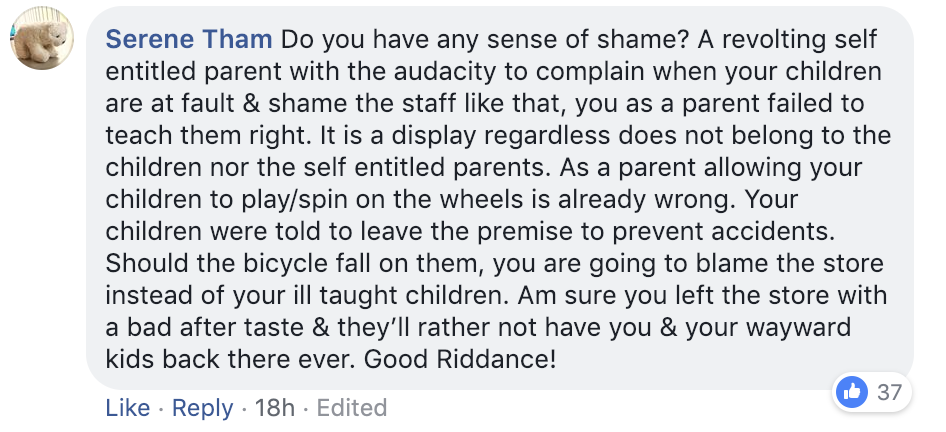 Ms. Serene Tan also commented on how the action posed a risk to safety and someone could have gotten hurt in the process.

Others also mentioned how they personally knew the "guy behind the counter" and that he was a very nice professional.

The mother answered back via a comment below: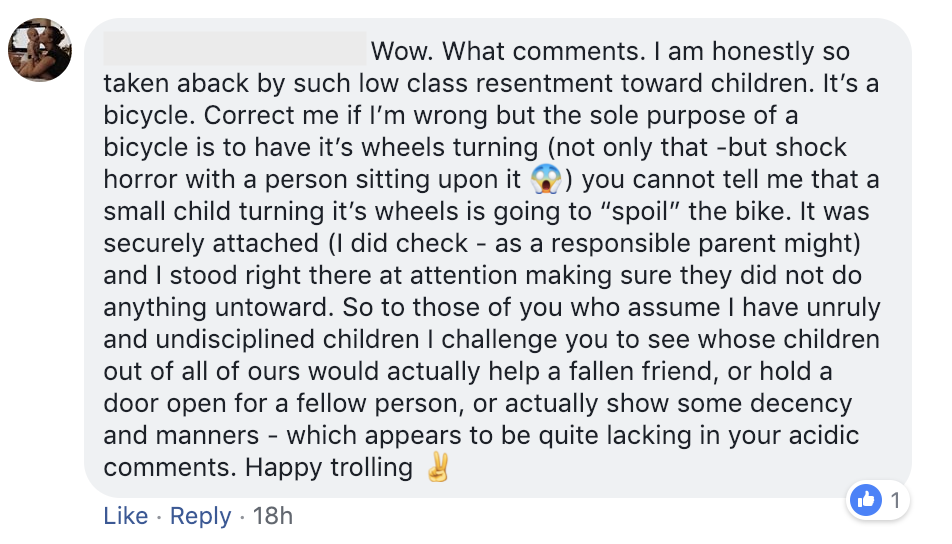 SunnyHills has also given an update and apologised to the public for the incident and that an investigation will be conducted. They also said that the "bicycle is a shop display and not meant to be a toy." The staff responded the way they did because of safety concerns as they would be held liable should anything occur.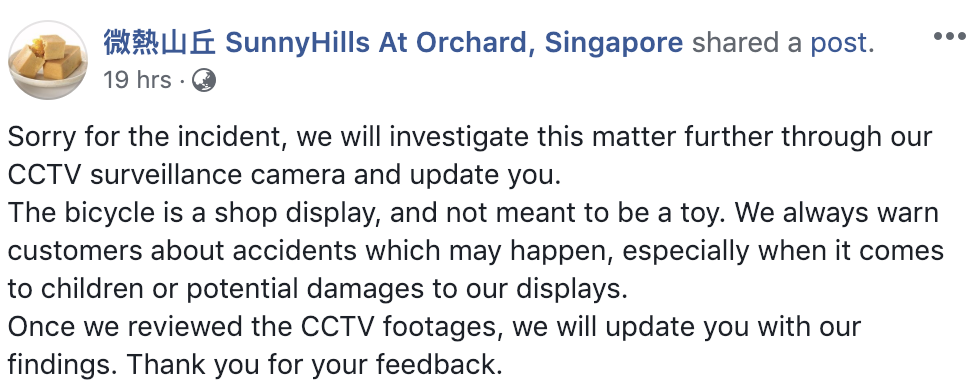 The Independent Singapore has reached out to the mother and she has given the following blow-by-blow of what happened. While she is not one who usually complains on social media, she wishes to clarify and give a detailed report on what happened because she has been receiving a lot of flak from strangers.
"We were eating at aloha poke, my 18m old was getting antsy in his stroller while my husband finished eating so I took him out to walk around, he was running up and down the hallway, saw the bike, my 5yo came over too. They were spinning the wheels, I was right there slowing the wheels down when pushed too hard and making sure fingers were clear, my sister was standing next to me doing the same. A local (I assume) mom and young son came over to play with the bike too. They left after a while. The shop attendant came over. He mumbled "be careful, may spoil" I kinda laughed thinking he was speaking about the kids, then told him it's ok I'm watching them. He turned around and walked off. My sister said he's calling security and I didn't believe her, I walked over to him to ask why he was calling security, he ignored me and continued speaking to them. I walked back, took a picture of the shop, picked up kids and we left. My impression is that he didn't want to speak to me, he didn't ask me to stop the kids, and he didn't ask me to leave. He was rude and overreacting. That's why I posted on the page I didn't know who he was in relation to the business but since he is all alone there I thought they should know."Follow us on Social Media
Send in your scoops to news@theindependent.sg