The Ministry of Health (MOH) appears to have removed a page on their website covering the "definition of disability" as public uproar over Government health insurance schemes like Eldershield and Careshield Life rages on.
Singaporeans have expressed anger over the schemes after parliamentarians debated the matter in the House earlier this week. MPs discussed issues like how the Government collected a hefty $3.3 billion in Eldershield premiums and only paid out $133 million to policyholders, with netizens responding to the debate expressing disgust with the Government's stance that it does not consider the excess amount "profits".
Some MPs also brought up the strict eligibility requirements that policyholders have to meet to receive benefits. The Government considers individuals severely disabled and will pay out insurance benefits when they can do three out the following six activities of daily living (ADLs): washing themselves; dressing themselves; feeding themselves; using the toilet by themselves; moving indoors by themselves; moving from a bed to an upright chair by themselves.
Asserting that these requirements may abandon some policyholders in their time of need, Workers' Party chairman Sylvia Lim cited the story of an elderly amputee whose benefits were revoked because he could "partially" perform the six ADLs. After a struggle to appeal the decision, the authorities finally reconsidered the case but the elderly man who was languishing in a hospice passed away a month after his benefits were restored.
As issues like these rile Singaporeans, MOH appears to have removed a page from their official website that explains what the eligibility requirements to be considered a disabled person in Singapore are.
Although the page that goes into detail about the 6 ADLs is still the top hit on Google when one searches for "6 adl eldershield", the page that search engine users are directed to now features an error message. The government portal says, "The page you are looking for may have been moved or no longer exist."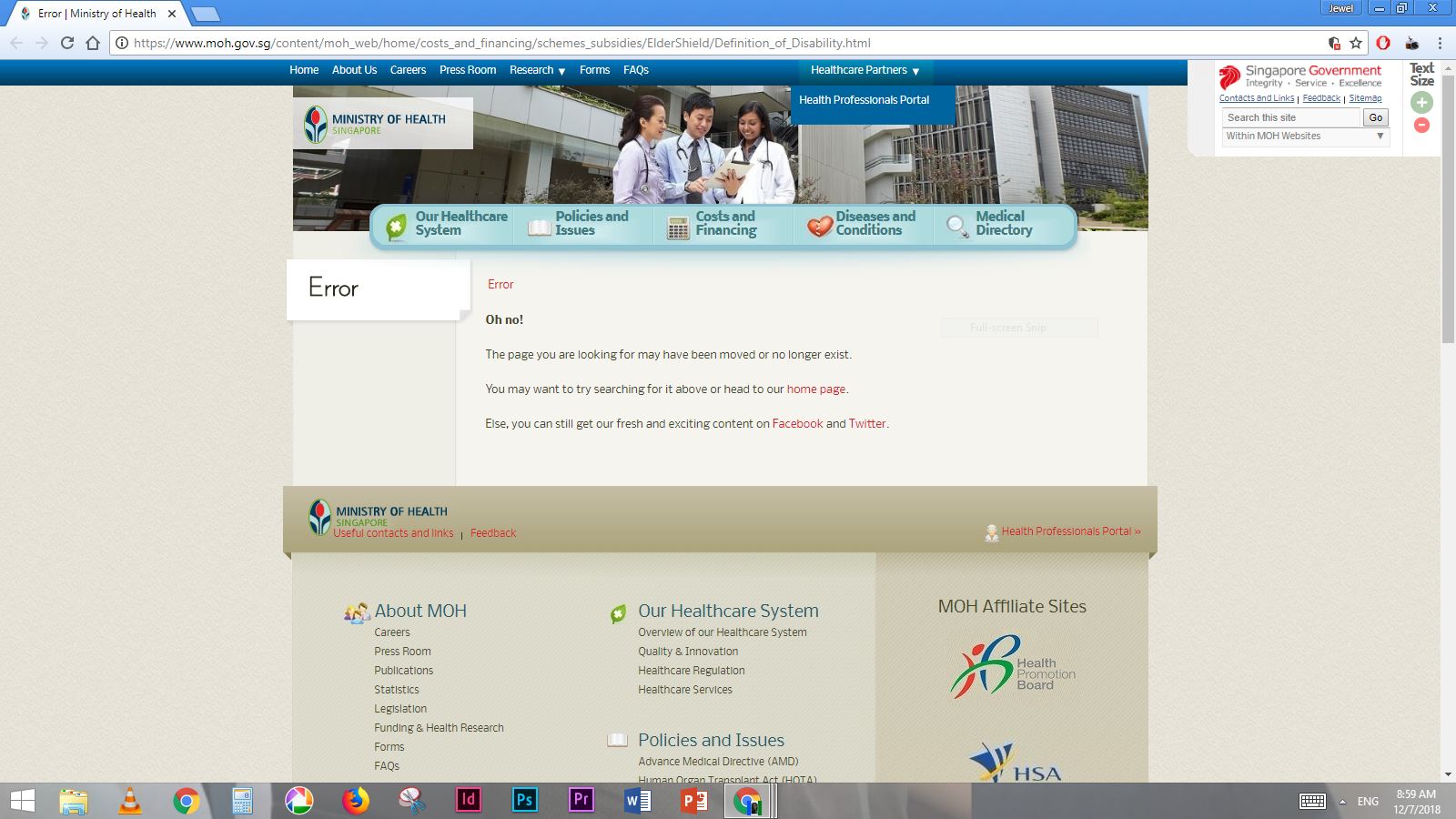 A search for the definition of disability on MOH's website does not yield further results and only redirects users to the page with the error message: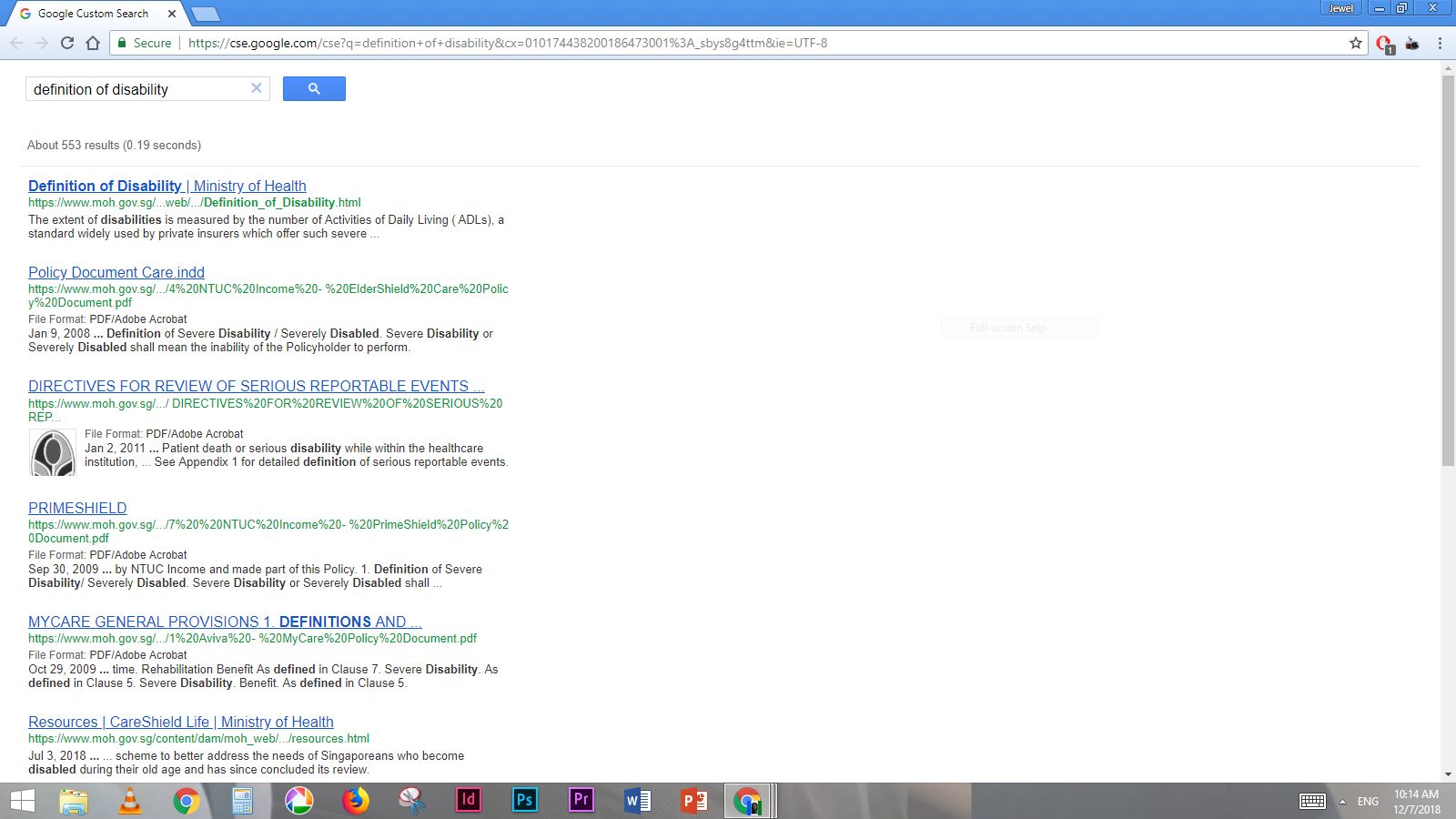 The Government's definition of severe disability and an explanation of the 6 ADLs is still up on the CPF Board website's Eldershield page: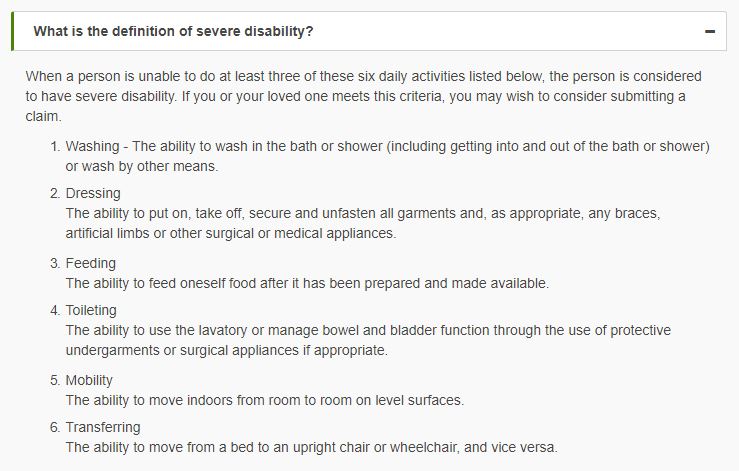 —
UPDATE: MOH appears to have restored the page on their website as of 13/7.
http://ww2.theindependent.sg/elderly-amputee-who-was-denied-eldershield-benefits-dies-weeks-after-authorities-reconsidered-his-case/
http://ww2.theindependent.sg/govt-still-claims-it-is-not-making-profits-after-collecting-3-3-billion-in-eldershield-premiums-and-only-paying-out-133-million/Follow us on Social Media
Send in your scoops to news@theindependent.sg