A local beauty queen who snagged the Miss Bikini Universe Singapore 2018 title has alleged that she was dethroned by the pageant organiser after she questioned when she will receive the prize she won as part of the competition.
According to Miss Bikini Universe Singapore's Facebook page, the event is a pageant cum fitness model search that boosts participants to "network, build portfolios, gain exposure, shoot for magazines, walk in fashion shows, enhance, expand and launch careers, build life-lasting friendships and inspire and motivate others to start their fitness, health and wellness journey."
Feline Wong Xin Yi clinched the title this year on 15 September.
Sharing screenshots of her text conversation with a woman "Dana" – believed to be the event organiser – on social media yesterday, Feline wrote: "I was actually stripped of the title of Miss Bikini Universe 2018 because I asked for updates about the prize and the organiser felt offended and decided to de-crown me. Can meh?"
She added: "I've put in so much effort in this pageant and now that I've won the title, they decided to strip me off my title just because the event organiser was unhappy that I asked for updates about the prize that I am entitled to and said that I am rude for doing so! Therefore, based on my attitude, I am not fit to be the winner of Miss Bikini Universe Singapore 2018"
In the screenshots Feline shared, it appears that the event organiser does get upset when Feline presses for updates on when she will receive the prize.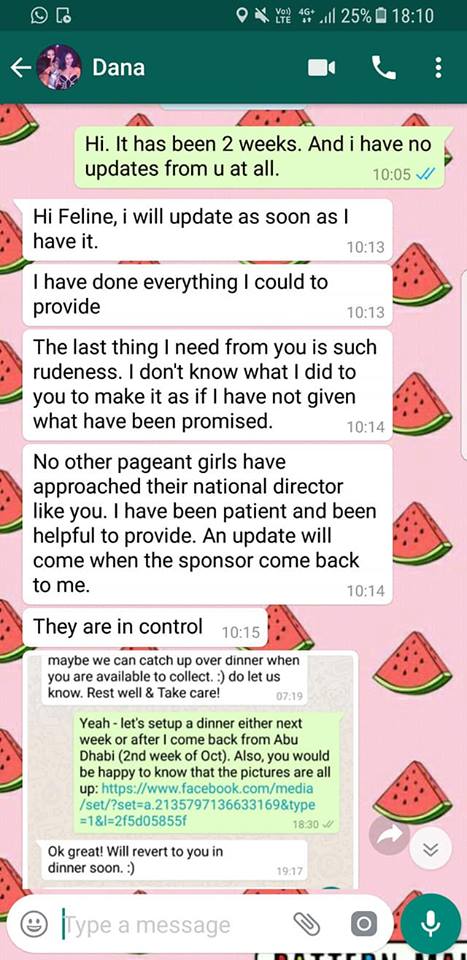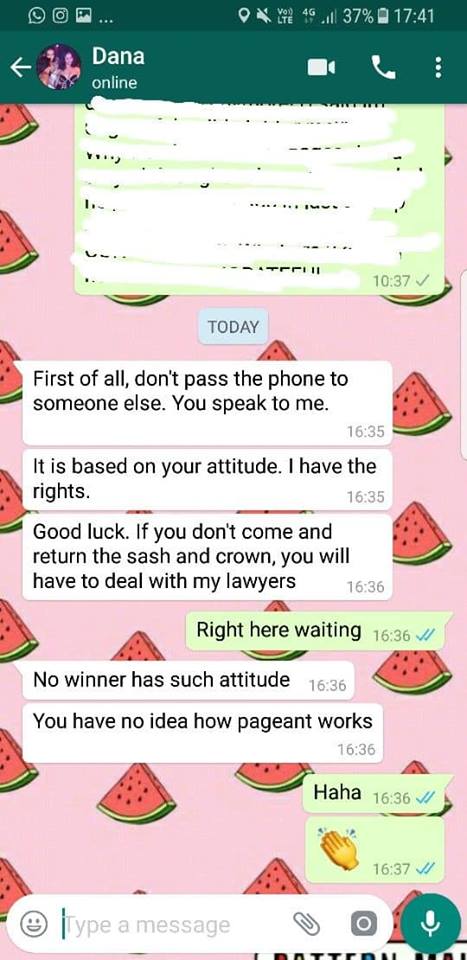 Feline clarified on Facebook that she has "not gotten any prizes since the day of the event, apart from the hamper, and now am demanded to return my crown, sash and cheque board. If I fail to do so, they are going to take legal actions against me."
Asserting that the allegations that she had breached her contract are "assumptions against me without any proof or evidence" from the pageant organiser, Feline added, "I really do not mind handing over the title, IF I am guilty of what they have accused me off."
It is unclear what Feline's next steps will be.
Meanwhile, the pageant organiser confirmed on the event's Facebook page that Feline has been stripped of her title. Yesterday, the organiser updated:
"Her disqualification of her title is due to her breaching the Terms & Conditions as indicated in the official form (MBUSG AGREEMENT FORM), which is contained in the unified rules and conditions of participation in Miss Bikini Universe Singapore 2018…The Organiser would like to send Ms Feline Wong our farewell & best wishes for her future endeavours."
The organiser is set to announce the new winner on their social media page today.
https://theindependent.sg.sg/pageant-organisers-beauty-queen-sent-us-death-threat-and-is-conspiring-to-harm-our-company/Follow us on Social Media
Send in your scoops to news@theindependent.sg