On February 15, a 33 year old transgender offender named Jonathan Teo was sentenced by the Judge to serve alongside male inmates in the Changi Prison for six months.
Teo was also fined $30,000 for loan shark harassment.
Teo was originally born a female but underwent a gender reassignment surgery in 2017 to remove his breasts and womb, though his original female genitalia was not removed.
According to Teo's lawyer, the removal of a female's breast and womb is the only requirement for one to be legally recognised as a male. Teo's identification card also identifies him as a male.
As Teo still possesses female genitalia, his lawyer Chen Jun Liang told the court that Teo might encounter some difficulties in Changi Prison where male inmates serve out their sentence.
Chen also asked if Teo can serve his sentence at Changi Women's Prison (now known as Institution A4).
District Judge Hamidah bte Ibrahim replied that even she was unsure.
She requested for Teo's medical records and instructed Teo's lawyers to check with the Singapore Prison Service on where Teo should go. Consequently Teo was temporarily sent  to the Changi Male Prison to serve his time until the Singapore Prison Service decided otherwise.
Teo was convicted as a result of the following:
In October 2017, Teo borrowed a sum of money from loan sharks. However, the sum of money multiplied to a total of S$6,000 as he was unable to pay it back on time.
To pay off the debts, Teo agreed to be a loanshark runner, where S$300 would be cancelled off Teo's debts for every debtor Teo harassed.
Another S$450 would be paid to Teo if Teo helped the loan shark to conduct bank transfers on their behalf.
From December 2017 to April 2018, three debtors had been harassed by Teo and money was transferred on behalf of the loansharks. Teo would also appear at the debtors' houses and work places to catch them unawares.
Teo claimed that no property was vandalized at this time.
The overall facts of the case and the nature of Teo's background is a unique one. While Singapore has legalised transsexual reassignment surgery, transgender people still face widespread discrimination.
Similarly there were mixed feelings from netizens as to where Teo should be housed during his jail term with some of them saying rather vicious things.
One netizen named Elliot Koh said," Since born as a female, go to Women's Prison lor." (sic)
Another said," You want to be treated like a man den you should be treated like a man. Serve in Male prison, and get full sentence, maybe caning. Lol. Where can changed sex already den still shout unfair, should put u in female prison and no caning. Lol." (sic)
However, there were also others who expressed concern about his possible treatment in the prison.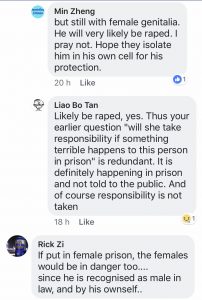 There are also some who feel that compassion should be shown to Teo.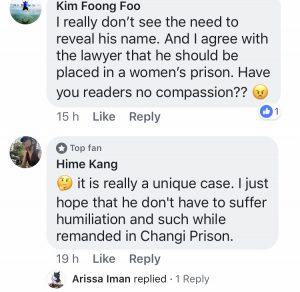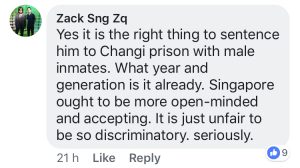 One netizen even suggested a "transsexual prison" be built.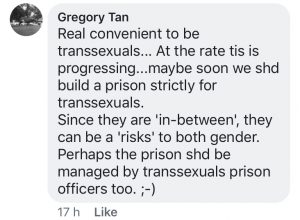 Follow us on Social Media
Send in your scoops to news@theindependent.sg 
No tags for this post.