Singaporean Muhammad Nuruzzaman presented his passport at the immigration counter and later wrote in a Facebook post that "The Customs officer just tore my passport in the foreign country and claimed that it was done in Singapore".
In a Facebook post on Thursday, November 29, Nuruzzaman wrote that when he travelled to a nearby country by car – which many other media outlets have since reported as Johor Bahru – the immigration officer "in fact tore my passport in front of me and claimed that I tore my passport and asked what's my purpose of entry to the country with that torn passport".
https://www.facebook.com/photo.php?fbid=10215170440749109&set=a.1621327087808&type=3
When she questioned him about his torn passport that he alleges she tore herself, he said that the immigration officers in Singapore would not have allowed him to leave the country with a torn passport.
He continued, "the female officer refused to listen and she brought me to an office and sat me down there for hours without giving me any explanations.
Ended up, cops were called on me and they were ready to arrest me and also wanted to confiscate my car and said that I was entering their country with a falsified documentation".
He said that after he managed to contact the Singaporean embassy through a friend, the immigration officers finally released him. However, the officers refused to reveal the name of the female officer who allegedly tore his passport.
He ended his post saying, "I hope this alerts those around to be vigilant whenever we're entering foreign countries".
Nuruzzaman's post received almost 2,300 shares and more than 600 comments, many of which were of Singaporeans sharing experiences of their own.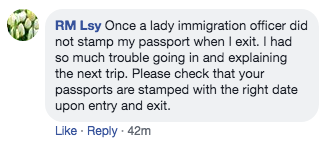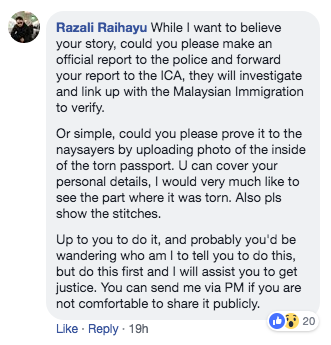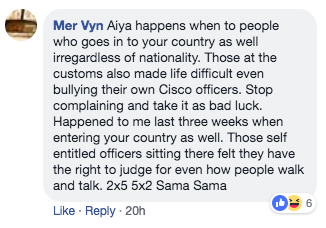 TISG has reached out to Muhammad Nuruzzaman for further comment.
________________________________________________________________________
obbana@theindependent.sg
Follow us on Social Media
Send in your scoops to news@theindependent.sg