In a crafty display of corruption, a Malaysian Customs, Immigration, and Quarantine Complex (CIQ) officer "used his palm to forcefully tear" a page from Singaporean citizen Muhammad Fauzi's passport as Fauzi tried to enter Malaysia at Johor Bahru. The CIQ officer then denied Fauzi entry into Malaysia unless Fauzi could "help" the situation by giving him money.
Fauzi detailed the incident in a post on Facebook, imploring netizens to read his story and share it with others.
https://www.facebook.com/ganesan0101/posts/319893605451986
Fauzi reported that he was on his way home from working in Singapore to Malaysia, where he resides. He arrived at Malaysian CIQ after Tuas Second Link at 11:30PM on September 24. At the CIQ, the officer questioned Fauzi about his passport and why he was entering Malaysia so late at night. Fauzi explained that he was on the way to his house, where his wife was expecting him.
"Oh, you have to u-turn back to Singapore because your passport is torn. Unless you're Malaysian, I can't allow you to pass through but right now that passport is torn and it is illegal," announced the CIQ officer.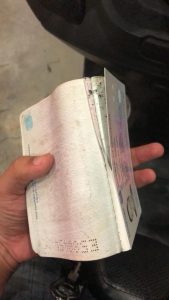 What happened next shocked Fauzi, and he reported it in a comment on his post.

"I was shocked because I know my passport was perfectly fine, I had to use it everyday and even a few minutes before giving the officer, I had to scan my passport in SG custom. It was perfectly fine, no tear, no bend, no scuffs," Fauzi said.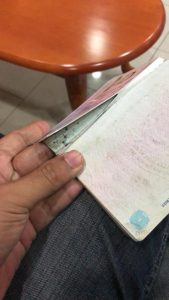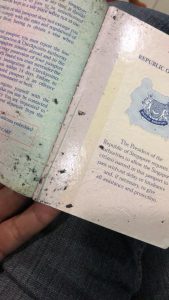 Fauzi then asked to speak with a supervisor or someone in authority, but the CIQ officer refused, asking him to step to the side instead. Fauzi reported the conversation that then transpired.
CIQ officer: "Bro, I can help you pass through and let you see your wife but if I help you, you need to help me too."
Fauzi: "What do you need me to help you with?"
CIQ officer: "Ouh, like this also need me to spell it out and teach you?"
Fauzi: "Oh so u want money? Money in your pocket will let me through?"
CIQ officer: "Ahh smart boy."
Fauzi: "Tell you what, I will take back the passport you tore and I will go back to Singapore."
According to Fauzi, the CIQ officer ignored what he said and told him he would need to obtain a new passport before he would be allowed to go home to Malaysia.
In his post, Fauzi said that he reported the incident at the Immigration and Checkpoints Authority at Tuas, where they told him to file a police report. Fauzi was told that he was not the first person who had experienced that.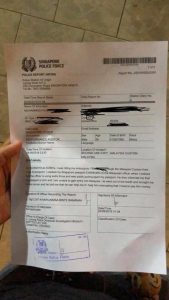 "If you do have experienced the same, please report it as well. Both to Singapore and Malaysia police," said Fauzi.
In an update to the post, Fauzi announced that Puan Suzila, Deputy Head of Sultan Abu Bakar Immigration Complex, contacted him personally. She will be leading the investigation into the incident.
Follow us on Social Media
Send in your scoops to news@theindependent.sg 
No tags for this post.