Former Prime Minister Najib Razak has been credited by his successor Mahathir Mohamad, the current Prime Minister of Malaysia for helping to keep his mind sharp and articulate. Mahathir thanked the sixth Prime minister and his former protégé Najib Razak for the quarrels and arguments they have had over the years for it made his mind stay active.
Malaysia's seventh and the world's oldest Prime Minister Mahathir made that surprising statement during an opening speech at the Conference on Aging, Learning and Technology: Enriching Lives Connecting Communities on Saturday, sixth October. The event was held to commemorate the International Day of Older Persons (1 October 2018).
The Prime Minister had been invited to give the opening speech to officiate the above mentioned conference held in Kuala Lumpur. Ever the eloquent speaker, Mahathir had shared how it was imperative that senior citizens made it a point not to sleep and let their minds idle away. He stressed that it was not only important to keep the body and muscles active but also that of the brain.
As a former practicing medical doctor in his hometown of Alor Setar during his younger years, Mahathir had advised the audience that attended the conference that the brain functions would regress if it is not used constantly.
"So I suppose it's good for old people to read, to write and also to quarrel" he said, which drew laughter from the crowd present at the event.
He continued saying "Because that exercises your brain. I had a big quarrel with the previous Prime Minister (Najib Razak). So all the time my brain ticks, thinking about ways and means of changing the government".
The Malaysian premier attributed his political comeback to the people's movement who had desperately wanted to see a change in the government that was then under Najib Razak's leadership. For the record, Mahathir served for 22 years as Malaysia's fourth Prime Minister (1981 to 2003). Even after he had stepped down in 2003 and Abdullah Ahmad Badawi took over as Prime Minister, he still wielded great influence and authority among Malaysians. So people started to approach him with complaints about his successor (Abdullah Ahmad Badawi).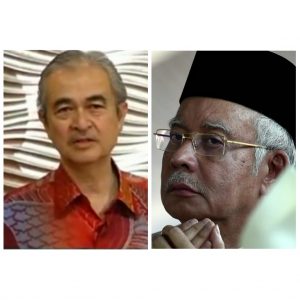 After Abdullah Ahmad Badawi resigned in 2009 due to immense pressure as a result of Barisan Nasional's poor showing in the 13th General Election held back in 2008 (five states had been wrested by Pakatan Rakyat, then the opposition coalition), Najib Razak was appointed Prime Minister. However it was not long before Malaysians started to turn to the senior statesmen, this time with complaints about Najib Razak, his own protégé.
So once again Mahathir had to put his mind to work to solve the many problems that were plaguing the nation, such as the 1MDB issue and reuniting with his former rival Anwar Ibrahim to form Pakatan Harapan that ultimately ousted Najib Razak and Barisan Nasional in Malaysia's 14th General Election.Follow us on Social Media
Send in your scoops to news@theindependent.sg 
No tags for this post.