The Land Transport Authority has fined SMRT $400,000 for the accident in 2016 that caused the death of two trainees who were hit by an oncoming train. The statutory board also fined the rail operator 1.5 million for the unprecedented Bishan tunnel flooding incident that occurred last October, bringing the penalty it faces in total to almost $2 million.
Interestingly, LTA chose not to fine SMRT for the train collision at Joo Koon station last November and cited that the incident was caused by a problem with the signalling system, not SMRT's actions.
LTA noted inadequate supervision and the SMRT work team's failure to comply with operating procedures for track access during train service hours as factors that determined how much it should fine SMRT for the trainees' deaths .
In the flooding case, which affected nearly a quarter of a million commuters, LTA held SMRT "fully responsible" since it was discovered in investigations that followed the incident that a work team falsified records that it had conducted maintenance works on the Bishan storm water sump pit and its pumping system while failing to do so for months.
The statutory board added in a statement: "In assessing the penalty amount for each of the two incidents, LTA has considered all facts and the severity of the incidents. LTA will also consider any other mitigating facts which the operator may raise as part of the due process for the imposition of the financial penalties."
It further revealed that the fines collected will be used to aid needy families with transport fares as it will be put into the Public Transport Fund.
In a statement yesterday, SMRT chairman Seah Moon Ming apologised for the two incidents. He added: "In recent months, trains have been running more smoothly, providing better journeys to our commuters. SMRT is fully committed to our mission of providing safe, secure and reliable services to commuters."
Despite Seah's assurances, several netizens remain wary and have felt that the collective $1.9 million fine is too low to compensate for the lost lives: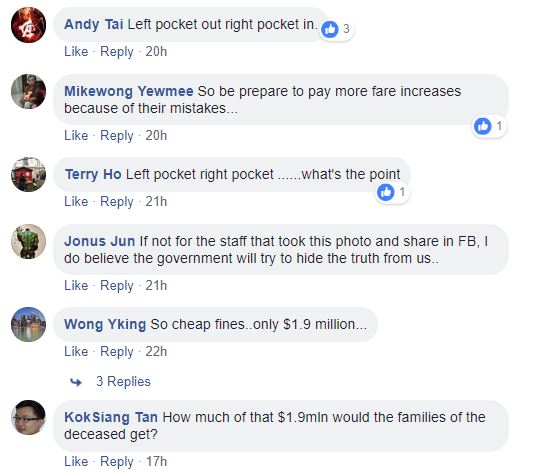 Some others pointed out that the $1.9 million penalty may be peanuts considering the LTA-SMRT assets sale.
In 2016, LTA agreed to pay a total net book value of $991 million to SMRT in exchange for the transfer of ownership of the company's operating assets to LTA. Under the agreement, SMRT will transfer operating assets including rolling stock and signalling systems for the North-South and East-West Lines, Circle Line, and the Bukit Panjang LRT to LTA ownership.
The agreement, that was announced in July 2016, saw LTA planning to make an initial payment of $797 million to SMRT first with the balance being paid in annual installments over three years.Follow us on Social Media
Send in your scoops to news@theindependent.sg 
No tags for this post.