Ever dreamed of going out with a Japanese woman? Or having a date with the soft-spoken, petite and very dainty female population of the Land of the Rising Sun? Yes, a big majority of Japanese girls are very much like how you see them in anime or J-drama.
It would seem that there is a growing demand for Japanese women looking for a foreigner partner and it is more and more becoming the norm of this generation. Thanks to Destini International Services (IS), a match-making agency that specialises in pairing up single Japanese women with Singaporean men, the dream can turn into reality. They are not limited to Japanese-Singaporean partnerships but also give aid to those who want to remarry, remarry with children or those who are older and want to marry.
The company was established in December 2018 by a group of Japanese expats who lived in Singapore for more than 10 years. It is their goal to "bridge the two worlds" and help Japanese women find Singaporean men specifically. Guidance will be provided should a match be made. But before that, a series of tests will be taken to find out more about the man and what he looks for in a Japanese woman. And if you do get married, the agency offers 2 years of free counseling services to help you get started on married life.
Destini IS has a strategic alliance with the Japan Marriage Counsellor Federation which is a private company that boasts of having over 60,000 members in Japan.
To find out what Japanese women think of Singapore and Singaporean men, watch the video below:
Among Japanese women, Singapore holds a reputation as being clean, organized, filled with rich people, and a comfortable place to live in.
According to the interviews, Japanese women perceive Singaporean guys to be gentlemen, kind, sincere and with "lady-first" personalities. They also have nice bodies and nice smiles.
When asked about their ideal marriage lifestyle, there is still a big number of Japanese women who wish to be housewives that will prepare homecooked meals for their husbands after coming home from work.
Japanese women tend to like or prefer being a damsel in distress and would expect her partner to be the hero who will save or help her. In a country that is still quite patriarchal, women are used to guys taking the lead which reflects even in romantic relationships.
The whole dating agency idea is not an uncommon thing, especially in Japan. Aside from popular online dating apps and websites, there are people who specialize in matchmaking. You could be passing through a subway junction and come across a few small booths that look cosy and inviting with many pictures of happy couples scattered everywhere. In the middle is a table and behind it is a lady who looks like a fortune-teller. She's there to help with your future, in a more literal sense.
The process will usually include an interview with a series of questions that look into your character, preferences, goals, etc. The information will be encoded and hopefully, a match will be made from the company's database of other profiles.
Research and interviews show that the main issues for Japanese women when considering a foreigner partner are culture differences, language barriers, and relocation.
For some more tips on how to date a Japanese girl, the following video could prove helpful.
Singaporean men are expressing their interest via social media and tagging their friends as well.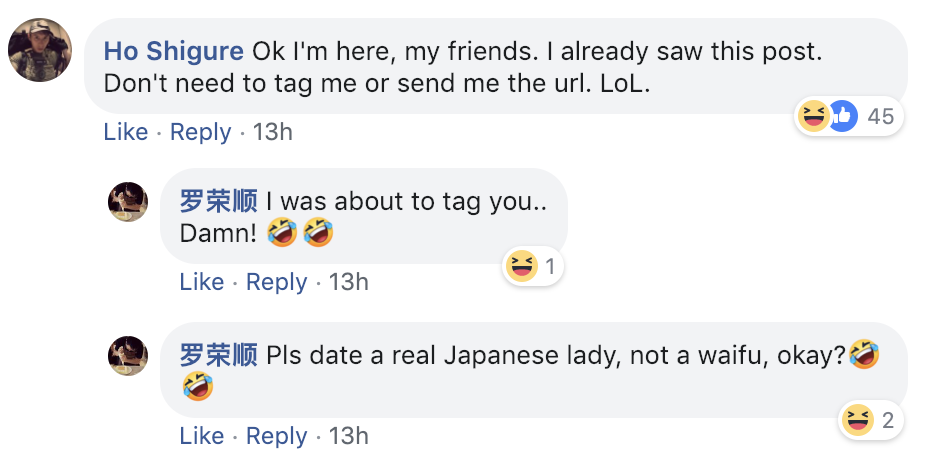 Shah Nair says he might consider this option if that girl is Marie Kondo.

Meanwhile, Thenmozhi Devi is asking why it doesn't work both ways and apply to Singaporean women finding Japanese men.

Elliot Koh goes for the blow with his comment below.

Follow us on Social Media
Send in your scoops to news@theindependent.sg 
No tags for this post.