Prominent social media influencer Nuseir Yassin – also called Nas Daily after his highly popular daily 1-minute video series – has defended a recent social media post he published, in which he said that he wishes to recruit a foreigner to join his Singapore-based team.
Last Monday (12 Aug), Nas said that he wishes to "hire a Vietnamese person" for his team in Singapore. He wrote on one of his Facebook pages: "I'm looking for the best video maker in Vietnam to join me in a full-time position. You have to know how to make videos. You have to be the best at shooting or editing."
The post, which has since accumulated over 6,000 likes and over 800 shares, offered a US$500 reward for those who share the post with the person who eventually clinches the job in Nas' team. The job listing, however, swiftly drew criticism from Singaporeans who felt unhappy that Nas was not interested in hiring a local video producer for his team.
The Tripartite Alliance for Fair and Progressive Employment Practices (TAFEP), Singapore's national watchdog on hiring and workplace discrimination, later released a statement and revealed that it is "following up" on Nas' job listing for a foreign video producer.
TAFEP said on Friday (16 Aug): "Regardless of the medium in which the job advertisement is posted, TAFEP expects all employers to abide by the Tripartite Guidelines on Fair Employment Practices (TGFEP), which applies to all Singapore-based jobs."
According to the TGFEP, words and phrases that exclude Singaporeans or indicate a preference for non-Singaporeans "should not be used" in job listings for local jobs.
TAFEP added that the Fair Consideration Framework (FCF) ensures that employers must advertise most jobs on the Workforce Singapore's Jobs Bank for 14 calendar days and give fair consideration to local job applicants before being able to submit applications for Employment Passes.
The only jobs exempt from the FCF are for jobs in companies with less than 10 employees or jobs that pay a fixed monthly salary of S$15,000 and above.
A day after TAFEP weighed in on the matter, Nas took to Facebook and clarified that he is looking for a Vietnamese video producer since he wants the new staff to oversee content relating to Vietnam.
Revealing that the staff will be trained in Singapore for a few months before they are posted back to Vietnam, he wrote on Saturday (17 Aug): "That's why I want the best video maker to join me and be responsible for Vietnam, as they understand the culture."
The backlash against his earlier job listing, however, seems to have greatly irked Nas. He wrote emphatically on Facebook: "Dear Singapore, I am lucky I can reach you through my channel. Otherwise it would be impossible to set the record straight."
Clarifying that the new video producer will be stationed overseas, Nas wrote that a "small number of Singaporeans got pissed" at the initial job listing and added that "the media loved it."
He asserted: "This should concern every Singapore. Drama gets views – controversy gets people talking. I get it. It's time for media to stop catering to the 3% of loud voices and creating fake drama. And it's time to stand up for myself."
Nas went on to assert that his team has generated S$1 million dollars to the Singapore economy in four months, with another S$2 million more coming soon from their international clients. Revealing that he has reached 200 million people with positive videos about Singapore in one year, Nas said that is is "more than some Hollywood films."
On hiring locals, Nas said that his company has hired five Singaporeans so far. He added: "We are building our (headquarters) here. We're always hiring locals! And we're starting a Nas University in Singapore to teach locals video making."
Curiously, Nas appears to have deleted his Facebook clarification. View a partial screencapture of his original post here: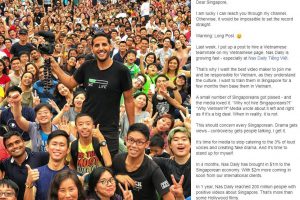 Backlash against Nas first arose during his first trip to Singapore last year when some Singaporeans felt that the upbeat videos he made about the nation do not capture the reality of living here.
Nas sparked a massive uproar when he lashed out at Singaporeans and called them "crybabies," after he was criticised for calling Singapore an "almost perfect country" in one such video.
In March this year, Nas revealed that he is moving to Singapore, along with his partner and his entire company. While some Singaporeans welcomed Nas to Singapore, several others were not so happy with his decision. A poll by Yahoo Singapore showed that 57 per cent of over 4,500 respondents did not welcome his move to Singapore. -/TISG
Send in your scoops to news@theindependent.sg