A sharp-eyed netizen tweeted a photo of Singapore Airlines (SIA) in-flight entertainment (IFE) system, which happened to include a round glass object below the screen, which looked like a camera.
The tweet was circulated, with other netizens voicing their concerns. SIA replied to the original tweet, saying that some of the aircraft indeed have entertainment systems that come with cameras, but these have been disabled.
Since then, SIA has further assured the public that the cameras are permanently disabled and that it is not possible for them to be activated on board. Furthermore, SIA says it has "no plans to enable or develop any features using the cameras."
On February 16, Saturday, Vitaly Kamluk wrote, "Just found this interesting sensor looking at me from the seat back on board of Singapore Airlines. Any expert opinion of whether this a camera? Perhaps @SingaporeAir could clarify how it is used?"
The carrier replied with the following tweets:
"Hi there, thank you for reaching out to us. We would like to share that some of our newer inflight entertainment systems provided by the original equipment manufacturers do have a camera embedded in the hardware. (1/2)
These cameras have been disabled on our aircraft, and there are no plans to develop any features using the cameras. Thank you. (2/2)"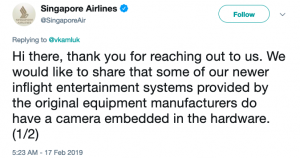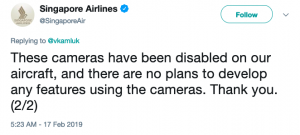 SIA has said that the IFE systems that come with front-facing cameras are from Panasonic and Thales, and are installed in the following aircraft from their fleet: the new A350-900s, refurbished A380s, older Boeing 777-300ERs, and new 787-10s. All in all, 84 airplanes are equipped with these IFEs.
A spokesman for SIA told The Straits Times, "These newer in-flight entertainment screens and handsets are provided by the original equipment manufacturers," he said. "Do allow us to reiterate that we have no plans to enable or develop any features using the cameras."
According to the Thales website, an aerospace company from France, this type of IFE is present in over 1,600 planes from such carriers as American Airlines, China Southern, Emirates, Hainan Airlines and Japan Airlines.
Netizens weigh in
A number of concerned netizens commented on Kamluk's post, including one named Tarah, who asked, "Dear @SingaporeAir: what is the purpose of these cameras, and how do you store the information gathered by them? How do you notify passengers about these cameras?"

However, some made light of the situation by making jokes about it. Robbie Honerkamp wrote, "If you don't watch the entire safety briefing video, you only earn 2/3 of the Krisflyer Miles from the trip."

Other netizens wondered if the IFEs were in fact repurposed tablets. "Looks like they bought a cheap tablet to throw in the back of the seat. Have you tried to buy a tablet without cameras? Even front facing ones? Practically impossible," wrote Kayla Rowe.

Michael Brown similarly wrote, "FYI, a lot of these infotainment systems are running on Android tablets, so presumably the hardware was sourced from some vendor that thought cameras would be valued by consumers then got repurposed for aviation use."

But this theory was shot down by another netizen. "As a consumer that's true. As a multi-billion dollar airline outfitting a multi-million dollar plane, it's less excusable," Stephen Lead tweeted back.

Yet others wondered which parts of the plane had this type of IFE? "Are they in 1st class and/or business class as well, or only in cattle class? Maybe in business class and above you can turn the camera off (for half an hour)" asked Peter Flynn.
Singapore Airlines assured him as well about the cameras being disabled. "Hi Peter, the cameras are in selected Business, Premium Economy and Economy Class. We would like to share that they have been permanently disabled on our aircraft and cannot be activated on board. We have no plans to enable or develop any features using the cameras. Thank you."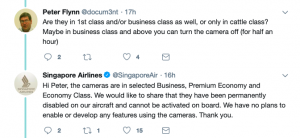 Some netizens offered a solution to the problem. Twitter user Kate @redback wrote, "Im sure you could put us at ease by covering the cameras. im sure you can find some small singapore airlines stickers to put on," and @theakshay also chimed in, "Would have been so much better to spend an additional cent or two to make a thingmagig to snap fit into the plastic there and cover it up." (sic)

Kamluk thanked SIA for its responses, as well as echoed the call for stickers to be put on the cameras. "Noted with thanks, @SingaporeAir. I really like your IFE system and quality of the content. Keep security of your passengers up! It's best to disable these cameras physically until you decide to use them, i.e. with a simple sticker. Thank you!"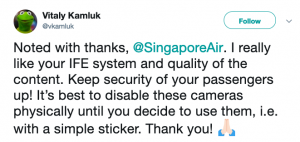 Follow us on Social Media
Send in your scoops to news@theindependent.sg