Deputy Prime Minister Heng Swee Keat revealed on Facebook on Tuesday (10 Dec) that Ip Man star Donnie Yen wished him a Merry Christmas and Happy New Year while he was in Singapore to promote his latest film, Ip Man 4: The Finale.
The 56-year-old Hong Kong actor and martial artist turned up for a meet-and-greet at Our Tampines Hub on Monday night (9 Dec) and was swarmed by over 5,000 fans who uproariously welcomed him after being treated to a screening of earlier Ip Man installments and a Wing Chun martial arts demonstration.
Accompanied by his wife, Yen also unveiled the Ip Man Pavilion at Our Tampines Hub. The Pavilion, which is modeled to resemble Ip Man's living room and serves as a gallery of shots from the Ip Man film series, is open to the public until 6 Jan.
Thanking Tampines residents for their unflagging support, Yen said: "I want to thank all the Tampines residents, everybody who came out here to support me and to anticipate the last episode of Ip Man.
"I really appreciate from the bottom of my heart as an actor as a filmmaker. You know, sometimes we strive for perfection, but the perfections cannot be perfect without the love from all of you."
Tampines GRC MP Heng Swee Keat has since revealed that Yen left a message for him in a guestbook.
Mr Heng – who is expected to become Singapore's fourth prime minister sometime after the next election – shared a photo of the message on Facebook, which states: "Dear Deputy Prime Minister Heng Swee Keat and Minister Masagos Zulkifli, Merry Christmas + Happy New Year. Donnie Yen. 2019."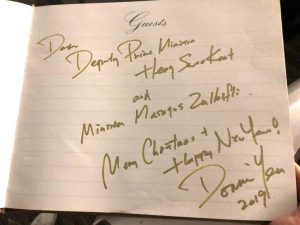 Mr Heng, who is on two weeks' holiday, was not at Our Tampines Hub during the meet-and-greet, which was attended by fellow Tampines GRC MPs Desmond Choo and Cheng Li Hui. He, however, stopped by the Ip Man Pavilion last weekend and took a picture that shows him appearing to go "toe-to-toe" with Ip Man.
Sharing the photo on his social media page, DPM Heng wrote: "Went toe-to-toe with Donnie Yen when I visited the Ip Man Pavilion at Our Tampines Hub over the weekend! Had a lot of fun with the 3D trick-eye illusion and iconic sets from the previous three Ip Man movies.
"Give your best Wing Chun pose with the wooden dummy in Ip Man's living room or on the round table (as seen here) where he sparred with Sammo Hung in Ip Man 2!"