An image showing the hefty costs hawkers operating at the Social Enterprise Hawker Centre (SEHC) at Our Tampines Hub are saddled with has irked netizens. The SEHC at Our Tampines Hub is run by OTMH, a social enterprise subsidiary of Kopitiam, which is expected to be bought over by labour movement-linked NTUC Enterprise by the end of the year.
The image showing the monthly fees hawkers have to pay comes as public outrage over the SEHC model remains high. The uproar over the SEHC model was first sparked by Makansutra founder KF Seetoh who exposed the shocking costs hawkers are forced to contend with at such SEHCs.
Then, public outrage was stoked as it was revealed that an SEHC in Jurong run by Hawker Management charges hawkers a fee for each tray every customer returns. Hawker Management is the social enterprise subsidiary of Koufu, which is founded by a grassroots leader who gave hefty dishwashing and table cleaning contracts to his own brother, another grassroots leader.
Labour movement-linked NTUC Foodfare also came under fire after it was revealed that dishwashing fees, at the Old Airport Road hawker centre the social enterprise runs, were hiked by 40 per cent since Foodfare took over. It was also alleged that hawkers at the famous food centre were also made to sign "ridiculous" contracts they did not understand.
Reporters also noted an operating fees spike for hawkers at another NTUC managed hawker centre, the Whampoa Makan Place.
In the midst of this, an image showing the hefty fees hawkers are charged at the Our Tampines Hub SEHC has emerged: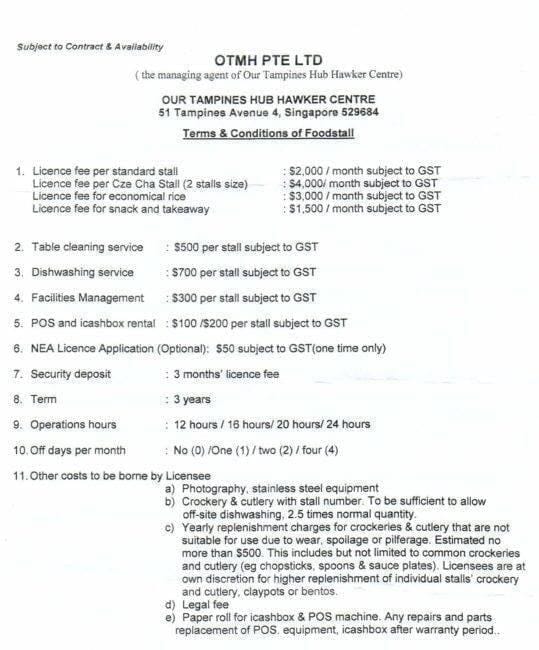 According to the terms and conditions Kopitiam subsidiary OTMH has published, hawkers who operate a "standard" store at the Our Tampines Hub hawker centre would be required to pay a $2000 license fee, $500 table cleaning fee, $700 dishwashing fee, $300 facilities management fee and a minimum $100 POS and icashbox rental fee.
This would bring the monthly operating costs for hawkers running "standard" stalls at the SEHC to $3,600 before the Goods and Services Tax (GST). Since GST is charged for each fee, hawkers running "standard" stalls are presently required to pay $3,852 with 7 per cent GST.
When the GST hike of an additional 2 per cent kicks in after 2021, hawkers running "standard" stalls at the SEHC will be required to pay $3,924.
Our Tampines Hub hawkers running snack or takeaway stores pay the lowest licensing fee of $1500. Adding all the other charges they need to pay shows that they give OTMH $3,100 monthly before GST and $3,317 with 7 per cent GST. These hawkers would have to pay $3379 with 9 per cent GST.
Hawkers running economical rice stalls pay a higher licensing fee of $3,000 a month, bringing their total monthly fees to $4,600 before GST. They pay $4,922 with 7 per cent GST and would have to pay $5,014 when the 9 per cent GST kicks in.
Those running larger stores pay the highest licensing fee of $4,000 a month. With the other costs, these hawkers incur $5,600 monthly operating costs before GST and a total of $5,992 after 7 per cent GST. These hawkers would have to pay a hefty $6,104 when the 9 per cent GST hike comes into effect.
The OTMH contract also shows that hawkers who adhere to 12-hour operating hours each day are not entitled to any off days. Those who operate their stalls for 16 hours each day get 1 off day per month while those who operate their stalls for 20 hours each day get 2 off days monthly. Hawkers who run their stalls 24/7 are entitled to four off days per month.
Besides this, hawkers are expected to bear additional expenses such as costs for:
– Photography and stainless steel equipment;
– Crockery and cutlery with stall number;
– Annual replenishment charges for crockery and cutlery that need to be replaced;
– "Legal fees"; and for the
– Paper roll for the icashbox and POS machine, besides costs for repairs of these machines after the warranty period.
Hawkers who hope to run stalls in the Our Tampines Hub SEHC are also expected to cough up a deposit comprising of three months licensing fee. This means hawkers must pay between $4,500 – $12,000 as a deposit, depending on the type of stall they hope to run.
SEHCs require hawkers to sell at least one dish for a low price like $3. These hawkers are also expected to pass inspections to ensure that the food meets standards while maintaining the cheap price.
Netizens responding to the OTMH contract were appalled at the costs hawkers at the Our Tampines Hub SEHC are saddled with: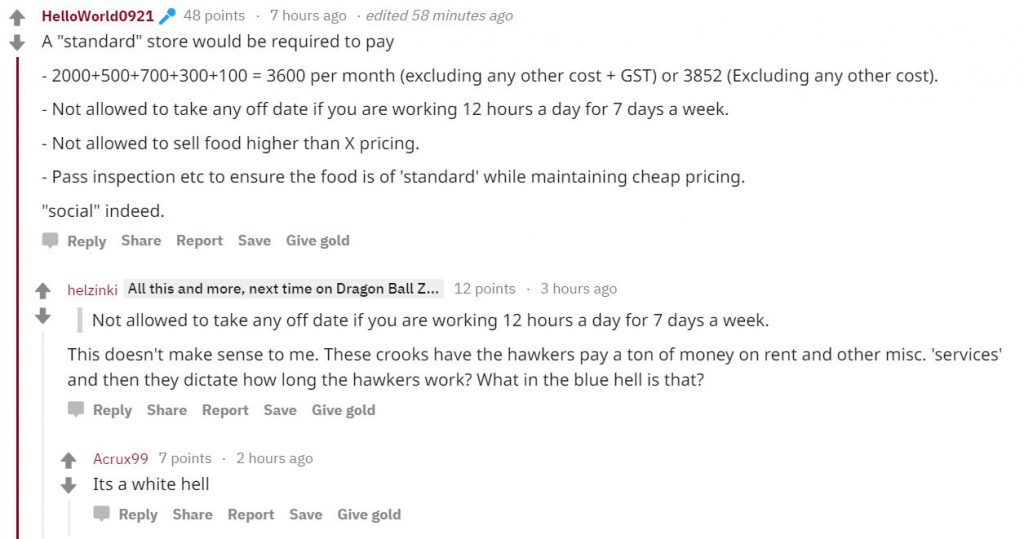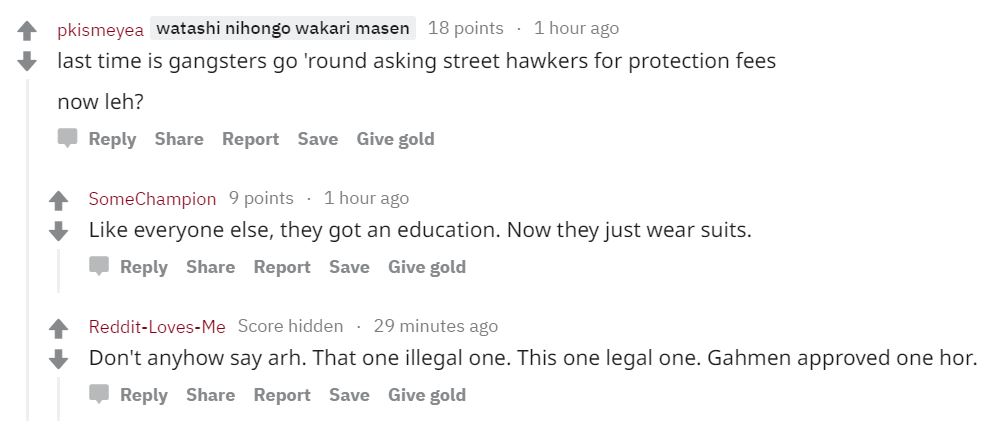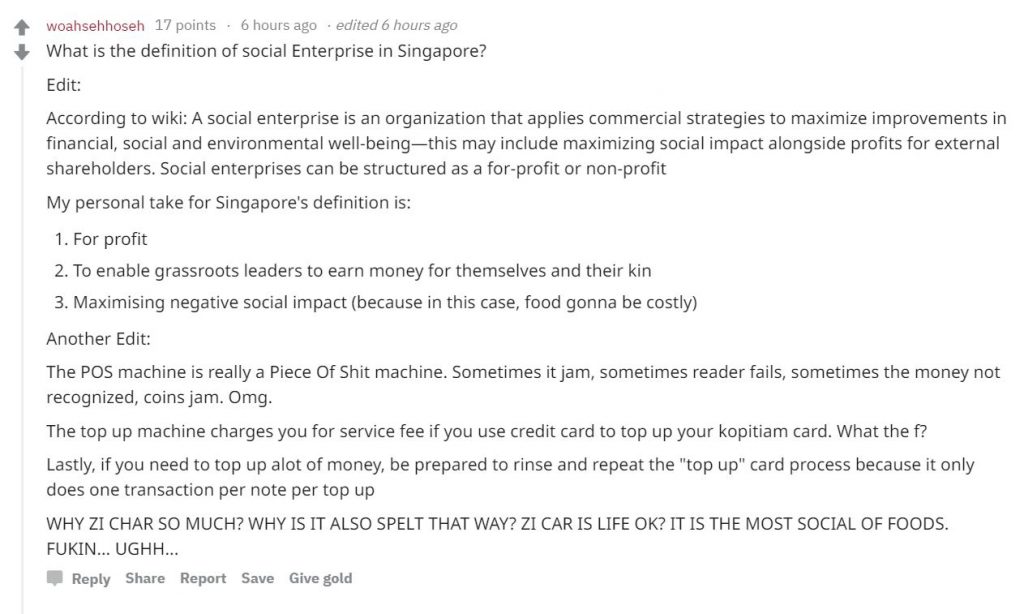 Interestingly, the National Environment Agency (NEA) cited the Our Tampines Hub SEHC as one that is "doing well" when it drew flak for giving social enterprises control of hawker centres.
Responding to forum letters lambasting the statutory board for the SEHC model, NEA's Director of the Hawker Centres Division, Ivy Ong, noted "hawker centres in good locations like Kampung Admiralty and Our Tampines Hub are doing well. NEA will continue to plan for future hawker centres with good locations and connectivity to benefit both hawkers and consumers."
In her letter to the national broadsheet, Ong added "The hawker centres run by socially conscious enterprise operators are pilot projects, and form seven out of 114 hawker centres in Singapore. They have brought some benefits but there are also areas that need to be reviewed and improved, which we are doing as part of the stock take of the management model."
Shedding light on the role social enterprises play as operators of hawker centres, Ong said:
"The aim (of the model) is to leverage the expertise of socially conscious enterprise operators in food and beverage, property and lease management, and introduce new and innovative ideas to achieve the social mission of hawker centres on a not-for-profit basis.

"Besides offering affordable food in a clean environment, the operators are required to implement initiatives to enhance the vibrancy of the centre and sustain the hawker trade. These include measures to increase footfall, the curation of food mix, introducing famous food recipes and hawker mentorship programmes.

"NEA seeks to achieve a balance by requiring the hawker to serve an affordably priced food option while favouring centre operators with a lower total cost to stallholders. Operators are also not allowed to vary the charges to stallholders at any time during the tenancy term."
Ong's vision to "achieve the social mission of hawker centres on a not-for-profit basis" appears to be at odds with Elim Chew's recent assertion that "not-for-profit doesn't mean don't make profit". Chew is the chairperson of a panel that recommended the SEHC model to the Government in 2012.
https://theindependent.sg.sg/not-for-profit-doesnt-mean-dont-make-profit-chairperson-of-panel-that-recommended-social-enterprises-should-run-hawker-centres/Follow us on Social Media
Send in your scoops to news@theindependent.sg