On September 7, in response to confusion and dissatisfaction from hawkers, Fei Siong Food Management announced that the extra S$650 fees charged to them at Ci Yuan Community Club Hawker Centre were actually not compulsory.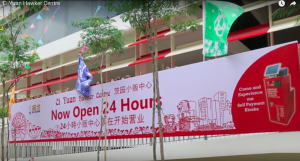 On top of already high rental fees, the monthly S$600 quality control management fee and the S$50 coin changing service fee were viewed as too much for hawkers.
Hawkers came forward with their issues regarding the high monthly fees, perceived as compulsory, after KF Seetoh of Makansutra published an article exposing the extra costs hawkers were made to pay at social enterprise-run hawker centres, on top of their monthly rentals.
A stall owner, who wanted to remain anonymous, left Ci Yuan Community Club Hawker Centre after the management could not justify and explain the monthly quality control fees.
Another hawker related his experience, saying,"We were told about the fee in July when our contract was up. It came out of nowhere, and they told us that it is for the NEA (National Environment Agency) and quality control."
The hawker said that he decided to just pay the fees so he could stay and run his business from the same stall.
The management offered the S$600 quality control service, which is conducted by Fei Siong's employees, after receiving complaints about smaller food portions. The team in-charge of inspection study portion size and food quality and make sure proper standards of hygiene are being observed.
Mr. Sng defended the fees, saying, "We're doing this because we are insisting on our brand and quality. When we manage Ci Yuan, people will think of Fei Siong. If we're not doing a good job, it will affect our Fei Siong group. So on this point, we emphasize the food quality, food prices and food cleanliness regulations."
"Looking at the charges as a whole, I think it is reasonable," he said.
Mr Sng explained that the services offered by Fei Siong are not required for those who were not part of the Entrepreneurship Programme put in place by the management.
The programme offers mentorship, training and financial assistance to new hawkers, helping them set-up their stalls. This programme allows them to save up to S$30,000 which can be put toward equipment and stall repair.
The monthly service fees are compulsory only for the hawkers who entered the Entrepreneurship Programme. Hawkers not enrolled in the programme do not have to pay the fees unless they choose to avail of the services provided by Fei Siong.
There has been a lot of confusion whether the fees are mandatory, and in response to this, Mr Sng promises to "definitely improve on this area and make sure that everything is actually addressed accordingly".
The subject of Social Enterprise Hawker Centres have also been a hot topic for discussion. Senior Minister of State Amy Khor said on Friday that this particular management model, which has been in effect for 3 years already, has benefited hawker centres and the overall dining experience.
On this matter, Dr. Khor said, "We will continue to evaluate this alternative management model, take into account suggestions and feedback on this ongoing process."
"(We will) see how we can adjust, make refinements to the model so that we can have a better management model for our hawker centres and achieve these fundamental objectives of helping the hawkers make a decent livelihood at the same time and ensuring Singaporeans have access to good quality and affordable food in a hygienic environment," she added.
In response to this issue of miscommunication, people found it hard to keep their disapproval to themselves, and some thanked Makansutra's KF Seetoh for bringing the concerns on the monthly fees to light.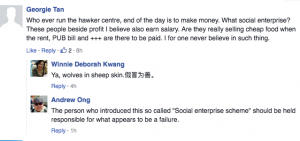 Follow us on Social Media
Send in your scoops to news@theindependent.sg