A forum letter writer seems to have condensed the thoughts many Singaporeans appear to share regarding the measly $365 elected parliamentarians pay annually for parking in HDB estates and Parliament House, as he called on the Government to walk the talk on the clean wage policy.
Earlier this year, the Government cited the clean wage policy, which is meant to make any hidden perks and subsidies for teachers transparent, as the reason for imposing hefty annual parking charges for teachers who drive and park in schools.
In March, just one day after it was confirmed that staff at all national schools will be charged season parking fees, the Ministry of Defence (MINDEF) announced that it will impose market rate season parking charges at 6 MINDEF and Singapore Armed Forces camps and bases from this year.
Arguing that the Government should not have opened the "can of worms" of hidden perks since members of the Government pay underpriced parking rates, forum letter writer Sean Lim Wei Xin highlighted that MPs appear to pay a fraction of what ordinary Singaporeans pay for parking:
"Singaporeans usually pay $1.20 per hour at public carparks but MPs pay $365 for an annual permit. This boils down to about $1 for a day's worth of parking at their constituencies or Parliament House.

"Based on simple calculations, it appears that this fee is underpriced as $1 a day amounts to only 50 minutes of parking at a public carpark."
Noting that Singapore residents pay about $100 monthly for season parking at HDB estates, Lim highlighted that the justification that parliamentarians "do not park overnight or full day at their constituencies" and at Parliament House is moot, since ordinary Singaporeans also do not park at HDB estates for full days given their work schedules.
Lim added that parking at Parliament House is also underpriced since parliamentary sessions are drawn out and held in an area where regular parking fees are high.
Further, Lim argued that the issue is not about the rational behind allowing free or subsidised parking for anyone – the real issue is that free parking for teachers and soldiers was highlighted and dealt with as part of the "clean wage policy" while members of the government remained mum about their $365 annual parking permit:
"The problem is not about whether free or subsidised parking is justified for anyone.

"The issue of the "hidden perks" that teachers and soldiers gained through free parking should not have even been brought up in the first place as it is not significantly detrimental to Singapore's economy.

"But as it was raised and a can of worms has been opened, all eyes will be on the Government to reconcile the issue."
In a Facebook comment, Lim added that the Straits Times published his letter with minor edits. He shared that he originally included the following paragraphs that he feels contextualises the issue that he believes The Straits Times removed these paragraphs since they were more "critical".
In the original paragraphs, Lim boldly states that the Government has "have lost moral authority over the clean wage argument, given double standards" accorded to elected MPs and called on these parliamentarians to pay market rate parking fees, as well:
"Now, whether free or subsidised parking is flawed for anyone is not the issue, but was it worth waking a sleeping lion up, in the initial debate over parking for teachers and soldiers?

"Now that more cans of worms are opened, eyes will be on the government to reconcile the issue. This is especially so when they seem to have lost moral authority over the clean wage argument, given double standards are applied to MPs vis-à-vis other public servants.

"If the government wants to walk the talk, MPs should pay market rate parking fees as well."
Lim's letter gained quite a bit of traction on social media after it was published over the weekend, which is no surprise since public uproar over the $365 annual parking permit for elected MPs continues unabated.
Some netizens responding to Lim's letter pointed out what they perceive to be double standards in the subsidies that parliamentarians receive, compared to teachers and soldiers. Still others highlighted the high ministerial salaries members of the ruling party already receive and question whether they really need such underpriced parking permits: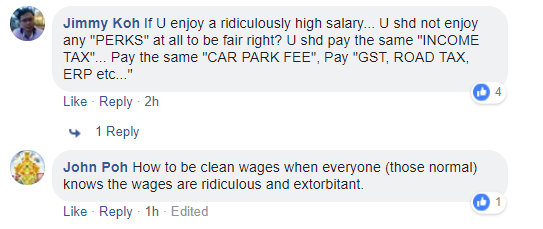 Follow us on Social Media
Send in your scoops to news@theindependent.sg