Government agency, The Agency for Integrated Care (AIC), has drawn flak for a video competition that promises to give out a $30,000 cash prize to winners instead of helping senior citizens in a better way.
AIC was formed to support senior citizens in Singapore. Its organisational vision is to establish "a vibrant care community enabling people to live well and age gracefully." This Tuesday, AIC launched a competition and asked the public to send videos of senior citizens telling their stories.
It advertised on Facebook: "All seniors can continue to lead purposeful and happy life as they age. Know of any inspirational stories to tell? $30,000 of cash prizes to be won! Submit your video by 17 Mar 2019."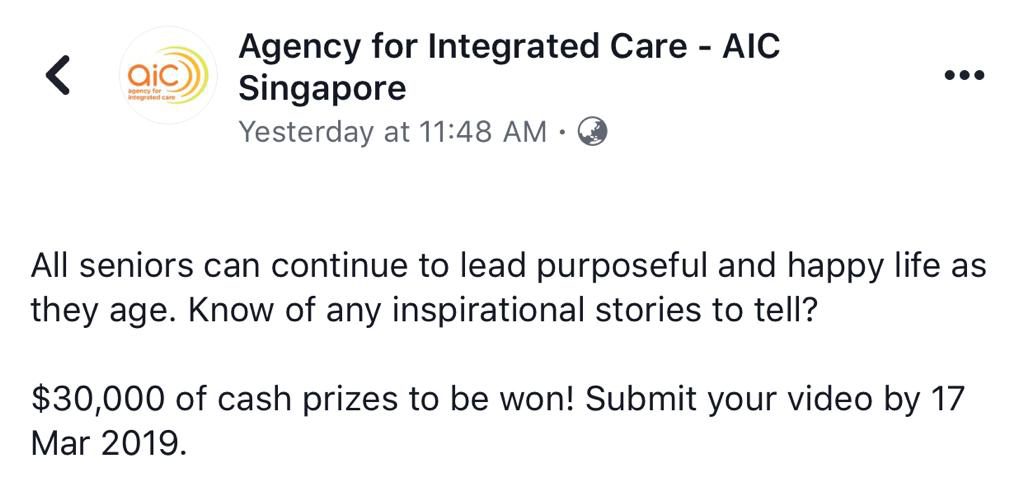 While some netizens jumped at the chance to win $30,000, others questioned why AIC seems to be throwing money away instead of using it to directly benefit the elderly. They also asked why AIC is trying to get the public to find inspiring stories for them instead of doing the ground work themselves.
Facebook user Mike Ngin wrote: "Seriously? You rather throw $30k on managing PR Rara, then to use it for Corporate Social Responsibility programmes to really benefit the ageing population? Public service indeed is appalling these days."
Another netizen, KongHwee Ong responded to Ngin and said: "totally agreed. The prize money can be used in a better way to help the needy elderly. Shouldn't AIC employees be doing the ground work to find out inspiring stories instead of offering rewards and wait for public submission?"
Ngin replied: "guess that's how public service works these days. Too cushy."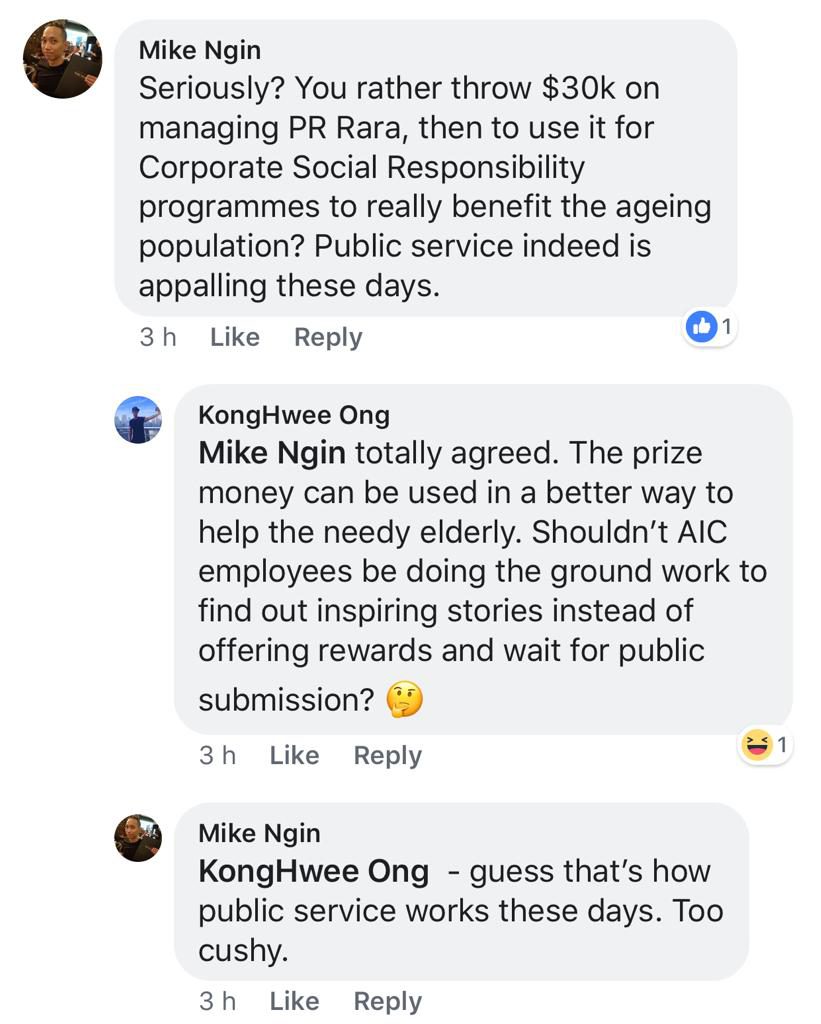 Ngin and Ong had their exchange on AIC's official Facebook page yesterday evening. One day later, AIC explained why it is organising this competition in a separate comment.
The agency said, this evening: "At AIC, we use various avenues to raise awareness of ageing and eldercare among different audiences. The Video Competition is a new initiative where we reach out to those who enjoy telling stories through videos.
"As participants share meaningful dialogues and personal stories with viewers, we hope to set the public thinking even more deeply about what ageing means to all of us. Please join us and the filmmakers as we embark on this journey together to raise awareness for seniors to live well and age gracefully!"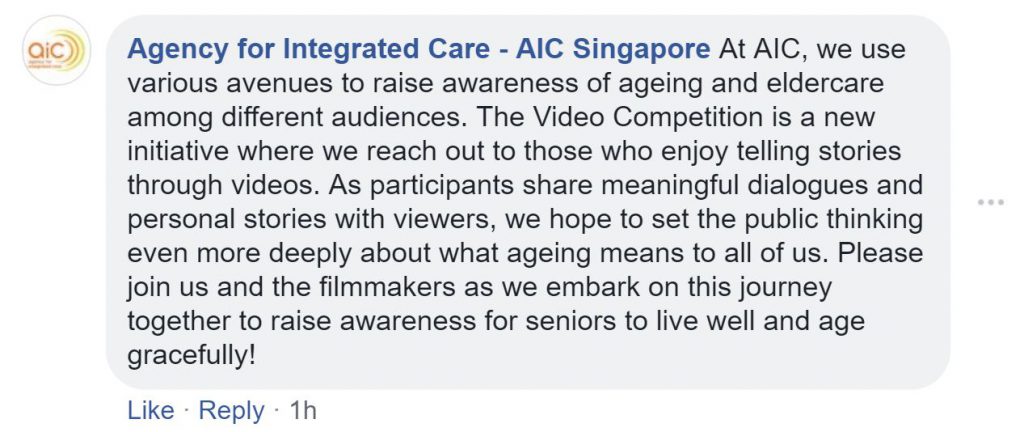 According to gov.sg, AIC was "set up by the Ministry of Health to oversee, coordinate and facilitate all efforts in care integration."
AIC's LinkedIn profile reports that it was "formed as an independent corporate entity under MOH Holdings (MOHH) in 2009 to look into the enhancement and integration of Community Care sector."
AIC is presently led by chief executive officer Tan Kwang Cheak. Before joining AIC, Tan has served as Chief Human Resources Officer at NTUC Fairprice Co-Operative and as Human Resources and Talent Development Director at MOH Holdings.
https://www.facebook.com/AICSingapore/videos/306241983414453/?__xts__%5B0%5D=68.ARBuqEjFWqJCwn71RacPMgE2BeygY06yUb8W0E1WNIRHoa4-kPzJpt-brGFwF5BLRdafGKAV3wdNSY-fheLNCkJHpIixjqF0_rNpz_y0wQC6PEDWIvLhtFRQP2K9X-dcXWxFb7hecpSBnBHaDnvbu5Lzxw5bfKaRku62LpzaDIMTJNSZu2LaYY707qpBoC7gRBug25RwaJHNydTYYxVYUprIdi5ONo23dmq5vEVQiw2BW_4iyK5OOWChsXDSOzmAXYtfUIAt6FBZKgGxIJm3lgEc7-HLE07G_c9AJ2FTlPZTZRdPlUtIkFuBT5jNcLunmTqXYRjHayjaPdBNN9tU2iMqMlPi_BQS2gy8aw&__tn__=-RFollow us on Social Media
Send in your scoops to news@theindependent.sg 
No tags for this post.