In an announcement on their website gov.sg, the Government has refuted messages circulating on Whatsapp messenger that allege "the biggest robbery in Singapore" are Careshield Life and Eldershield.
The text message read: "[These] insurance were ran by three private insurance companies. Gahmen found out that the private insurance were making huge profit on it. They collected $2.8 billion in premium n only paid out 100 million in claims. Therefore a profit of 99.6%".
It then read, "The robbery happened when Gahmen say this insurance is now compulsory for everyone in Spore".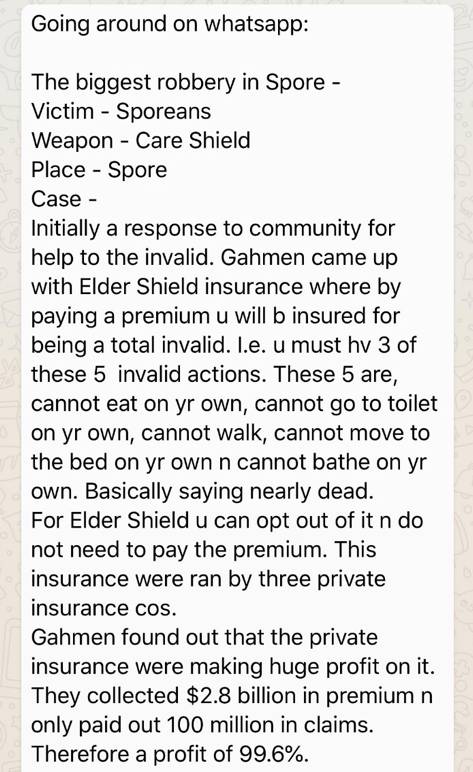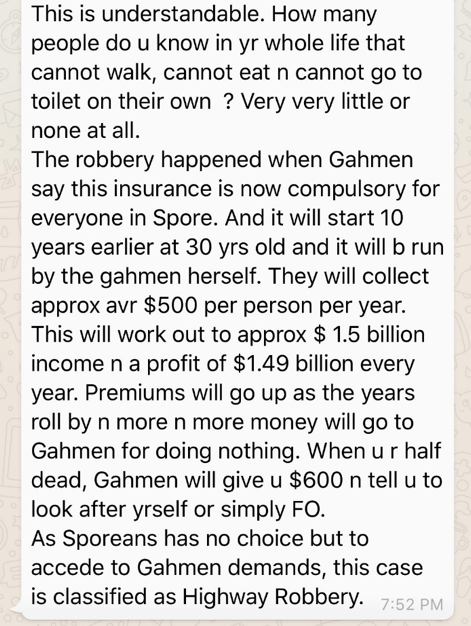 The message also suggested that that because the risk of severe disability is very low, it is unlikely that policyholders will make a claim.
The message continues, "They will collect approx avr $500 per person per year. This will work out to approx. S1.5 billion income n a profit of $1.49 billion every year. Premiums will go up as the years roll by n more n more money will go to Gahmen for doing nothing. When u r half dead, Gahmen will give u $600 n tell u to look after yrself or simply FO. As Sporeans has no choice but to accede to Gahmen demands, this case is classified as Highway Robbery."
A post on the Government website, gov.sg, on June 30 says "The claims are untrue".
They then add, "Fact: The Government will not profit from CareShield Life. The premiums collected and returns from investments will stay within the fund so that policyholders can benefit through higher payouts or premium rebates".
They also put out startling statistics in their post, such as that one in two Singaporeans who is healthy at age 65 could become severely disabled in their lifetime. This translates to half of Singaporeans possibly becoming disabled in their lifetime.
Netizens do not quite agree with the statistics and the numbers.





________________________________________________________________________
obbana@theindependent.sg
Follow us on Social Media
Send in your scoops to news@theindependent.sg