The results of a global study on human capital conducted by the Institute for Health Metrics and Evaluation (IHME) ranked Singapore in 13th place in 2016, up from 43rd in 1990. The only other Asian countries who figured in the top 20 were Taiwan (5th), South Korea (6th) and Japan (14th), placing higher than the US (27th) and the UK (31st).
Human capital, according to the IHME, is defined as "the attributes of a population that, along with physical capital such as buildings, equipment and other tangible assets, contribute to economic productivity. These attributes include aggregate levels of education, training, skills and health in a population that affect the rate at which technologies can be developed, adopted and employed to increase productivity."
The study, which was administered on 195 countries and territories, examined how education and health affected the number of years of peak productivity for workers between the ages 20 and 64, or expected human capital.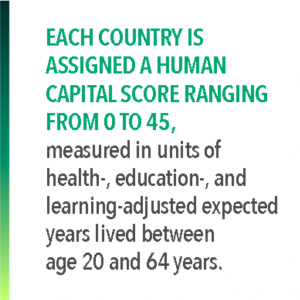 "The IHME is an independent population health research center in Washington that provides rigorous and comparable measurement of the world's most important health problems and evaluates the strategies used to address them." In this study, they reported that Singapore had a significant increase in its expected human capital, from 17 years of productivity in 1990 to 24 in 2016.
In 2016, Finland was at the top of the list with the highest level of expected human capital of 28 for "health, education, and learning-adjusted expected years lived" between age 20 and 64 years. Iceland, Denmark and Norway were tied at 27 years. The country with the lowest expected human capital of 2 years was Niger.
While Singapore climbed from 43rd to 13th place, the US fell from 6th in 1990 to 27th place in 2016 because of its lack of progress in educational attainment.
Singapore scored well, earning the highest score for education quality at 98 out of 100 in 2016. This data was gathered on tests among school-aged children.
Its functional health status score also remained high, at 82 out of 100 in 2016, up from 78 in 1990.
The Singapore Government's investments in education and healthcare have been instrumental in bringing about Singapore's impressive results.
"The Government traditionally places high importance on education and healthcare," said Dr. Kelvin Seah, a professor at the Department of Economics at the National University of Singapore (NUS). He said that they were "the second and third largest components of the Government's expenditure after defense."
The study, which was published in international medical journal The Lancet on September 25, covered educational attainment and quality, plus functional health status – stunting, wasting, anaemia, hearing loss, vision loss, cognitive impairment and infectious diseases – and survival of individuals.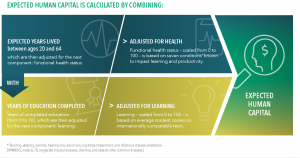 Although no formal causal analysis was conducted, the study made the correlation between higher levels of expected human capital and higher levels of gross domestic product (GDP) per capita in 1990 and 2016.
IHME director Christopher Murray commented on the importance of human capital – "As the world economy grows increasingly dependent on digital technology, from agriculture to manufacturing to the service industry, human capital grows increasingly important for stimulating local and national economies."
Professor Teo Yik Ying, Dean of the NUS Saw Swee Hock School of Public Health, said that the metrics for computing human capital will change in the future as the issue at hand  "develops and matures in most countries".
"In the future, the focus will no longer be simply educational attainment and learning, but also whether the skillsets learnt and attained are relevant to the future economy," he noted.
Adjunct Associate Professor Phua Kai Hong from the Lee Kuan Yew School of Public Policy at NUS weighed in – "We should be looking at raising the quality of life in education and health, and not just for human capital formation in purely economic terms," he said.Follow us on Social Media
Send in your scoops to news@theindependent.sg