Those who are willing to sacrifice the benefits they enjoyed in the corporate world to become political leaders should be compensated with special bonuses or pensions.
"But money should not be the main attraction to woo the best people to join the Government. They should also have the passion, interest and determination to do the job well."
That was the suggestion by one Ong Ka Hoe in a letter to the Straits Times on Saturday, 11 August.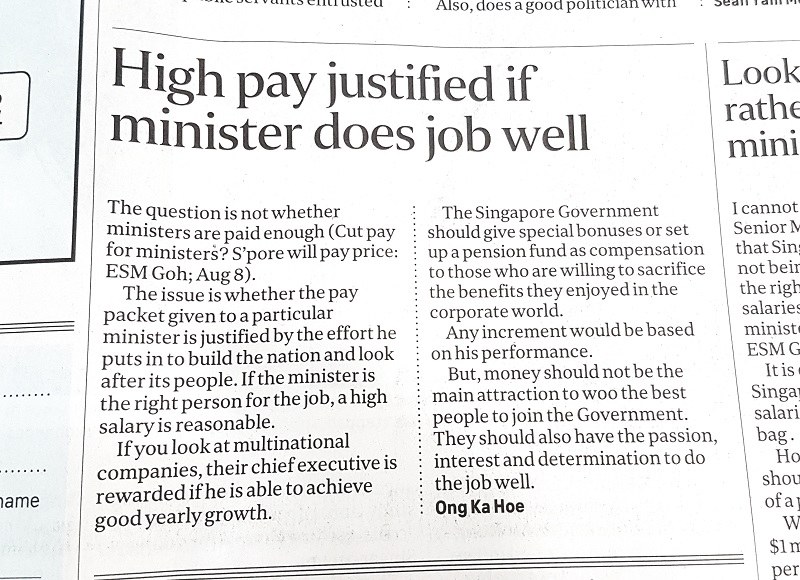 Mr Ong's views are part of the ongoing debate on ministers' salaries, sparked by recent comments from Emeritus Senior Minister Goh Chok Tong at a public forum last week.
ESM Goh had lamented that "ministers are not paid enough", when a forum participant suggested that a pension fund for the elderly be set up, and that perhaps it could be funded by cuts from ministers' pay.
Mr Goh said if salaries were cut, "down the road, we are going to get a problem with getting people to join the Government, because civil servants now earn more than ministers."
He later clarified on his Facebook page, following the public uproar over his remarks: "Salaries is not our starting point in looking for ministers. Character, motivation, commitment, selflessness, practical abilities, competence and proven performance are the main attributes we look for."
Mr Ong said it is not how much a minister is paid that is the issue, but "whether the pay packet given to a particular minister is justified by the effort he puts in to build the nation and look after its people."
"If the minister is the right person for the job, a high salary is reasonable," he said, adding, "If you look at multinational companies, their chief executive is rewarded if he is able to achieve good yearly growth."
He then suggested that those who entered politics, and who sacrificed the benefits of the private sector, should be given "compensation" in the form of a pension or special bonuses.
Mr Ong's suggestion is quite a curious one, given that ministers in fact already are given bonuses, which can amount to a total of 14.5 months.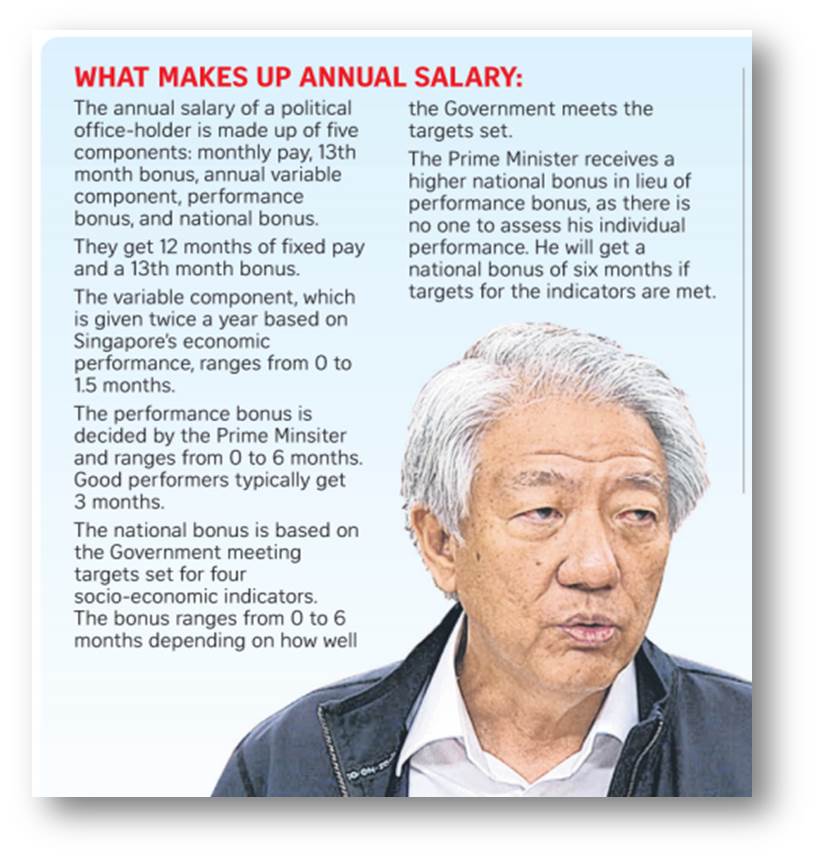 The Straits Times reported:
"The annual salary of a political office-holder is made up of five components: monthly pay, 13th month bonus, annual variable component, performance bonus and national bonus."
Office-holders get 12 months of fixed pay and a 13th month bonus.
The Performance Bonus component is decided by the Prime Minister and ranges from 0 to 6 months.
The National Bonus is based on the Government as a whole meeting targets set for 4 socio-economic indicators, and range from 0 to 6 months.
The Prime Minister himself receives a higher National Bonus of 6 months if targets are met.
Which minister gets these benefits, however, is not disclosed, or how much exactly each is rewarded in terms of performance bonuses.Follow us on Social Media
Send in your scoops to news@theindependent.sg