The Elections Department (ELD) reportedly appointed about 30,000 public officers as election officials and has already begun training, prompting speculation that the next General Election may be just around the corner.
The ELD selected and trained election officials about 11 months before the last General Election that occurred in 2015. For the 2011 and 2006 General Election, election officials were appointed 31 and 18 months respectively before the polls.
An ELD spokesperson revealed that officers from various ministries and statutory boards have been called up to be trained on managing nomination, as well as handling polling and counting duties for an election. Training – which includes workshops, hands-on simulated activities and online exercises – officially began on Thursday (5 July) at the ELD Training Centre in Victoria Street.
Confirming that the ELD has to be prepared for elections – whether it be parliamentary general elections, by-elections or presidential elections at any time – at any time, the ELD spokesperson indicated that this training is a routine procedure: "To prepare the public service to conduct elections in Singapore, ELD trains public officers on an ongoing basis to perform election duties."
Former Nominated Member of Parliament Eugene Tan echoed this and added that the ELD's appointments should not be taken as a sign that an election is coming up. Pointing out that the clearest sign of an impending election would be the appointment of Prime Minister Lee Hsien Loong's successor, Tan told reporters: "I see all this as routine business which we shouldn't read too much into."
Despite Tan's warning, it appears netizens are speculating about when the next General Election will be called. Netizens have largely felt that the election may be called in 2019 or 2020, well in advance of 15 Jan 2021 – the absolute last date the next parliamentary elections must be held by.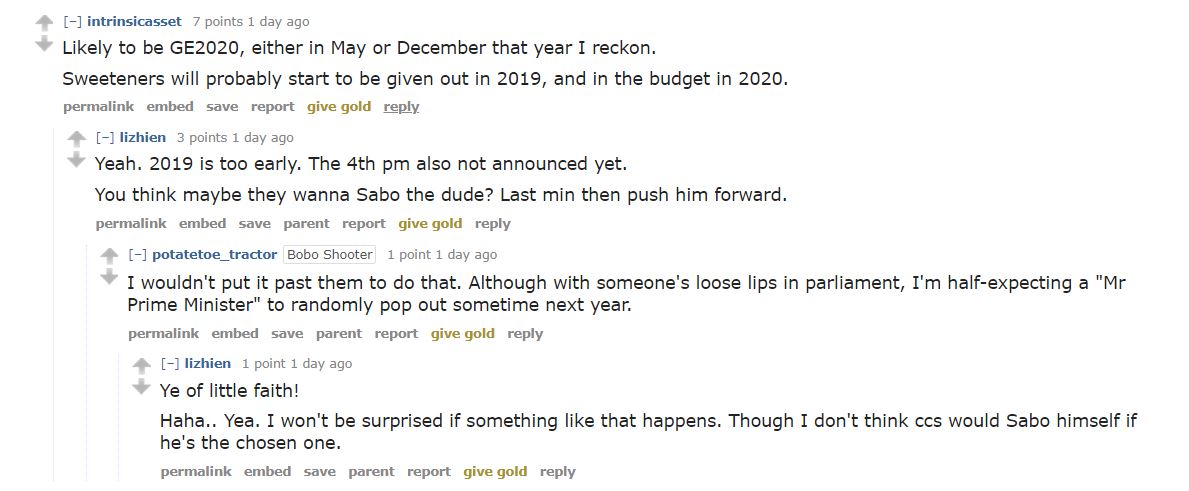 While some netizens felt that the Government will wait until 2020 to call an election, since the water price and electricity tariffs were only recently hiked, others felt that the election will be called next year to coincide with the 200th anniversary of Sir Stamford Raffles' arrival in Singapore, in 2019.
Singapore will celebrate 200 years since Sir Stamford Raffles arrived in Singapore, next year, and many expect the Government to celebrate the occasion by giving cash bonuses to Singaporeans.
This – combined with the $100-$300 all Singaporeans will receive as a one-off bonus this year due to the exceptional Budget surplus of FY2017 – could signal that the next election will be held earlier than 2021, given past election trends.
The nation was celebrating its 50th year of independence in 2015 when the last General Election was called. Citizens received a "SG50" cash bonus in the run-up to the election, which the PAP won with an overwhelming majority.
In Budget 2015, middle-income earners who paid personal income tax received a 50 per cent rebate of up to $1,000. Besides this, eligible Singaporeans aged 55 and above received a one-off Seniors' Bonus of $150 to $600 in cash, as well.
2015 was also the same year that the nation's founding prime minister Lee Kuan Yew passed on. Political observers speculated at the time that the Government called a General Election earlier than expected during the last cycle, to capitalise on the wave of goodwill that poured forth after the political leader's passing.
The General Election before that, was preceded by Budget 2011, in which the Government distributed $1.5 billion worth of "growth dividends" to Singaporeans. 80 per cent of citizens received $500 to $700 each that year.
With the trend of one-off cash bonuses preceding General Elections in recent years, it may come as no surprise to some if the next election is called as soon as 2019.
http://ww2.theindependent.sg/the-curious-timing-of-the-impending-gst-hike/
Send in your scoops to news@theindependent.sg