16 years ago, a Member of Parliament (MP) made a speech which still reverberates today because of its relevance.
That speech, popularly known as "The Seven Wonders of Singapore", was made by former Speaker, Tan Soo Khoon, in 2002. Mr Tan was an outspoken MP, not mincing his words when he raised an issue, and especially so in this particular speech.
The former Speaker, at 27 the youngest parliamentarian to have been voted into the House in 1976, served 7 terms, 30 years as MP, before he stepped down in 2006. He was later appointed a "non-resident ambassador" to the Czech Republic.  
Prime Minister Lee Hsien Loong paid tribute to Mr Tan when the latter stepped down from politics.
"He makes very good speeches in Parliament," PM lee said. "Sometimes, he draws blood… Sometimes he has offended ministers, but he has spoken his mind."
So, what did Mr Tan say in 2002 and why is it relevant to us today?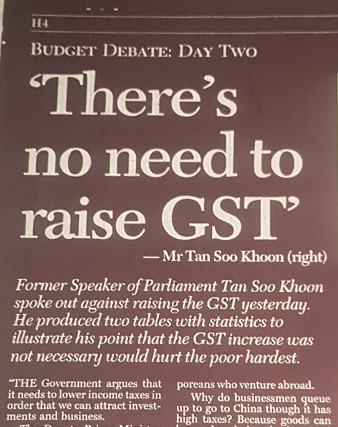 First, a little context: 2002 was the year the government debated the prospects of hiking the then 3% GST to 5% – a 67% increase. It was also a time when Singapore was still trying to recover from the recent economic downturn, and many were still unemployed.
Amidst all this, however, the government had been on a spending spree, with government buildings adorned with luxuries and such.
It was in such an environment that Mr Tan made his speech in protest against the GST hike.
He slammed the government over its extravagant spending even as Singaporeans were struggling, accusing it of hoarding money by raising the GST which, he said, the government realised was "a goldmine."
Since the speech, the GST has been hiked one more time to the present 7%. The Government announced earlier this year that it will go up further to 9% sometime in the future. It did not specify exactly when that will be, but it's believed to be soon after the next general elections, due by early 2021.
Now you see the relevance of Mr Tan's speech today – while the Government is raising the GST partly because of an ageing population, it seems that it has also been spending extravagantly, on things which do not seem necessary. We will come to this later.
The debate on the proposed GST hike during the Budget in March degenerated into a fiasco of PAP ministers demanding opposition MP Sylvia Lim apologise for her "test balloon" remark.
Singaporeans did not get a chance to question the government on its spending and whether instead of increasing the GST, the Government should first cut unnecessary expenditure, cut waste.
This was what Mr Tan had called on the Government to do in 2002. It is a call which we should repeat now.
Before we get to Mr Tan's speech proper, what are some of the things which the Government has been spending on which are excessive?
Let's start from the 2017 spending by the People's Association (PA). Tens of millions were spent on upgrading the community clubs and centres recently, according to the MCCY's Budget statement. What these upgrading works were, it is unclear.
The PA has received billions of dollars in grants from the government the last several years.
For example, the PA's 2017 budget was raised by 34%, to some $900m, prompting WP MP Sylvia Lim to query the government about it.

For example, what were the "upgrading programmes" for "11 community clubs" which cost almost $59m; and a further $27m for "upgramming programme for 10 community clubs and centres"? Why did the "relocation of Nee Soon Central void deck community centre" cost a whopping $22m?
The PA in fact has been flagged in two separate test audits in 2015 and 2018 by the Auditor General's Office for "serious weaknesses" and "significant" financial irregularities in their accounting books.
Calls for the PA and its grassroots organisations to be fully audited have gone unheeded by the government.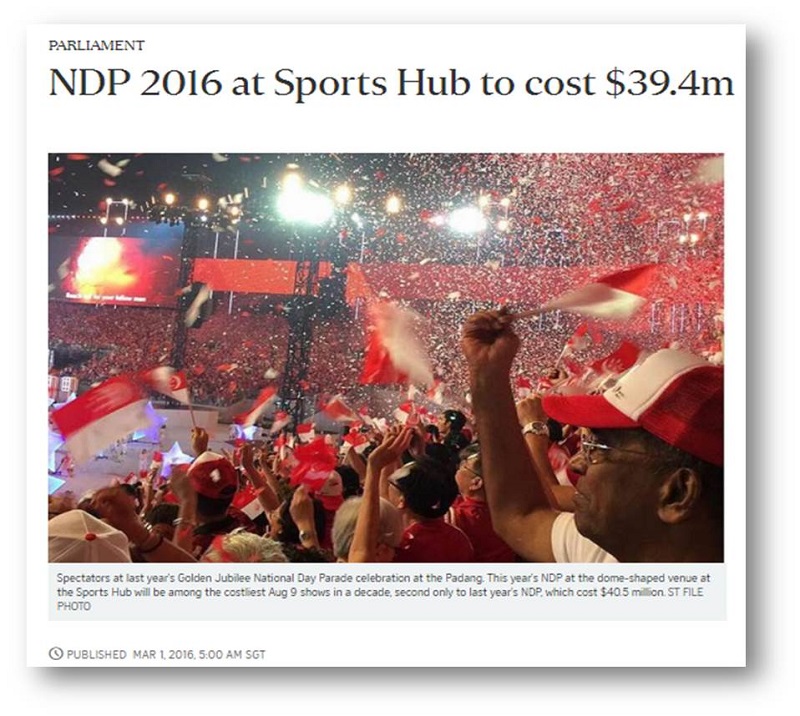 In 2016, the National Day Parade was reported to have cost the authorities almost $40 million to hold the event at the Sports Hub. Was it necessary to spend that kind of money on fireworks and such for a 2 hour event?
In 2015, the NDP cost once again $40m.
Here are the costs of our NDP parade through the years, according to the website, Dollars & Sense: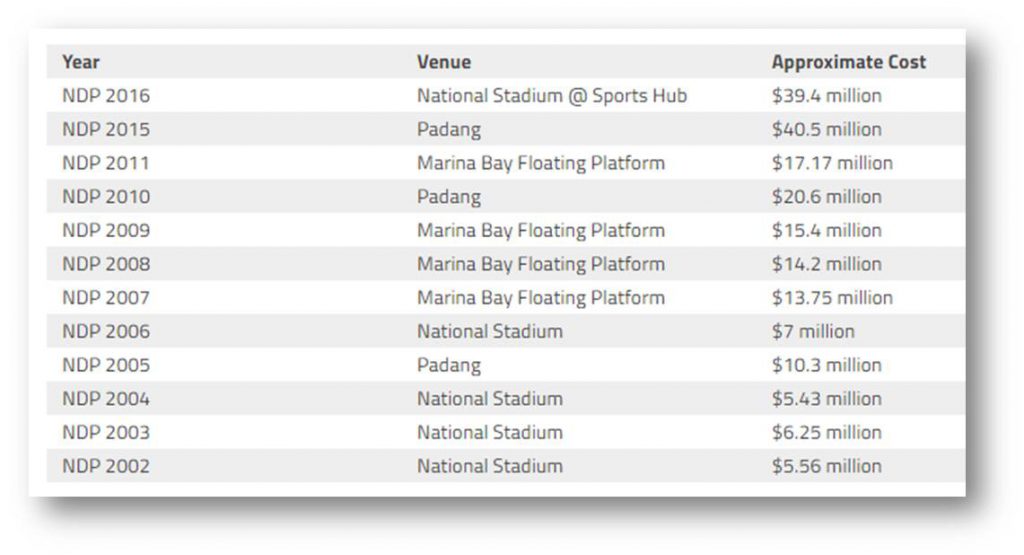 Also in 2016, there was this now infamous episode of the government approving a $410,000 consultation fee and a $470,000 construction bill for a rubbish centre at the Arts House. The bin centre was basically four walls slapped onto an existing structure.
The news of the costs ignited an uproar, especially online.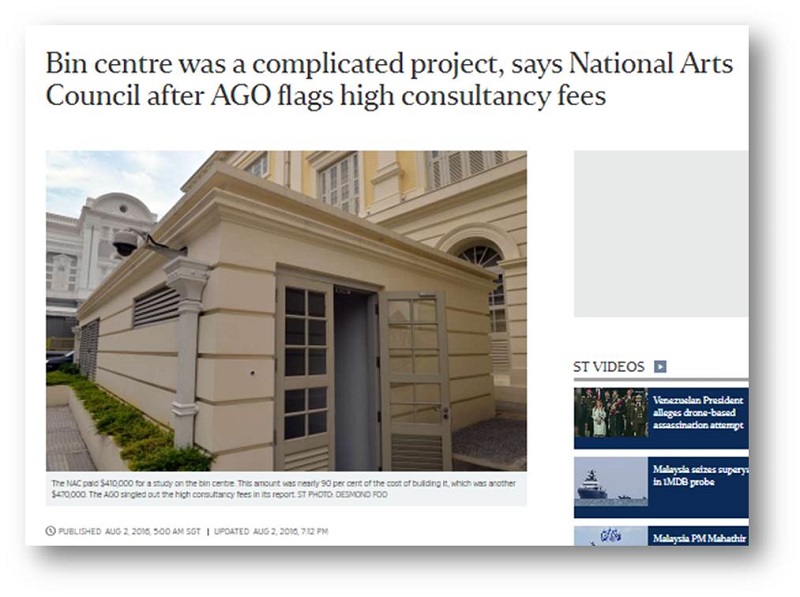 In 2013, the Attorney General Chambers (AGC) moved its offices from The Adelphi to the very posh building on Upper Pickering Road. It is in fact the same building where the Park Royal hotel is located.
The AGC occupies 10 of the 15 floors of the building. (See here.)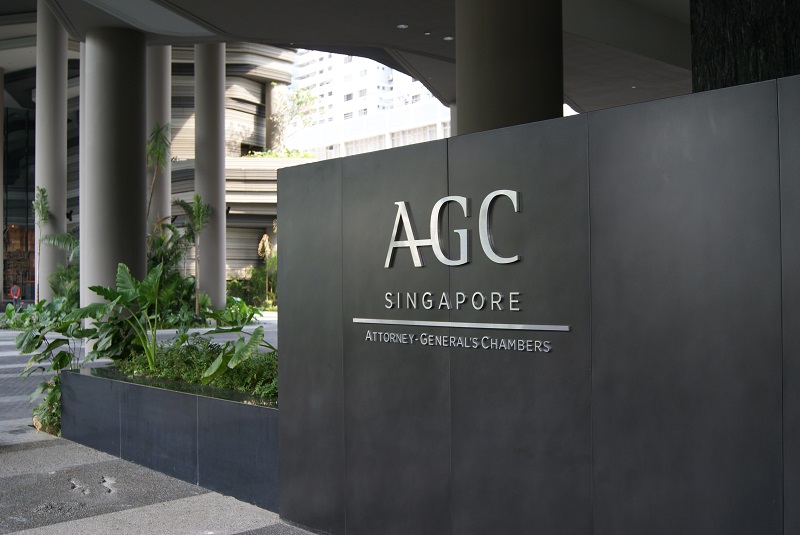 How much does it cost each year for the AGC to be located in such posh surroundings?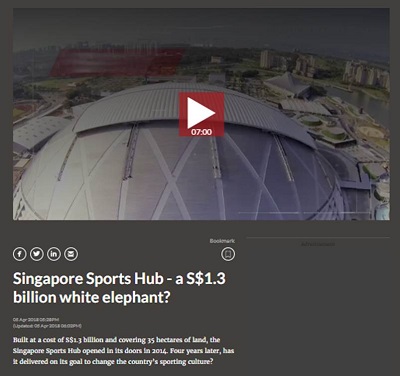 In 2014, the $1.3 billion Sports Hub was finally opened after extended delays and bloated costs from the original budget. But since then, questions have been regularly raised about whether it has become a white elephant, failing in its aim to change the sporting culture here in Singapore.
Also in 2014, the Ministry of Manpower (MOM) advertised to hire a PR firm " to help it communicate manpower policies in a strategic way."
The services required "include coaxing journalists to write one or two MOM stories a month, and getting MOM officials featured in live and recorded TV and radio programmes every three months, according to its letter to prospective firms", the Straits Times reported then.
The fee which would be paid was not disclosed.
And earlier in 2014, the MOM had also hired another PR firm, this time a local one, to help it "monitor daily how local and foreign media are reporting news related to the ministry."
The costs? $154,000.
And while we are on the subject of engaging firms to help promote government departments or programmes, the Ministry of Finance (MOF) in 2018 hired some 50 "social media influencers", including "instagram influencers" to help publicise the Budget.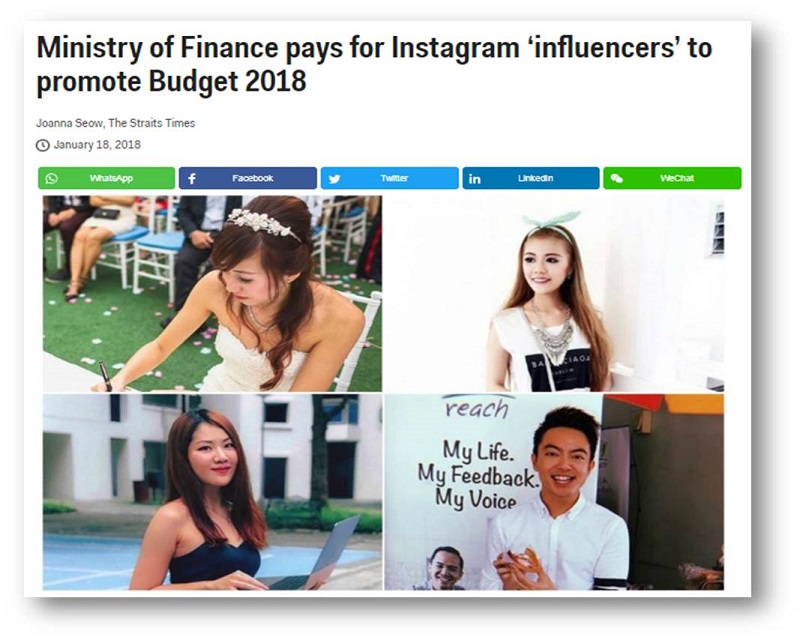 The "influencers" were paid "market rates", the MOF said, declining to disclose the exact costs incurred in hiring the 50.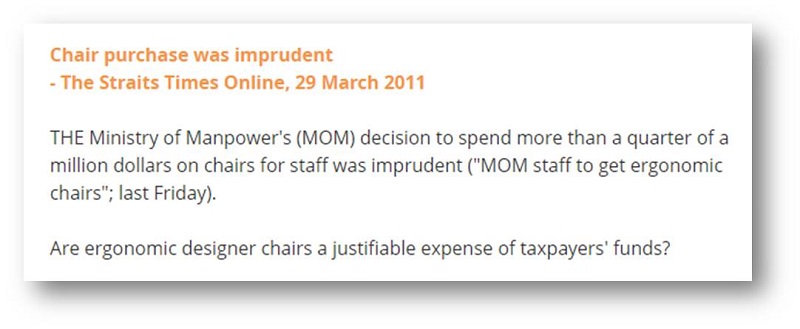 Back in 2010 and 2011, it was discovered that the MOM, the AGC and Spring Singapore had all purchased hundreds of expensive designer chairs for their staff, amounting to the tune of hundreds of thousands of dollars.
Each of the chairs cost between $575 to $650.
The ministry explained that it was value for money.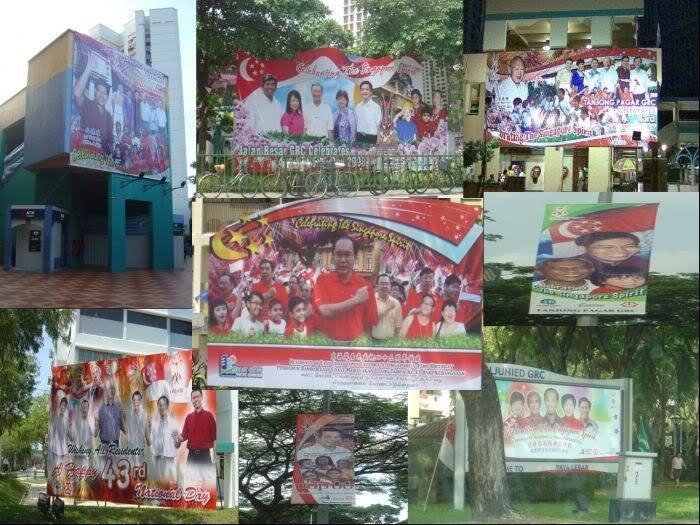 The PAP's penchant for plastering the faces of its MPs on billboards in the run-up to National Day has continued every year. Gigantic boards, lighted at night, can be seen in all constituencies.
Some, like in past years, are so huge, they dwarf real humans.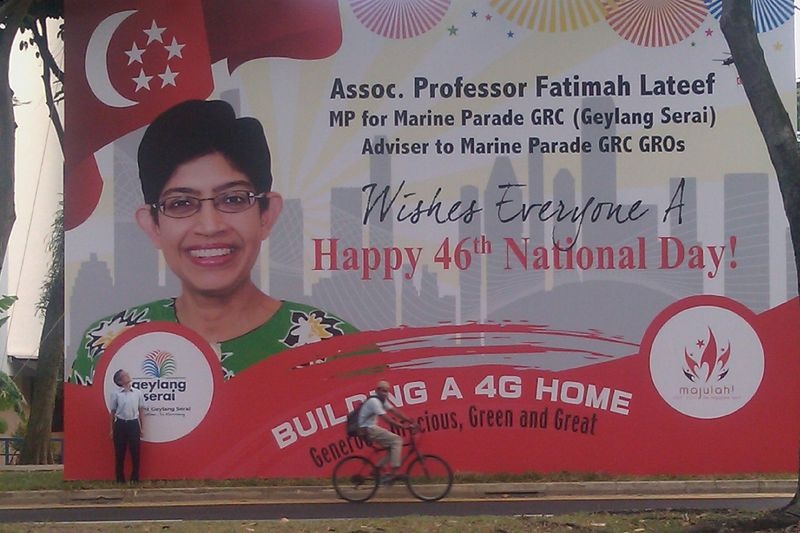 How much do these cost?
10 years ago, this writer tried to find out by writing to the Ang Mo Kio Town Council.
This was the response he received:
"The total cost of each billboard is $3,300. Our town council pays for only one billboard per division/SMC and the rest are borne by the respective CCC through their own fund raising. The $100 electricity cost is for one billboard."
The town council said it had put up 7 billboards that year (2008). The $100 electricity cost is for keeping the spotlight turned on for 2 months. The spotlights  illuminate the boards from 7pm to 7am every night.
Are all this necessary? Do we need to see the smiling faces of our MPs at major junctions throughout all our constituencies on National Day, even at night?
And finally, we come to something more recent and perhaps the most extravagant of them all – ministers' salaries. There is nothing much to say as we all know they are extremely highly-paid, the highest salaries in the world for public servants.
Last week, at a public forum, Emeritus Senior Minister Goh Chok Tong apparently still felt that ministers are in fact "not paid enough".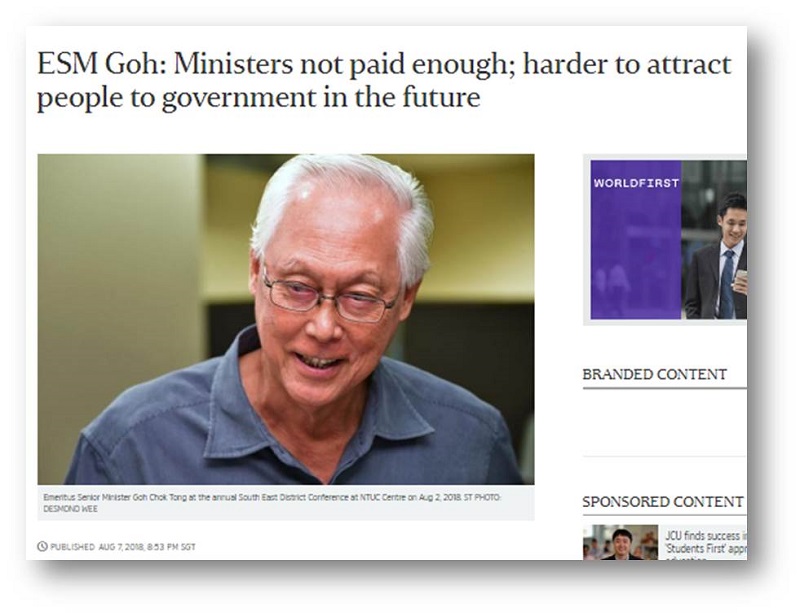 Really, how much will it take before ministers like Mr Goh are satisfied?
A minister is in office for 1 term, 5 years. At the entry MR4 level, a minister is paid S$1.1m per year.
Therefore, for 1 term in office, he gets $5.5m.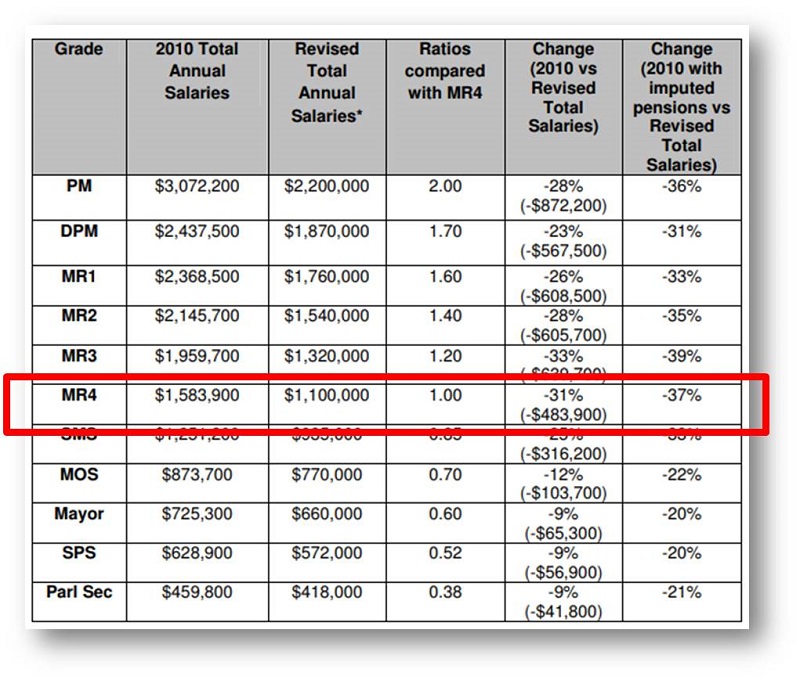 In Singapore, because the ruling PAP is such a political force that it is unlikely to be dislodged from office anytime soon, its ministers will continue to enjoy such salaries for many more years ahead.
An entry level minister may get promoted, or have his tenure extended another term or two. How much would he be getting in total then?
If he serves 3 terms and is paid entry-level salary, he will have earned a total of S$16.5m.
How is this "not paid enough", for a public servant?
These are just some examples of questionable spending by the government. If we go further back in time, the list would be much longer. But it is not just the layman who are concerned by such wastefulness.
Concerns were raised by former head of the Civil Service, Ngiam Tong Dow, several years ago as well.
Mr Ngiam said:
"My favourite topic — I'm on public record — is Formula 1 (F1). We're paying the Englishmen to stage the F1 night race here. Why should we use taxpayers' money to pay for these races? I have asked this question publicly, but the MOF has never addressed it."
And:
"I was born in a generation where every cent counts, so I believe we should spend our money wisely, and not on frivolities. Sometimes, I think our present Cabinet spends money on frivolities, and staging the F1 is my "favourite" example."
And so, we return to Mr Tan's speech.
His message of prudence is especially an apt one for National Day.
Let us look at what Mr Tan said, way back in 2002.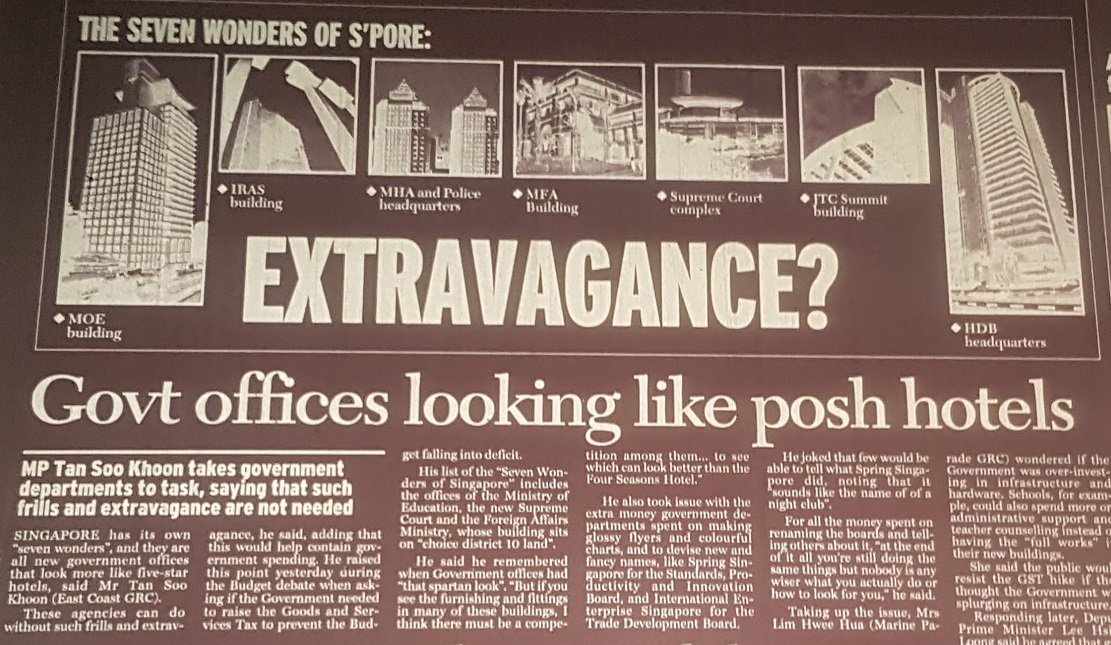 "I agree with the Deputy Prime Minister when he says that Government departments have to spend only on essentials and eschew frills and extravagance. I wish that that message had been sent earlier. It seems to me that every Ministry and many statutory boards today want to have their own headquarters or corporate building.
"But if you see many of them, you wonder if they are looking more like 5-star hotels. Singaporeans refer to the Seven Wonders of Singapore: MOE, JTC, IRAS, the new Supreme Court, Foreign Affairs sitting on a choice district 10 land, the twin towers of Home Affairs in Thomson and the upcoming HDB headquarters in Toa Payoh. It seems that twin towers are becoming fashionable in Singapore.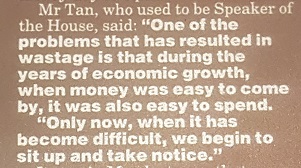 "In fact, I cannot understand why HDB, which is downsizing as the building programme is being cut back drastically, cannot stay where it is. It has to build twin towers. I remember not too long ago too that Government offices had that spartan look. Of course, we now can afford to look better. But if you see the furnishing and fittings in many of these buildings, I think there must be a competition amongst them to outdo one another to see which one can look better than the Four Seasons Hotel. Needless to add, posh buildings mean large sums of money every year just to upkeep them."
And later, in a follow-up speech, Mr Tan said:
"Mr Speaker, Sir, I had said previously in the House that one of the ways for the Government to ensure that the Budget is properly balanced is not merely to increase tax, but also to watch out for its expenditure."
"I am afraid that years of strong economic growth and years of strong surpluses may have set the free and easy mentality in some of our Ministries. I do not wish to repeat what I said during the Budget debate because I have no new seven wonders to reveal today.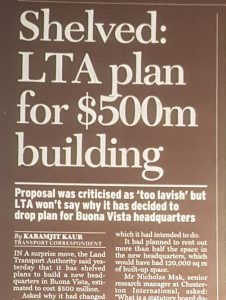 "But I was quite taken aback, like many other Singaporeans, when we heard that the Land Transport Authority was building a $500 million headquarters and I think because of the public ruckus, the whole project has been shelved.
"But I was also very concerned last month when I read that for the opening of the Esplanade – Theatres on the Bay, we spent something like $13 million and was all blown away in 23 days.
"And yet, on the other hand, the Government announced the increases in hospital charges, raising more money from the sick to the tune of $12 million a year.
"So I want to ask: sometimes have we got our priorities correct? Therefore, I would like to ask the Deputy Prime Minister, in spite of what he has told us and his reassurance to the House, what concrete steps can really be taken by the Government to ensure that the cost of Government is well controlled and, if not in a crisis, can it be reduced even further? Because, like all businesses, when we are faced in a difficult situation, one of the things that all businessmen do is to cut back on expenses."

So, as we celebrate our 53rd National Day, and as we absorb an ever-increasing cost of living amidst an ageing population and a background of economic uncertainty going forward, let us remind ourselves and our government that we need to be prudent when it comes to spending public funds, and conveniently raising taxes, especially the GST.
Too much unnecessary spending is taking place, and we would be wise to remember the words of the former Speaker. Follow us on Social Media
Send in your scoops to news@theindependent.sg