A form teacher allegedly forced his class to sit, stand, squat and then kneel throughout their period, besides threatening one student that he would punch him, just to show his pupils "what our forefathers experienced during the Japanese occupation".
Redditor u/veryfascinating shared this harrowing encounter online as Singaporeans discussed their experiences with crazy teachers:
"Our form teacher is those kind who will laugh with you, joke with you and treats you very well, but when he gets mad, he becomes another person. So one day, he walks into class as per normal. We laugh, we joke, we were going through textbook material, and all of a sudden his face turn super black.

"He shouted at us, he got super angry, he made the whole class stand. Then sit. Then stand. Then sit. Then squat. He saw a student at the back of the class smiling and he called the guy over. Warned him to wipe that smile away. But that guy has a resting smile face so no matter how much he tries, he is smiling.

"Warning turned into the teacher grabbing the guy by the collar and pulling back his fist shouting WIPE THAT SMILE OFF YOUR FACE OR ILL PUNCH!!! poor guy was so scared he had to frown and force a pouty face to be let go.

"The teacher then made us kneel on the floor, looking downwards and not allowed to look up for the last 15 minutes of class until the bell rang.

"Then his face turned back to his normal smiling face, said "class is over! Everyone stand up, stretch your feet. What you've experience is only a short snippet of what our forefathers experienced during the Japanese occupation. Any little thing you do will get you into trouble. Even if it is something as stupid as smiling at the wrong time (no hard feelings about that earlier, Jon?) today we live a very peaceful life.

""But less than 50 years ago, this was daily life. We only had 15 minutes of it today. If you can't handle if for 15 minutes, imagine the three years of the occupation our forefathers had to endure. Today's class for total defense day has ended. Hope you guys will learn to appreciate the peace we have now and remember that the road here is not easy.""
The netizen added: "It's more than 10 years ago so I doubt any teacher can pull the same thing now and get away with it…"
As fellow netizens responded that they would have been scarred for life if a teacher treated them in that manner, u/veryfascinating added that the teacher is still in contact with him and his old classmates to date and that they teacher had kinder moments too:
"Don't feel bad, most of us have gotten over it.. actually that teacher is one of the few whom many of us still keep in contact with! We do know (after everything) what his intentions were, and that teacher always used unconventional teaching methods anyway (in the days of using OHP he already started using MS PowerPoint to teach us, he always gave us a break every 15-20 min which is unlike your other teachers who demanded 110% of your attention and time during class…) he's a nice guy and every time we meet up we will mention that day and how he scared the shits out of us and then he'll laugh about it and beg us never to bring it up again cos he paiseh… hahaha"
Meanwhile, other Singaporeans shared their stories of "crazy" teachers they've had. From a teacher who allegedly unbuttoned a mischievious student's school uniform shirt to humiliate him to another teacher who allegedly accused a financially needy student of being a liar, some of these stories are truly troubling: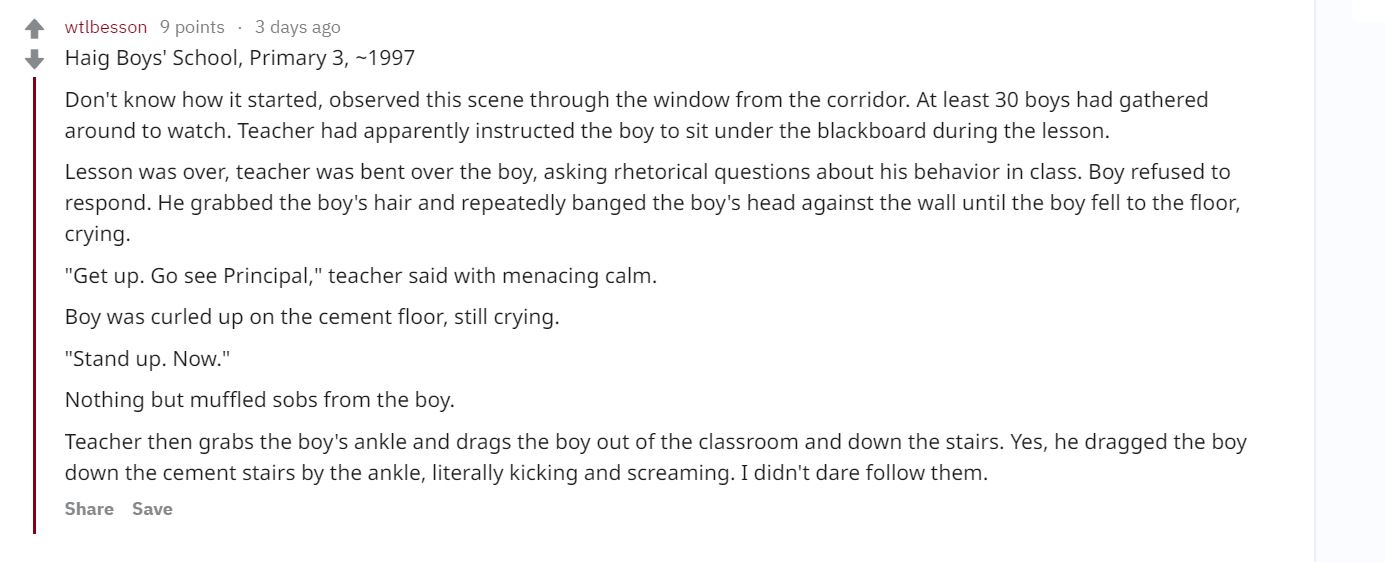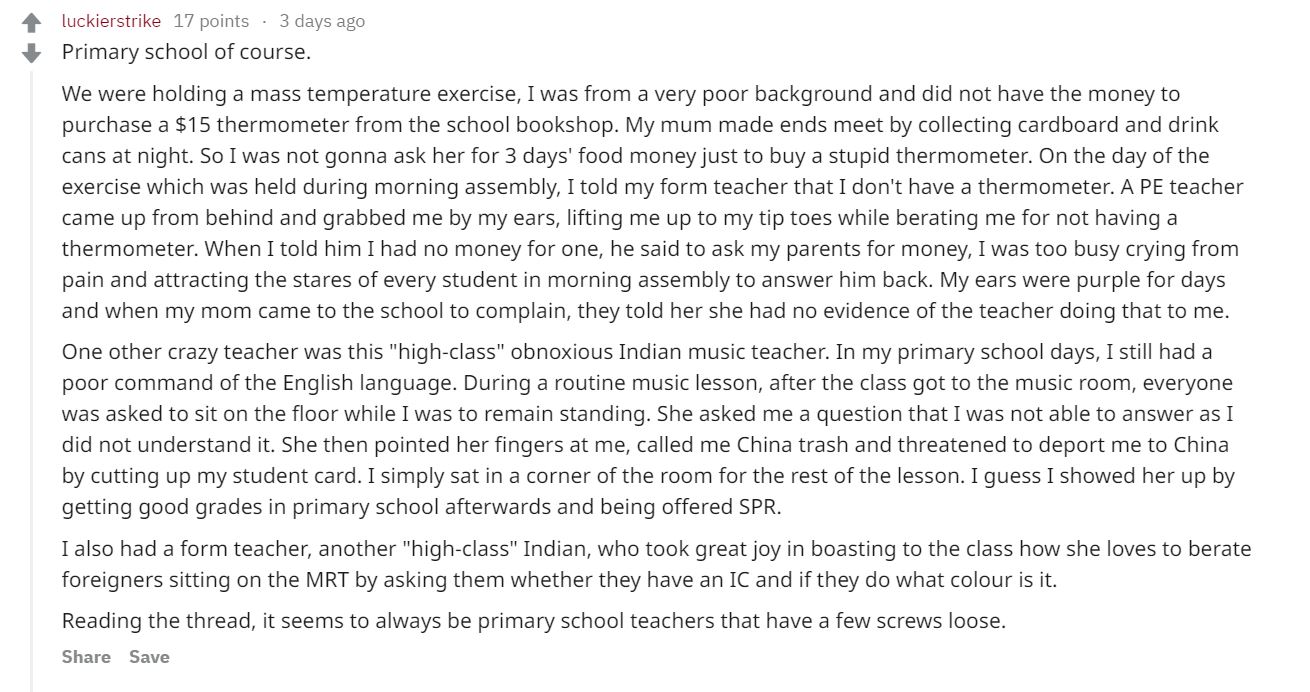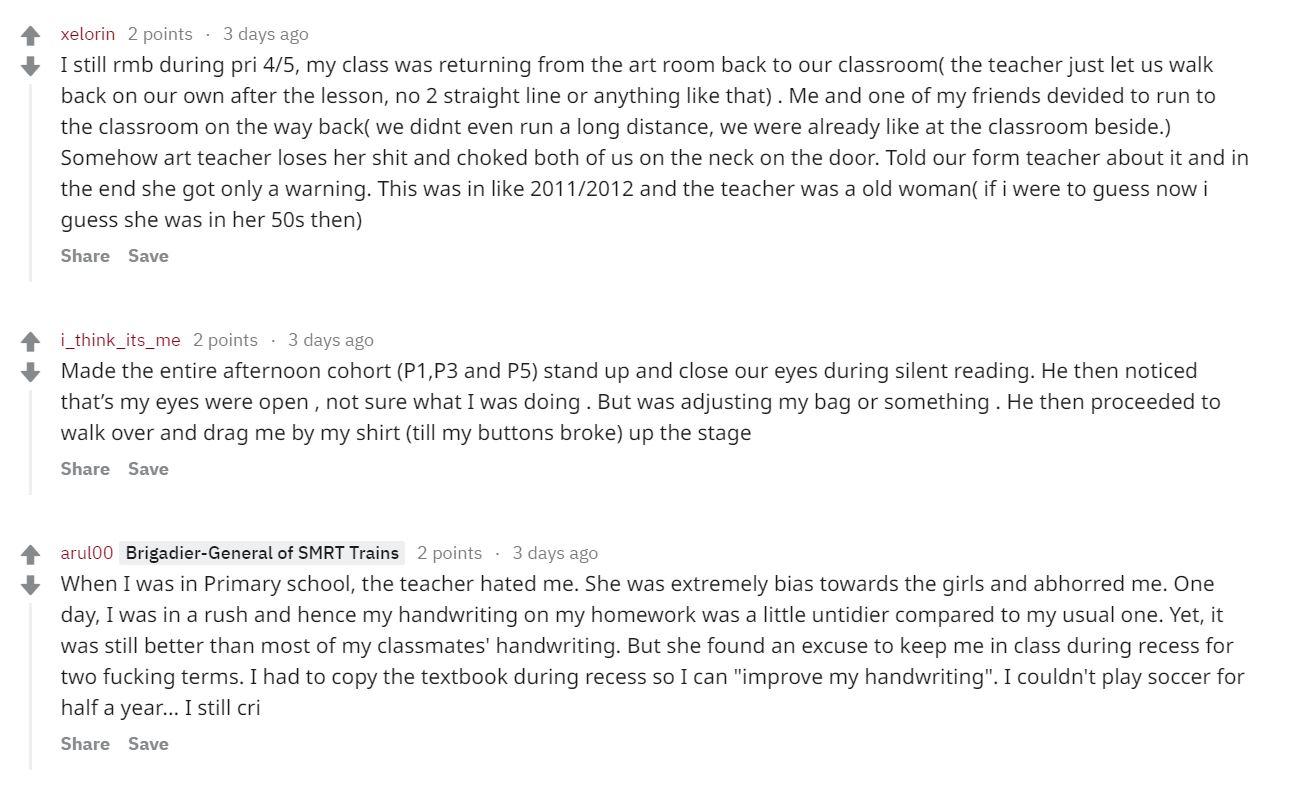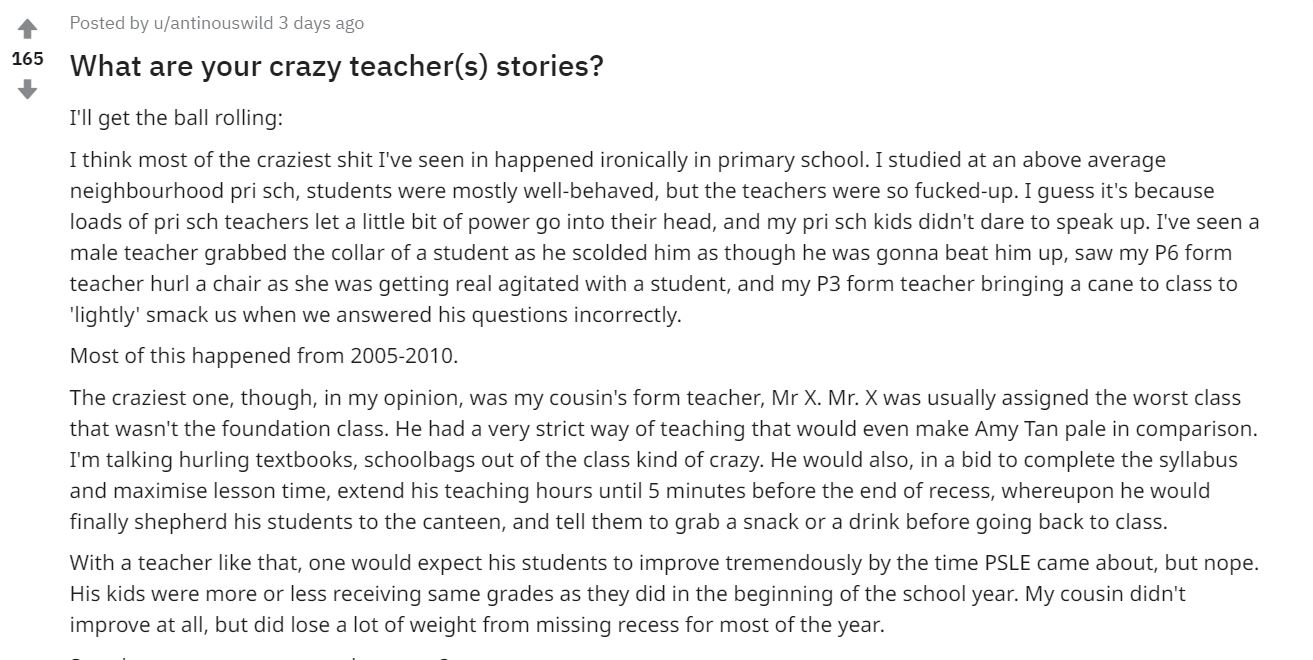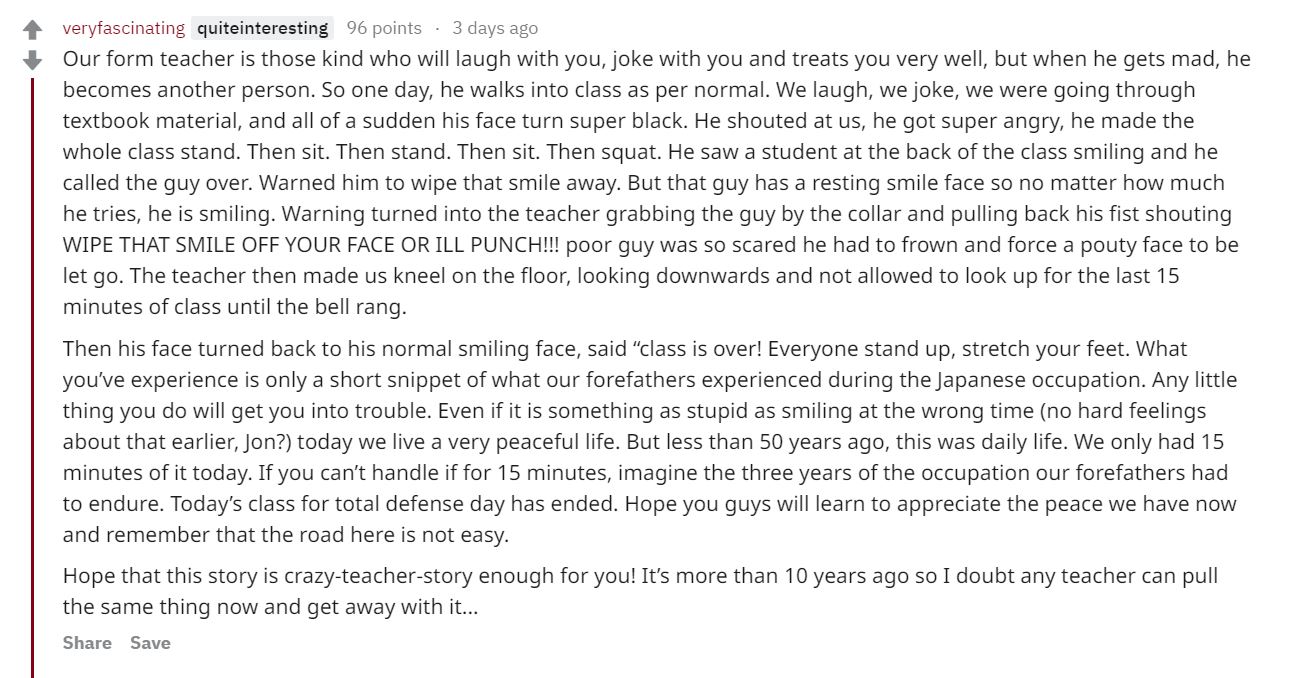 Follow us on Social Media
Send in your scoops to news@theindependent.sg 
No tags for this post.