Ilhan Fandi Ahmad wants to return from England to serve his National Service (NS) and not seek a deferment.
The father of the 15-year old, football legend Fandi Ahmad, told Channel Newsasia that his son "wants to do a sacrifice" and disrupt his studies to do his NS when he turns 17.
Singaporean males are required to enlist for NS when they turn 18, unless they are granted deferments.
Ilhan is presently studying in Queen Ethelburga's College in York, England, and will be there for another year or so. He is also training at the i2i Football Academy, which has links to English football club, Leeds United.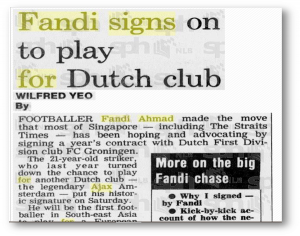 Fandi, who himself had stints with clubs in Europe in his younger days, said Ilhan wants to emulate his two elder brothers, Irfan and Ikhsan, who had also gone overseas to train, but had served their NS first.
Ikhsan had in fact opted to do his NS earlier so he could pursue his footballing ambitions sooner.
Ilhan intends to do the same.
"He said after his "O" Levels or after his GCSE [he wants to return to serve his NS], but I said he can continue 2 more years, complete his A Levels," Fandi said. "He said no, I want to go back and serve (NS) when I'm 17."
Fandi added, "It's not me, he wants it. He wants to follow his brother but I said study is important."
He said he will support whatever his son eventually decides to do.
"I leave it to him, when the day comes he will decide but I'm not the person who always force but it's very important that he knows what he wants to do," Fandi said. "I think he wants to do a  sacrifice."
Ilhan left for boarding school in England last September to begin his study and training.
"(Ilhan's) ambition is to become a professional footballer and we (as parents) are here as tools to guide him towards his ambition," Fandi told TODAY then.
He added, "I think he's very talented, so I want to give him the same opportunities like what his brothers had."
"He has that mentality, passion, character and the skills are there… It's his own desire to go to England, although we know it will be hard for him," Fandi said. "Irfan and Ikhsan had each other when they were in Spain and South America. But I believe Ilhan has what it takes."
"(Ilhan's) very friendly and jovial and I'm sure he will gradually ease into the system both socially and academically."
Irfan, 20, and Ikhsan, 17, had spent two years with Chilean side, Club Deportivo Universidad Catolica, from 2014 to 2015. They returned to Singapore in January 2016 to sign with S.League side Home United. In April that year, they enlisted for NS, with Irfan in the Singapore Police Force and Ikhsan in the army.
The two brothers had a stint with Dutch club FC Groningen earlier this year, the same club which their father once played for.
Are Fandi and his wife, Wendy, worried for Ilhan who is alone in another country?
"The training here is very tough, so he will have to be strong mentally and push himself," Fandi told the media last year. "He is alone, but he is quite a jovial boy so I think he will make a lot of friends.
"I don't think he will miss home that much."
Fandi and Wendy have a fourth boy, Iryan, 11, and a daughter Iman, 17.
The issue of footballers having to serve National Service was in the news recently when the Ministry of Defence (Mindef) rejected the deferment application of 17-year old Ben Davies.
The young footballer had signed a professional contract with English club Fulham which would begin at the end of this year, colliding with the time when he also has to enlist for NS.
His father said he will return to serve NS at a later date but has not indicated precisely when, a point which Mindef cited for rejecting Ben's application.
The Minister for Defence, Ng Eng Hen, had cited the examples of Fandi's sons to encourage Ben to do his NS first.
"[Talented footballers like Ben Davies] can emulate the example of Irfan… and Ikhsan to complete both their NS duties as required and also advance their professional football careers," Dr Ng said.Follow us on Social Media
Send in your scoops to news@theindependent.sg