"Ministers are not paid enough!", protested Emeritus Senior Minister Goh Chok Tong, apparently at
a public forum
in his constituency earlier this week.
"And down the road, we're going to have a problem getting people to join the Government," he added. "Because civil servants now earn more than ministers."
ESM Goh was responding to a suggestion from an audience member that the government introduced an "elderly pension fund", which the member said can be funded by cutting the Defence budget, or shaving off ministers' salaries.
ESM Goh, who was Singapore's Prime MInister from 1992 to 2004, said to cut ministers' pay would make it hard for the government to recruit talents to become ministers.
He said that he had difficulty getting people to join government when he was PM because the salary being offered to them was way below what these potential ministers were earning in the private sector.
He said that he still faced the same problem when he tried to recruit these talents in the last election.
"I tried for the last election," Mr Goh said. "Two of them – one earning $5 million and one earning $10 million a month. To be minister for $1 million?"
Then he asked:
"So where do you want to get your ministers from? From people who earn only $500,000 a year? You're going to end up with very mediocre people who can't even earn a million dollars outside. Is it good for you or is it worse for us?"
The issue of ministers' salary has been a thorn in not only the government's side but that of Singaporeans since the scheme to peg civil servants' salaries to the private sector was first raised in 1994.
In 2003, Mr Goh defended the salaries, which is still the highest in the world. The PM's salary, he said, was equal to about $11 per person, equivalent to "about five plates of char kway teow [fried noodles with cockles] per Singaporean."
The Prime Minister was paid as much as $3.7m at one point, and ministers gave themselves a 60% pay rise in 2007.
Later, in 2012 – following the PAP's loss of parliamentary seats to the opposition and a dip in its vote share to the lowest post-Independence – the government reduced civil servants salaries to its current level.
The PM now receives S$2.2m per year which, as many have observed, is still the highest salary compared to all other government leaders in the world.
It is thus mindboggling, really, to hear ESM Goh reportedly say that "ministers are not paid enough", and to hear him say this at a time when Singaporeans are having concerns about the costs of living, retirement, healthcare and such.
ESM Goh also reportedly said civil servants are paid more than ministers, but he did not provide details of this.
It is unclear who these civil servants that ESM Goh referred to are, but let's take an example of how much a top civil servant is potentially worth in the private sector.
Mr Philip Yeo, popularly known as Mr EDB, and former chairman of A*star and special economic adviser to the late Lee Kuan Yew, was reported to have been approached by Mr Richard Li of Hong Kong. Mr Li is the son of billionaire, Li Kashing.
The younger Li wanted Mr Yeo to to be the executive chairman of his Singapore-based fund management vehicle Pacific Century.
What was he offering Mr Yeo?
A S$28m deal which included a $10 million sign-on bonus, $10 million as salary for three years and $8 million in shares and options.
It was an attractive offer to entice Mr Yeo away from his public service work. In the end, Mr Yeo declined the offer – because of Mr Lee.
Mr Yeo explained to the Straits Times in 2016:
"[LKY] called me up and said, 'We depend on you.' The old man kacau'd," he says, using the Malay word for "interfere". "He put psychological pressure on me to stay. LKY was very persuasive."
Mr Yeo stayed and his contribution to Singapore is immeasurable.
But should we pay ministers such extreme salaries?
Mr Goh's remarks risk giving the impression that our ministers are spoilt brats who want more money despite already being paid what some describe as obscene amounts.
But Mr Goh's protestations, it is to be noted, is actually correct – if you go by the benchmark which the ministers' salaries are based on.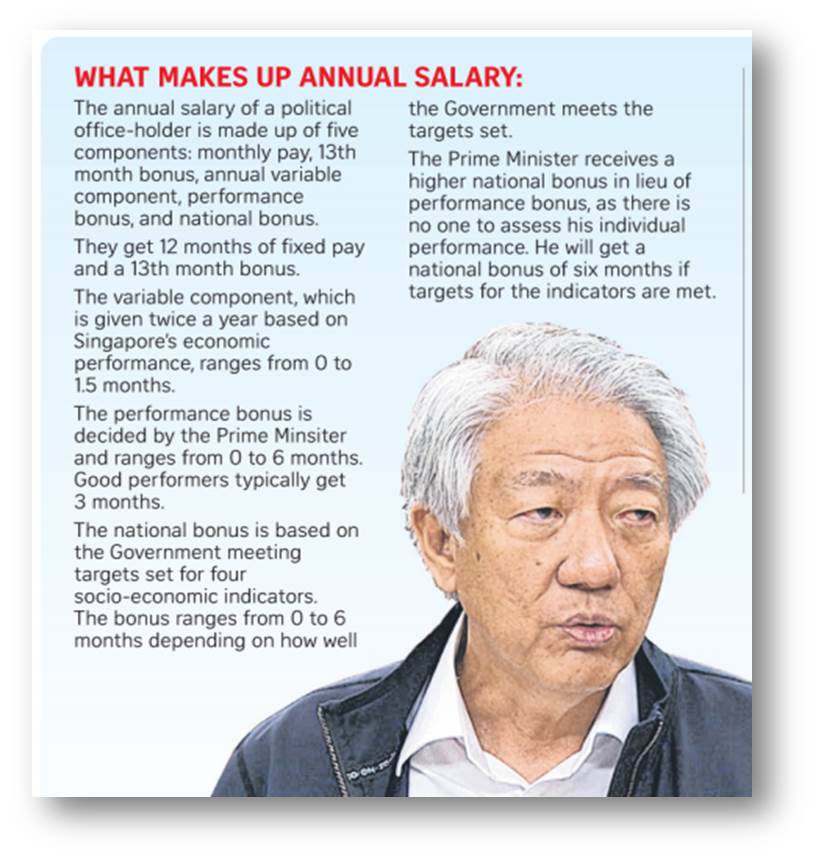 Earlier this year, Deputy Prime Minister Teo Chee Hean, the minister-in-charge of the Civil Service then, told the House that ministers' salaries lagged those in the private sector by about 9%.
The benchmark, approved by Parliament in 2012, pegs ministerial salaries to the median income of the top 1,000 earners who are Singaporean citizens, with a 40 per cent discount to reflect a measure of sacrifice in political service.
Salaries are reviewed every 5 years.
The review committee was appointed last year, chaired by Gerard Ee.
It eventually recommended to the government that salaries at the MR4 level be increased by 9%, to keep pace with that in the private sector.
MR4 is the lowest, entry level mark for ministers; and it is used to also determine salaries for all the other levels up to MR1.
The PM, for example, has his salary pegged to the MR4 level, and receives twice that amount.
Based on the committee's recommendations, the MR4 salary, currently at S$1.1m, would be raised to $1.2m, at a compound growth rate of 1.5% per year.
DPM Teo, however, said the government would not follow the committee's suggestion, as "the benchmark salary has gone up in general since 2011… [and] the benchmark salary last year was lower than that for 2016."
"Hence, the Government has decided to maintain salaries at the current level and watch salary trends further," he said.
A review will be carried out in 5 years, or sooner if necessary.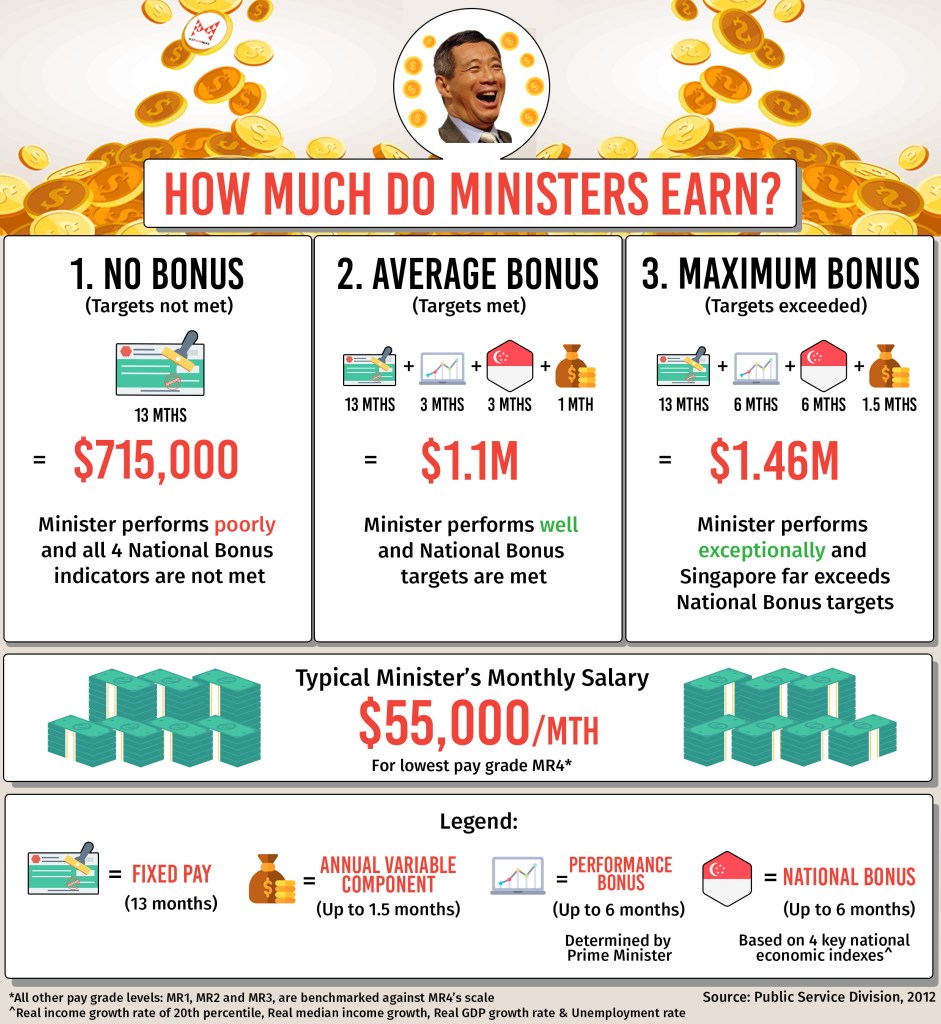 Will high salaries attract those with a heart to serve the community, as ESM Goh and the government has argued for almost 25 years?
Evidence does not seem to support such a claim.
For one, since the salary benchmark was introduced, the ruling People's Action Party (PAP) has been lamenting at every election that it was still finding it hard to attract top talents.
What does that tell you?
Indeed, ESM Goh himself has now revealed that even prior to the 2015 elections, he had difficulty recruiting such people – despite the high salary on offer.
But even if we accept ESM Goh's argument, the question would then be: how much is high enough? How much would potential recruits expect, in the name of public service?
Should we return to the time when the PM was paid S$3.7m, and the president S$4m? (The president now gets less than half of that, after the 2012 revision, at S$1.5m.)
Should we offer new ministers packages like the one Mr Li offered Mr Yeo?
Would new recruits settle for nothing less than $28m?
In short, ESM Goh should answer this question: how much is enough?
Should we follow what PAP MP Lim Wee Kiak once said: that for ministers to have "a bit of dignity" when talking to chief executive officers, their salaries must be commensurate with these top executives in the private sector?
Here was what ESM Goh's PAP colleague Lim said:
"If the annual salary of the Minister of Information, Communication and Arts is only $500,000, it may pose some problems when he discuss policies with media CEOs who earn millions of dollars because they need not listen to the minister's ideas and proposals. Hence, a reasonable payout will help to maintain a bit of dignity."
Or should we heed the words of former head of the Civil Service, Ngiam Tong Dow, who said in 2011:
"In the early days, Lim Kim San and Goh Keng Swee worked night and day, and they were truly dedicated. I don't know whether Lee Kuan Yew will agree but it started going downhill when we started to raise ministers' salaries, not even pegging them to the national salary but aligning them with the top 10….When you raise ministers' salaries to the point that they're earning millions of dollar, every minister — no matter how much he wants to turn up and tell Hsien Loong off or whatever — will hesitate when he thinks of his million-dollar salary. Even if he wants to do it, his wife will stop him."
The advice one would give is this: don't go overboard. Money is important and indeed most people would not argue otherwise. There is nothing wrong being rich. Most rich people work really hard for their keep.
But do realise that there is a difference between being a private individual and being a public servant.
ESM Goh, having been in political service since 1976, a long career indeed, should understand this more than anyone.
After all, he too stepped forward to serve the public, 42 years ago, at a time when ministers' salaries were nothing to crow about, and were never a controversial issue, until the government made it one.
Since then, the issue has been a wedge between the government and the people.
So, instead of lamenting that "ministers are not paid enough", perhaps it is time to, in fact, further cut ministers' salaries, in light of how the government itself is warning that we may not have enough to fund necessary schemes for an ageing population.
This goes to the very heart of what being in government mean, what being a leader means – having the moral authority to lead from the front.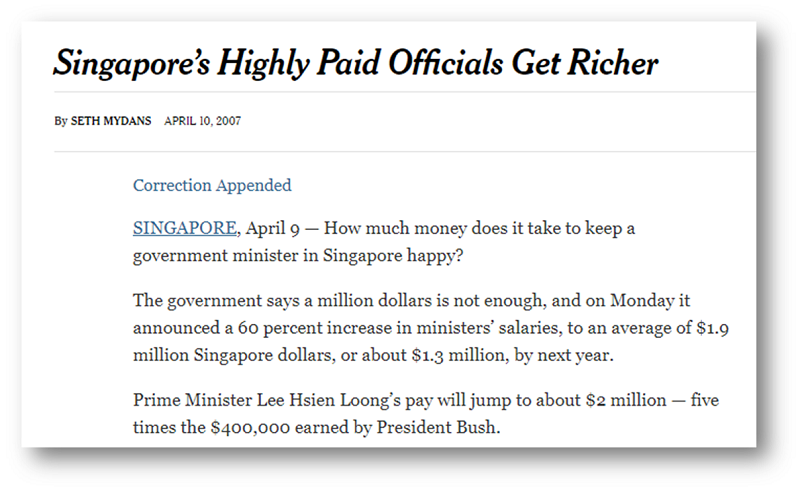 When everyone else is concerned and worried about his or her future, the last thing you want your leader to do is to ingratiate himself or herself with what you pay them through taxes.
If we pay such high salaries but can only attract mediocre ministers, we risk the danger of perpetuating a broken system which costs taxpayers millions of dollars for below-par leadership.
This, indeed, will bring the country downhill, as Mr Ngiam warned.
ESM Goh needs a reality check.
Send in your scoops to news@theindependent.sg