The daughter of a man who went missing 23 years ago has hit out at netizens who are criticising her family, after CPF Board released a clarification on why it continues deducting MediShield premiums from the missing man's CPF account.
Last Sunday (4 Aug), Facebook user Yukimi Wu shared a photo of the police report her family filed 23 years ago, declaring her father missing, and wrote: "Today has marked the 23 years of my dad who went missing in 1996. Exactly 23 years! Accordingly to his friends, last seen was at Singapore Island Country Club.
"We suspected (sic) he has been murdered but his body hasn't been found. There is no proper burial for him. We assumed (sic) he is still alive!
"Every year, CPF Board still deduct money from his account for MediShield, there is no way to stop it as we didn't have his Death Cert yet. In the records, he still alive!"
CPF Board has since responded to the case and has asserted that the family did not approach the authority for assistance on the continued premium deductions. The authority said that it treats CPF members as alive until they've been registered as deceased with the Immigration & Checkpoints Authority (ICA), in line with "industry practice."
CPF Board further asserted that Mr Boo received more in cash and CPF than the amount that was deducted for his MediShield premiums since he was presumed alive. It said:
"Regardless of whether the death certificate has been obtained, we note that in the past 23 years, Mr Boo received Pioneer Generation, GST Voucher and other government MediSave top-ups amounting to $7,000. Mr Boo also received GST Voucher and SG Bonus in cash totalling $4,600.

"Together with other government assistance schemes like GST credits (2007-2010), Growth Dividends (2008-2010), and the Grow and Share Package 2011, Mr Boo had received a total of about $15,000 in cash and CPF because he was deemed to be alive. This is more than the cumulative MediShield Life premium deductions of about $7,300."
Some netizens responding to CPF Board's post praised the authority and implied that Mr Boo's family took the money and deliberately did not declare Mr Boo as deceased: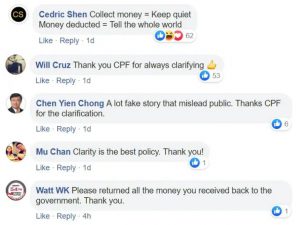 Responding to these hateful comments, Ms Boo wrote: "Please don't assume thing that you guys don't know. By saying that we take my dad's money and keep quiet. That's uncalled for.
"Up till now CPF still have let me know where they have banked in the money to or into my dad's CPF account due to confidentiality. So how can you assume that we take the money??
"Missing someone dearly without closure is already painful and you people keep adding salt into our injury assuming this and that which was not true."
Revealing that her initial Facebook post was published because she sought closure over her father's disappearance after 23 years and because she wanted advice on how to obtain a death certificate for her father, Ms Boo said that she never intended to attack CPF Board.
She added: "Few years ago, we went to see our MP regarding my dad's case. He referred a lawyer to us and the price he quote was $3000 plus and to apply for a Death Cert through High Court, needs another few thousands dollars which we can't afford the hefty fees.
"We are not applicable to Legal Aid as Legal Aid only assist when a person is earning $1000 and below. So we put this on hold since there are so many procedures to follow and still hoping… and we didn't want to face the reality since my Dad's body hasn't been found. Even he is really dead, but there is no proper burial for him.
"Now my mum's health is deteriorating with slight dementia and the flat is still under both my parents name. There more we hold on, worse might happen if my mum can't remember a single thing then there will be more repercussions later."
Calling on netizens to stop speculating that her family has taken the money and is deliberately quiet, Ms Boo added: "Just for your info. my dad has already withdrew all this OA account when he reach the age of 55, what he left is only his Medisave account, so do you think we can withdraw and keep quiet? Even CPF Board didn't want to reveal to me where they have banked the money unless I produced my Dad's Death Cert."
Meanwhile, some netizens responding to CPF Board's post asked why they revealed details on Ms Boo and her father's real name and the details of how much he has received in cash and CPF: