Train services between Tai Seng and Mountbatten on the Circle Line were disrupted due to a "signalling fault" this evening and services were temporaril suspended for about 30 minutes.
After the fault occurred around 5.55pm today, SMRT asked commuters to "look for alternative routes" as it posted additional travel times for those travelling between Stadium and Bartley stations. As the affected stretch expanded to include Mountbatten station, SMRT announced that free regular bus services were available between the Stadium and Bartley stations.
One commuter, Facebook user Aung Than, revealed that the train he was in stopped at Paya Lebar station around 6pm. About half an hour later, an SMRT staff manually opened the train doors and let those on board out of the train:
https://www.facebook.com/aungnge/videos/10212522399876871/
This latest train service breakdown comes after a relatively quiet stretch without service disruptions for rail operator, SMRT.
Interestingly, this train service breakdown occurred just three days after Transport Minister Khaw Boon Wan was spotted in a train welcoming new SMRT chief executive Neo Kian Hong to the team and a week after the Minister appeared at the Holland Village station on the Circle Line for a security exercise, giving rise to speculation that the Khaw curse has struck again.
The "Khaw curse" is what some Singaporeans have dubbed tongue-in-cheek for the alleged phenomenon of trains breaking down whenever the Transport Minister speaks about the train system or is spotted on board train.
For example, Khaw said this in 2016:

Just over a month after his post, this happened:
DEVELOPING: Dislodged door causes train service disruption on Downtown Line https://t.co/J8HIIvdQlf pic.twitter.com/HzQqgxv62I

— TODAY (@TODAYonline) October 4, 2016
Last year, the Minister published another post on how well the train system is doing: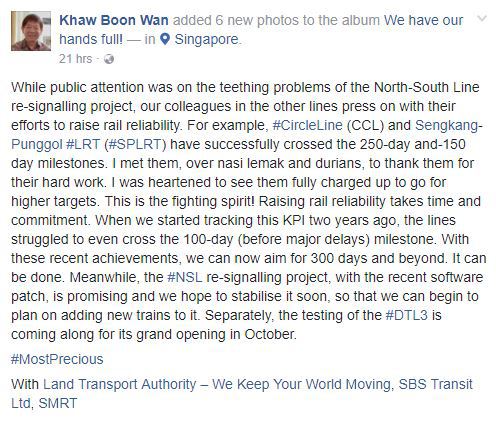 Just a day later, this happened:
BPLRT TRAIN FAULT: No train service between Choa Chu Kang and Bukit Panjang stations, says @SMRT_Singapore pic.twitter.com/4qH6DynJQE

— CNA (@ChannelNewsAsia) July 20, 2017
[BPLRT] No train service betwn #ChoaChuKang to #BukitPanjang due to a train fault. Free regular bus & bus bridging services are available.

— SMRT Corporation (@SMRT_Singapore) July 20, 2017
Such occurrences has led several memes such as this illustrating the "Khaw curse" to circulate online: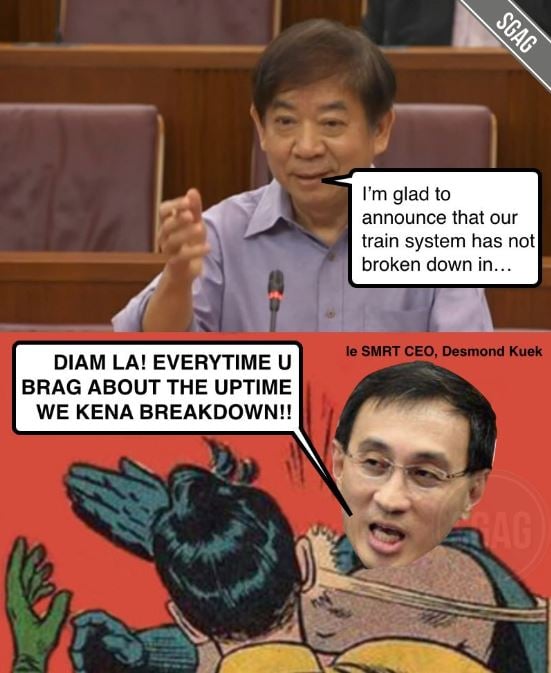 This time, at least one person was prepared for a train service breakdown when Khaw stepped into a train this past week:

Send in your scoop to news@theindependent.sg