After some 6 years at the helm, SMRT CEO Desmond Kuek finally stepped down on 1 August. His time in charge can only be described as torrid. There were major and regular breakdowns and disruptions to train services, flooding in tunnels, and even deaths on the tracks.
And above all these, there was the question of his multi-million dollar salary.
In November last year, after the tunnel flooding incident the month before where SMRT staff were later found to have doctored records, Mr Kuek revealed that there were "deep seated cultural issues" within the company.
That seems, on hindsight, to be the straw that broke the camel's back, prompting Transport Minister Khaw Boon Wan to rebuke Mr Kuek, a former Chief of Defence Force (CDF), in Parliament.
"Let me stress that growing the right culture is the responsibility of everyone – from the top leadership down to the workers," Mr Khaw told the House.
The Straits Times reported that Mr Khaw "[interspersed] his words with frequent glances up at the Parliament gallery, where Mr Kuek and other top SMRT and Land Transport Authority honchos were seated."
"I will look to the SMRT management to set the right tone of professionalism and excellence, to complement the audit systems that are being put in place," the minister said. "This is the Singapore way."
And then for good measure, to confirm that he had had it with all the screw-ups, Mr Khaw declared that the SMRT board will "review the remuneration of its senior management, from the CEO through the relevant chain of command."

It has been 10 months since Mr Khaw set down that instruction to SMRT, but nothing seems to have come out of it yet.
Mr Kuek himself has now stepped down.
A review of the salaries of the top management and in fact the board  itself, is timely, and Mr Khaw ought to be commended for looking into it.
In his 6 years as head of SMRT, Mr Kuek was paid close to $10 million, a princely sum indeed for less than satisfactory performance with regards to the standards of train services especially.
Here is a breakdown of his salary for each of those 6 years:
2012 (6 months): $611,000
2013: $1.75m – $2m
2014: $2.25m – $2.5m
2015: $2.31m
2016: $$1.87m
2017: (unknown)
Total: $8,791,000 – $9,291,000
Mr Kuek also held shares of SMRT which, incidentally, has since been delisted.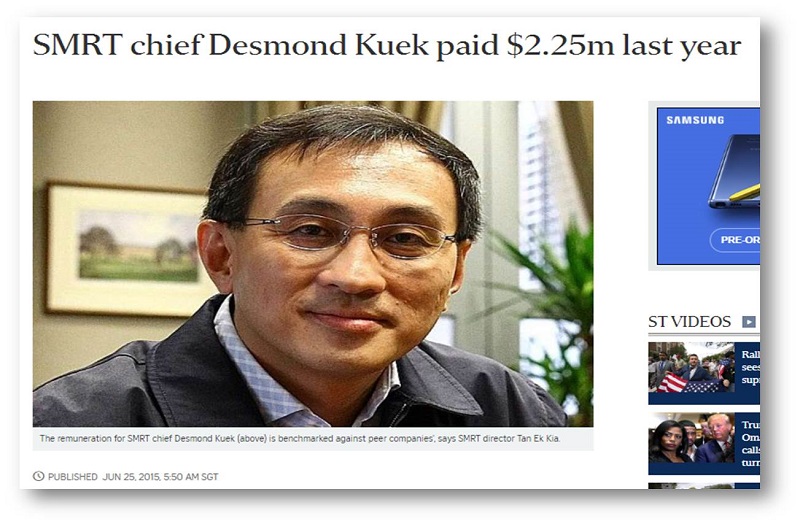 The salary paid to Mr Kuek had been more than that of the Prime Minister who is paid $2.2m, and even after a nearly 20% pay cut in 2016, he still took home the equivalent of a deputy prime minister's salary ($1.87m).
In fact, Mr Kuek was the highest-paid SMRT CEO until the stepped down this month.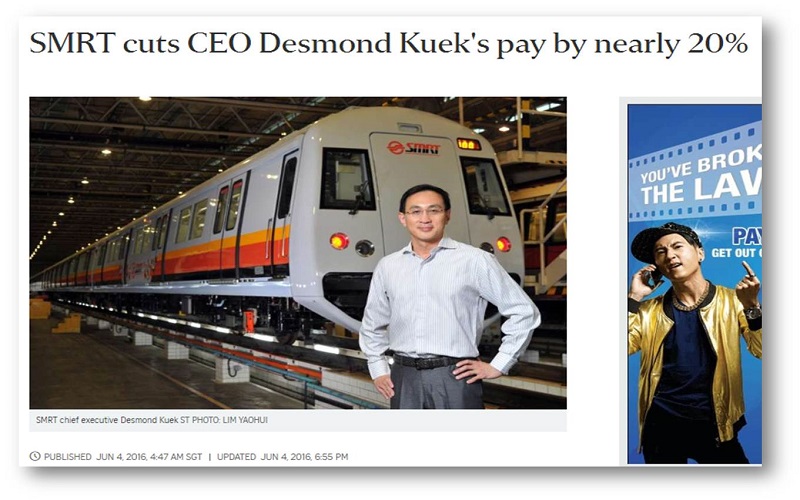 Mr Kuek has been replaced by Mr Neo Kian Hong, also a former CDF.
Mr Neo seems to have learned the lessons of the past and has revealed that he has sold his car and house and has moved closer to his new workplace. He also said he commutes by SMRT trains and other transport services such as taxis.
However, it is unknown if he draws the same salary as Mr Kuek.
We will have to wait till Mr Khaw discloses the outcome of the review, or for the SMRT's next Annual Report to know the exact figure. Follow us on Social Media
Send in your scoops to news@theindependent.sg