A video of an infuriated lady facing the debt collectors in front of her food stall at the Cheng San Market & Cooked Food Centre in Block 527 No.10 Road in Ang Mo Kio Ave circulated around the Internet, going viral.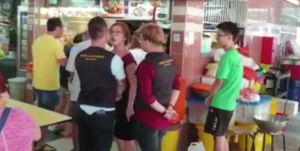 Photo: Screengrab from Facebook/King Alliance Debt Recovery
Debt collectors from the King Alliance Debt Recovery, who originally posted the video, came to see the lady to recover the amount of S$180,000 she owed from her ex-lover.
King Alliance specializes in Debt Recovery for both corporate and individual customers and is recognized as a leading Singapore-based Debt Recovery.
Debt recovery service is hardly an easy feat, as the lady got angry when the collectors stood by her stall as customers were lining up to buy food.
In the video, the lady owner, as well as another woman, asked them not to obstruct the area for the customers.
The confrontation heightened up when she threatened them with what would happen if they did not clear the pathway and in reply, one of the two collectors provokingly asked her to "try and see". The lady faced him without hesitation and dared him to take action.
Photo: Screengrab from Facebook/King Alliance Debt Recovery
When interviewed, the lady declared herself as bankrupt. She cried and complained: "The money is gone, the family is destroyed, and now there is nothing."
It was found out that the lady's ex-lover was the one who hired the King Alliance after they got separated in order to press her to return the said amount. The lady is married and had an affair with her ex-lover, a 64-year-old married businessman in 2014.
But the lady would never give to the demands due to her ex-lover's involvement with another woman, who prodded the businessman to get back the money from her.
The ex-lover even resorted to approaching the lady's husband in order to recover the debt.
She said that he did not require her to return the amount of $250,000 she borrowed from him to buy a house and there was no document signed between them regarding this transaction.
She deeply regretted what had happened to her and to her family. Her illicit affair ruined her relationship with her four children after they found out their mother's relationship with the businessman through the new mistress, after getting hold of the lady's daughter phone number.
This is not the first time the lady has been involved with regards to debt cases. In 2013, she had a dispute with married couple, who owned a neighboring economical rice stall. And in 2017, she got into a S$200,000 gambling debt resulting to her stall's closure and seizure of all equipment for liquidation.
Follow us on Social Media
Send in your scoops to news@theindependent.sg 
No tags for this post.