A Singaporean has complained that a DBS employee lied to him that he is a citizen as well. Facebook user Niwde Weis shared about the interaction on the public group '2017 不吐不快' and said:
"I asked DBS bank teller if she was Filipino, and she said yes. I asked to speak to a Singaporean, and they got a guy with less accent to speak to me. I asked him is he was Singaporean, and he said yes.

"I asked hi which camp did he go to, he said what camp? I asked which camp did he serve in the NS, he said he cannot remember because it was more than 10 years ago.

"Does any of you guys ever forget your unit?! This guy has some cheek lying to me. At this point I was beside myself with rage.

"He finally confessed he was not Singapore but a PR.

"THIS IS WHAT OUR COUNTRY HAS REDUCED ITSELF TO, no one DBS, or any of our own businesses are employing Singaporeans.

"As I am typing this, they have put me on hold for 10 min trying to find a Singaporean. Finally he came back. His boss [redacted] will call me later.

"I asked him why did he lie to me at first. He said he has been in SG for 20 years. I said that is not the same. Why did he lie, As per their training he started to become robotic: is there anything else I can help you with? Shall I arrange a call back for you?

"I said I want him to answer my question: Did he lie?! He finally said yes.

"But oh, I didn't let it go. I asked: Why aren't you a Singaporean after twenty years? He said the opportunity has not come (isn't this another lie?!)"
Tensions against foreign talent have been high, especially against DBS Singapore, after a former employee of the Singapore-based bank shared an image of a Singapore flag being ripped up to reveal an Indian flag underneath on Facebook.
The ensuing public uproar was so severe that DBS Singapore responded and revealed that it had "counselled" the staff member. The response failed to assuage Singaporeans who blasted the bank for not taking harsher action against the staff.
Several locals also said that they are planning to close the bank accounts they have with DBS. Some have even pointed out that DBS Singapore is presently led by Piyush Gupta – an India-born professional who serves as the banking group's chief executive.
Following this, DBS released another statement on the matter and revealed that the employee is no longer with the bank.
Explaining why he thinks the customer service staff's lie was so egregious, Weis compared bank staff lying to priests sexually abusing children:
"A bank must not be caught lying. A bank may be careless and entered a wrong figure, it may be poorly staffed and has slow turnaround time for services, but a bank cannot lie.

"Lying is the worst a bank can do. It is like a fornicating pastor or a child molesting priest, or an illiterate teacher. A bank cannot, must not, have a lying staff."
While some netizens responding to the post also found the DBS employee's alleged lie was egregious, some others asked Weis why he wanted to speak to a Singaporean anyway or why he just doesn't move to a different bank if he's unhappy instead of publicising the alleged lie.
In response, Weis explained that he would have the same thoughts if he was a "simpleton" but that he expects to see fellow citizens in his country.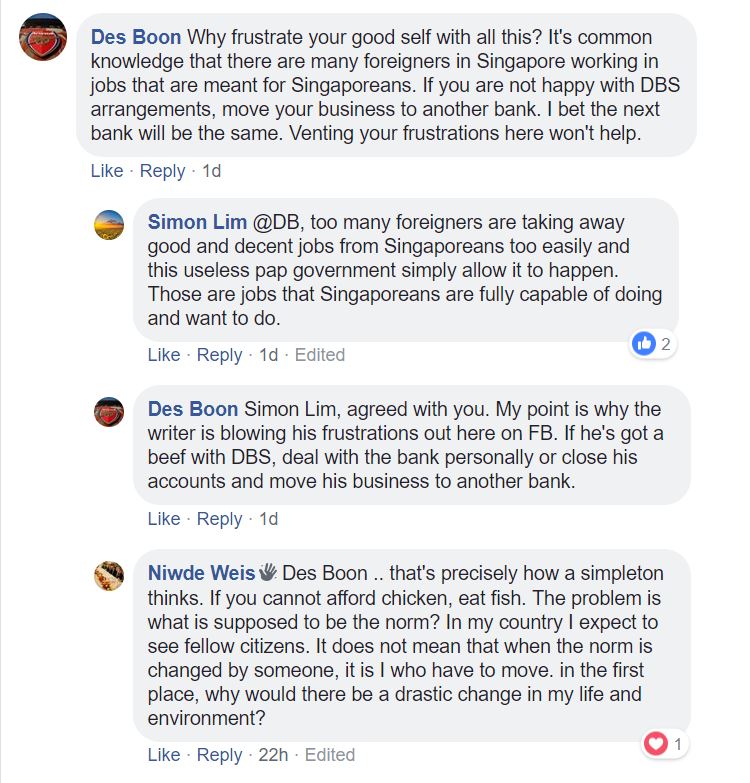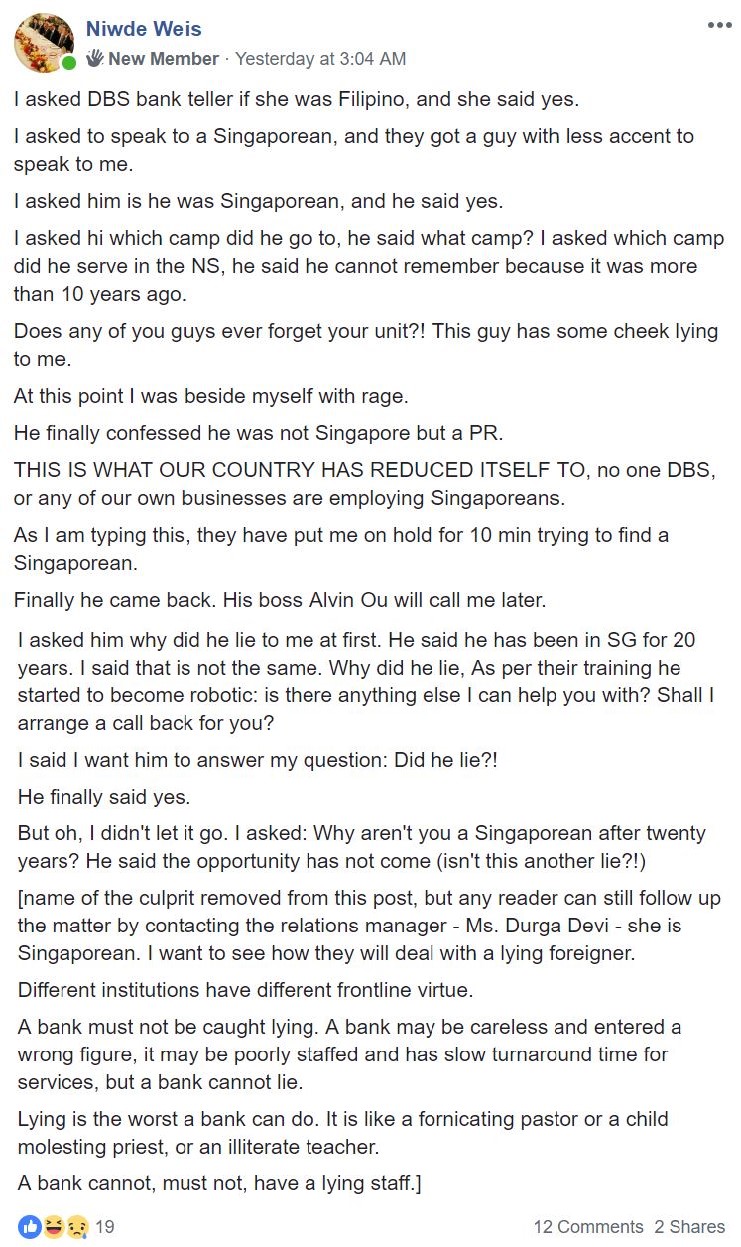 https://theindependent.sg.sg/granddaughter-of-pioneer-singaporean-blasts-ft-banker-who-posted-image-of-singapore-flag-being-ripped-up/
Send in your scoops to news@theindependent.sg