The claim by the vice-principal of St Joseph's Institution (SJI) is disturbing, ignorant and dangerous.
Ms Rachel Yeo, Research & Advocacy director of the Inter-University LGBT Network, had been scheduled to present her talk to students on inclusivity on 20 July. But just a day before she was to do so, the school pulled the plug on her appearance.
SJI later issued a statement, explaining that Ms Yeo's speech was cancelled after "further deliberations on the relevance of the speakers" to the event's theme.
The school said it was the students who organised and selected the speakers, but that they had not sought the school's approval.
"Regrettably, the teacher in charge did not go through the programme and choice of speakers before the event was finalised," SJI said.
Mr Leonard Tan, the vice-principal, then gave a 15-minute speech to students following the school's ban for the TEDtalk event.
A copy of the speech was leaked to the online media site, Coconuts.
In his speech, Mr Tan said "any form of activism is socially divisive", and that SJI has its own Gospel-driven beliefs and values to uphold.
Mr Tan added:
"It [activism] divides society. It divides a community and a principle of the Josephian is we're community builders. It goes against the very grain of what we stand for. We are community builders. We don't divide community. That is something that every one of you [have] got to think about in your journey in SJI, as you grow."
Mr Tan then went on what could only be described as a confusing rant on what discrimination is as he threw forth a slew of questions at the students.
Mr Tan's outburst, which is what it was, is inexplicable and is clearly a highly warped set of views of what activism is, as some have pointed out. But more than that, his views run counter to government ministers' public exhortation through the years for youths to get involved in issues.
One senior minister even scolded our youths for being apathetic to what goes on around them.
To have a senior educator in an established school – SJI was founded in 1852 – which has done much in educating our children for 166 years, vomit out such confused jibberish is regrettable indeed.
Activism is also important. Indeed, it is crucial, as some of our own leaders have pointed out.
So important in fact that Prime Minister Lee Hsien Loong included it in his very first National Day Rally speech.
He told young Singaporeans:
"I read that some people are asking, now that you want young people to get engaged, what is the Government going to do to get young people engaged?  Actually, we are going to wait. No, get up, do it. Nike says, "Just Do It". Engage your ideals, your ideas, your energies, build a new generation, build tomorrow's Singapore.  Don't wait or depend on the Government. Find your own leaders, organise your own solutions, move."
Organise. Move.
That could be the slogan for activism itself.
And a year later, it was Mr Tharman Shanmugaratnam, who would later become Mr Lee's deputy, who urged youths to "ask not what you can or cannot do, but do something to make a difference instead." (See here.)
Holding himself out as an example to the polytechnic students he was addressing, Mr Tharman – then the Education Minister – said he was driven by the need to 'do something' about things he was dissatisfied with.
"And I did something about it, with friends, with groups of people, writing articles, selling them, sometimes surreptitiously," he said.
The Straits Times then reported what Mr Tharman said thus:
"One does not develop a conviction and commitment to a society without first questioning and pushing the boundaries, he said. He welcomes restlessness in young people as it feeds idealism and helps society move forward."
And contrary to what VP Tan told his students – that activism divides society – the opposite in fact is true.
Former Prime Minister Goh Chok Tong lamented youth apathy in 2001. He felt so strongly about it that he scolded young Singaporeans for not caring enough about issues because they had never encountered a hostile environment.
"They have thus never had to consider seriously how their society could be improved so that their own lives could be better," he said.
"He urged more of them to volunteer for welfare organisations, self-help groups and grass-roots activities or even to make a study of community issues for school projects," the Nation newspaper reported.
If students took VP Tan's misguided exhortation to heart, we would be the lesser for it as a society and as a nation. Thankfully, his views are not held by most people, apparently, given the growing number of volunteers – including youths – at various levels.
Youths have become more involved in causes they believe in, fuelled by social media.
They have even gone all the way to Paris to fight for the environment. (See here.)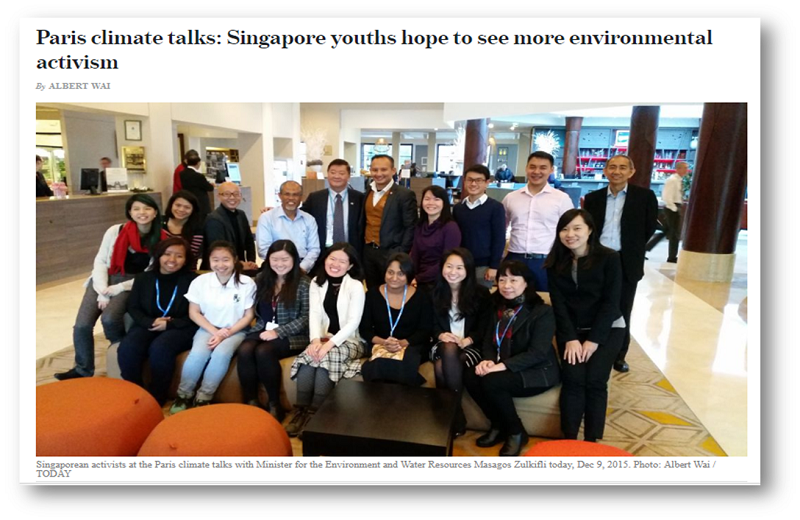 Even in politics, there have been more youth involvement, as noted by The New York Times in 2012. (See here.)
"Many of the most vocal activists are young, wired and cynical about the government's argument that it alone can maintain the prosperity and social harmony that has transformed this resource-starved island into one of the most advanced economies," the paper said.
And while there are no tools to gauge the official rate of activism in Singapore, there are proxy indicators which we can use for this, such as the rate of volunteerism in Singapore.
This author reported these statistics in 2016:
According to the National Volunteer & Philanthropy Centre (NVPC), the numbers have increased significantly through the years.
In 2000, the volunteer rate among Singaporeans was a mere 9.3%.
In 2002, it was 14.9%.
By 2010, it had gone up to 23.3%.
And two years later, in 2012, it was 32.3%.
As for youth volunteerism, the NVPC said, "Volunteerism among youths aged 15-24 saw the largest increase."
"Youths in Singapore are volunteering more. 43% and 28% of youths aged 15-24 and 25-34 volunteered in 2012 respectively, up from 36% and 21% in 2010. Informal volunteering was cited as the major reason for the increase."
In 2013, the NVPC said almost eight in 10 registered volunteers on SG Cares (www.sgcares.org), which matches individuals with volunteering opportunities of their choice, are aged between 15 and 35. (Source:TODAY.)
"Of the 32,774 volunteers registered on the website, almost 80 per cent, or 25,756 of them are youths — a 16-fold increase from the 1,599 youths registered in 2009," TODAY reported.
And in 2016, the rate of volunteerism rose to 35%.
The rate has almost doubled from 2014 to 2016. 
Earlier this year, the government said it hoped to again double the volunteerism rate in the next 5 years.
So, it is clear many are getting involved in many ways to affect change in their community, society and country, especially youths.

And that is how it should be.
Activism is a necessary and crucial part of being a community of caring and involved people. If we do not care for anything, and indeed do not step up and be proactively involved in helping to change things for the better, to help society progress in doing so, then we are nothing more than just a selfish people living in our own bubble.
It is dangerous to tell students, young people, that activism is divisive and should be avoided. Such views, if taken to heart, breeds apathy, selfishness and fear – things which do not build community but divide them and tear them apart, as our ministers have warned.
Vice principal Tan should be ashamed of what he told his students, and should spend some time to reflect on how he has arrived at such a view.
Perhaps he should search his deepest recesses and ask himself if he has confused his own biases with what true caring is all about.
He cannot talk about being "community builders" while at the same time reject the very thing that builds and improves that very community of which he and his students are a part of.Follow us on Social Media
Send in your scoops to news@theindependent.sg