A company named Drive Home Service Singapore put up an "anti-bullying awareness post" on their Facebook page after one of their drivers, a longtime valet driver named Fairuz, was assaulted by a customer identified as Mr. Ong. This customer apparently took his anger out on Fairuz after the women who accompanied Mr. Ong rejected his offer to go to Hotel 81.
The driver ended up at Tan Tock Seng Hospital after the incident, to get his neck, jaw and head checked up by medical professionals.
Fairuz met up with the Mr. Ong, another male friend and the two women at Q Pub, a bar at 1022 Sembawang Road, where he was to drive the party to the friend's house at 23 Oxley Road. However, Mr. Ong suggested that they go to Hotel 81 on Lavender Street, presumably to have sex.
The women said no to the suggestion, and would not change their minds even when the two men tried to persuade them.
Things took a turn when the valet asked the customer, "Sorry sir, where to next?" To his surprise, Mr. Ong violently hit Fairuz' face with his fist, to the point that the valet's head "banged against the car door window," according to the Facebook post.
The friend and the women left when they saw Fairuz' bloody lip. The valet called Drive Home Service Singapore, who sprung into action for their employee—calling both the police and an ambulance. They advised Fairuz to refrain from further contact with Mr. Ong.
In the post, the company did not hold back its' feelings towards the customer, writing "To YOU!! You needed a driver to help you drive. We assigned one of our most experienced driver Fairuz to help only for a small fee of $38.00. He or any of us valet drivers don't owe it to you when your lady friends rejects your advances or when you're in a bad mood!!"
Fortunately, Fairuz was "all well and back in action" some hours after the incident, as the company commented later on. However, they have filed a police report against Mr. Ong, and posted a photo of him, as well as those from the incident, on their page.
In an update to the post, the company said that they had received a call from someone claiming to be the legal representative of Mr. Ong, demanding that they take the post down, and that they issue an apology to him.
Drive Home Service Singapore is standing their ground, asking for Mr. Ong to apologize and compensate Fairuz for his injuries, and if his legal counsel wants to get in touch, he should do so in writing.
Outraged at the customer's behavior and sympathetic to Fairuz, many netizens offered to contribute to his legal fund.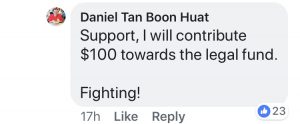 Others praised the company for standing strongly behind Fairuz.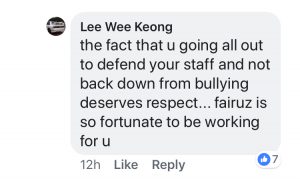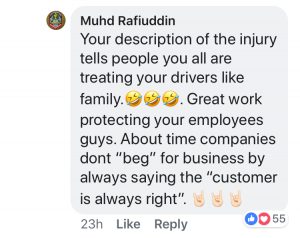 Follow us on Social Media
Send in your scoops to news@theindependent.sg 
No tags for this post.