Several netizens online are comparing the case of the 82-year-old Singaporean, who had to pay over $1,400 for cataracts surgery after MediShield Life paid out a measly $4.50 of the bill, to Transport Minister Khaw Boon Wan who bragged that he only paid $8 out of pocket for heart bypass surgery, years ago.
The elderly Singaporean, Mr Seow Ban Yam, underwent a cataract operation on both eyes at the Singapore National Eye Centre and received a bill that came to over $12,000. After government subsidies, Mr Seow needed to pay $4477 and he paid $3000 of the remainder from his Medisave account.
The elderly Singaporean thought that MediShield Life would cover 90 per cent of the remaining $1477 but the national health insurance scheme only paid out less than a measly $5 and explained that it imposes a $2,800 cap on the procedure he underwent.
This means that the maximum reimbursable amount for such a procedure each year is $2800 + plus actual ward fees of $205. This amounts to $3,005. Of this $3,005, $3000 has to be taken from the patient's own CPF funds. This leaves only $5 that is claimable by insurance. Thus, MediShield Life paid 90 per cent of that $5 – amounting to $4.50.
In 2010, Khaw Boon Wan boasted about what a great healthcare system Singapore has as he revealed that he only paid $8 out-of-pocket for a heart bypass surgery that he underwent in May, that year.
The Minister bragged in a blog post that his surgery was largely covered by MediShield and a private Shield supplement and likened MediShield and ElderShield to umbrellas during bad or even disastrous weather:
"In my recent bypass surgery, my hospital bill was largely paid by MediShield and a private Shield supplement. Medisave took care of my co-payment of the bill. My out-of-pocket expense for the hospital bill was $8 only; yes, no typo here.
"Health insurance, as a protection against hospitalisation (MediShield) and severe disability (ElderShield), is an important pillar of our 3Ms health financing framework.
"It makes sure that all Singaporeans have access to high quality healthcare.They are like our umbrellas for rainy days, or thunderstorms, or even typhoons."
Pointing out the disparity between Mr Seow's case to Khaw's, several netizens urged the authorities to return access to Medisave savings to the people so that they can take care of themselves instead of being subject to caps and limits imposed by the national health insurance schemes: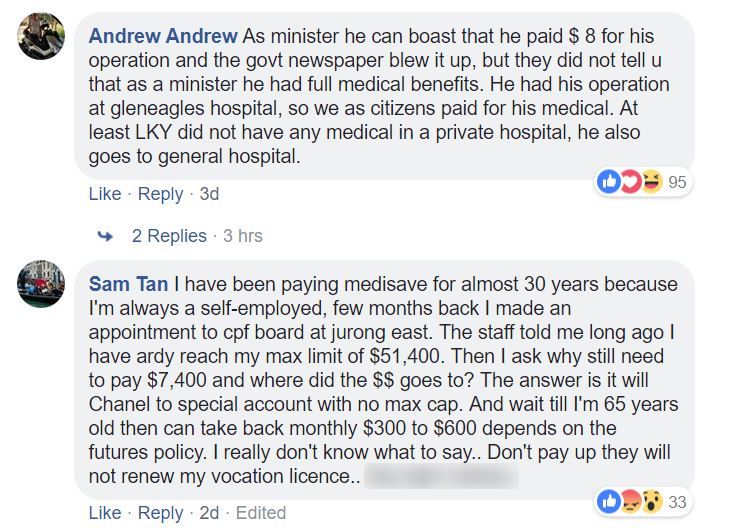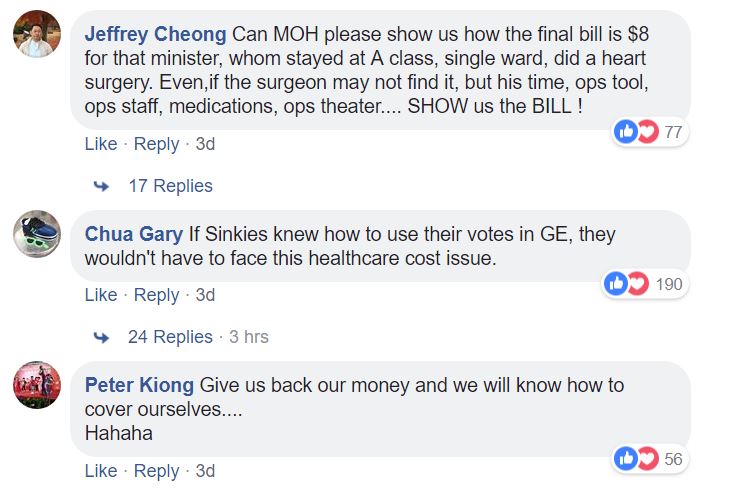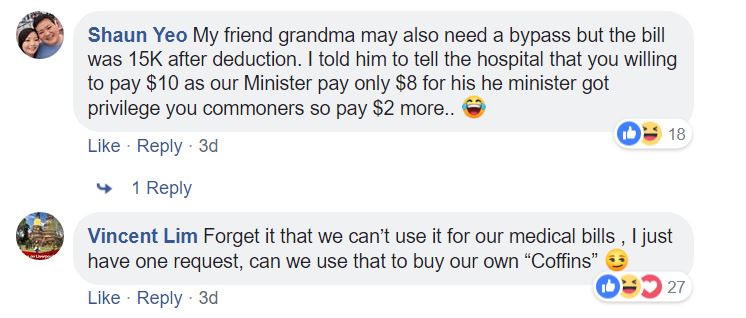 https://theindependent.sg.sg/medishield-life-paid-just-4-50-of-elderly-singaporeans-4477-surgery-bill/Follow us on Social Media
Send in your scoops to news@theindependent.sg