No good deed goes unpunished. A taxi driver who turned back after his passenger left his phone in the cab in order to return the mobile did not get a reward, or even a mere thank you. Instead he got a beating from his inebriated passenger.
The good thing was that a netizen named Getty Lai was able to catch the assault on camera.
https://www.facebook.com/getty.lai/videos/10154993134680994/
On October 12, 2017, Chen Wenyou, a Comfort DelGro taxi driver, saw his passenger's mobile phone inside the taxi after he had brought Li Yaojie, age 40, at Blossom Residences along Segar Road. He turned back and attempted to return the phone.
Thinking that Mr. Chen was a thief who had tried to steal his phone, Mr. Li punched him several times, injuring his arm and head. In the video that Getty Lai took and uploaded to facebook, Mr. Li can be seen shouting at Mr. Chen and trying to fore him out of the cab. Though there were security guards nearby, nobody came to Mr. Li's help, even if voices recorded on the video are asking them to step in. Mr. Li was then forced to drive away while the doors of the taxi were still open.
Mr. Li received a four-week jail sentence and a fine of S$5000, having pled guilty to voluntarily causing hurt to Chen and suing abusive language against a public servant.
The security called the police, who arrived after 2:00 that morning and apprehended Mr. Li.
The defendant's lawyer explained that Mr. Li had been drinking a lot of alcohol that night when he was out with clients and had been under much pressure at work.
Unsurprisingly, netizens showed little sympathy for the inebriated and violent passenger, and did not believe his lawyer's explanation for his actions.


Others expressed that they wish the S$5000 fine that Mr. Li paid would go to the cab driver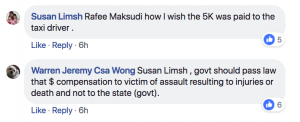 Netizens were not happy that the building's security team did not help the driver either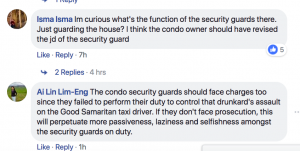 One netizen told the story of when she got her phone back, she even compensated the driver who returned it

Another netizen sarcastically said that the driver should not have returned the phone at all.

Follow us on Social Media
Send in your scoops to news@theindependent.sg