Clips of Prime Minister Lee Hsien Loong appearing exasperated at Heng Swee Keat's performance in Parliament, as he defended a motion against the Workers' Party (WP) last week, are circulating online. Mr Heng, who presently serves as Finance Minister and Deputy Prime Minister, is expected to succeed PM Lee after the next election.
Last Tuesday (5 Nov), Mr Heng moved to get Low Thia Khiang and Sylvia Lim to recuse themselves from Aljunied-Hougang Town Council's (AHTC) financial matters, in the wake of a High Court judgment that found the MPs liable for damages in the AHTC lawsuit.
Multiple parties who were present in the House and those who watched the proceedings online noted that Mr Heng struggled to defend his motion when confronted with the WP's position that they will be appealing the High Court decision in the apex court.
A visibly flustered Mr Heng fumbled and eventually called for an abrupt time-out when the WP called his motion premature. His hour-long speech introducing his motion was also called "rambling" and his closing remarks were considered "garbled" by those who were in the gallery.
PM Lee's reaction to his presumptive successor's performance is now drawing scrutiny online, with netizens sharing gifs of PM Lee appearing exasperated as Mr Heng rises to speak on two different occasions.
In the following video (around the 2:22 mark), Mr Heng gets up to respond to Ms Lim's argument that his motion is premature. As Mr Heng rises, PM Lee can be seen raising his hand in what appears to be exasperation before looking towards Senior Minister Teo Chee Hean and throwing his head back: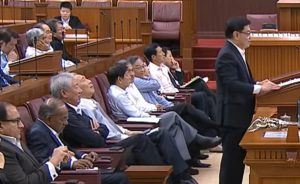 PM Lee displayed the same behaviour after instructing Mr Heng to ask for a recess. Fellow ruling party member Edwin Tong was about to address the House when PM Lee told Mr Heng to ask for a break. Mr Heng rushed to the microphone and requested an abrupt recess.
WP chief Pritam Singh protested that the House had just taken a 20-minute break. As Mr Singh addresses Speaker of Parliament Tan Chuan-Jin, PM Lee can be heard coaching Mr Heng on what to say. When Mr Heng gets up to explain why he needs the break, PM Lee can be seen again throwing his head back in what appears to be disappointment.
When Mr Heng returns to his seat, PM Lee continues to tell him what to say. Mr Tan then granted Mr Heng a ten-minute adjournment despite Mr Singh's objection. Watch THIS VIDEO from the 13:00 mark onwards.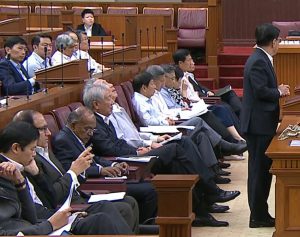 This is not the first time PM Lee has coached Mr Heng on what to say when he has clashed with Sylvia Lim.
Last year, Mr Heng and his ruling party colleagues pressed Ms Lim to apologise for saying that the Government had floated "trial balloons" on a possible tax hike. While Ms Lim was engaged in a heated exchange with one of Mr Heng's colleagues, PM Lee could be seen coaching Mr Heng on what to say at his next turn:
PM Lee looks at Heng Swee Keat

Did the Finance Minister Heng Swee Keat intend to chip into the call on Thursday morning for Ms Sylvia Lim to apologise for her comments on GST hike, or was he arrowed to do so?

Posted by The Online Citizen SG on Thursday, 8 March 2018
Criticism against Heng Swee Keat for "scoring an own goal" in motion against WP continues
Despite appearing flustered Heng Swee Keat manages to pass motion against Low Thia Khiang and Sylvia Lim
DPM Heng's performance in Parliament was a "show of incompetency by PAP 4G leadership" – Opposition party leader
Ex-WP MP Lee Li Lian criticises Heng Swee Keat's "embarrassing performance" in Parliament
Did PM Lee coach Heng Swee Keat on what to say when Sylvia Lim refused to apologise for "trial balloons" statement?
Send in your scoops to news@theindependent.sg