Singaporean-born celebrity chef Datuk Redzuanwan Ismail, popularly known as Chef Wan, found himself in hot water for threatening to slap Najib Razak, former Prime Minister of Malaysia.
Najib had claimed that under the Barisan Nasional (BN) administration, Federal Land Development Authority (Felda) had enjoyed "a golden age".
Wan, who had grown up as the son of a Felda settler, took umbrage at Najib's remarks, which he found to be far from the truth, and threatened to slap the former Prime Minister on Sunday, January 20.
He has since apologized for his remarks, but calls for boycotting the chef have been gaining traction over social media.
Felda manages the rural poor's resettlement into newly-developed areas.
Wan had gone to Sungai Koyan, the Felda area where he had grown up, in order to host a cooking show. Najib was also there, campaigning for the Cameron Highlands by-election.
Aside from saying that Felda enjoyed a "golden age" under BN, Najib also said that the current administration under Prime Minister Dr. Tun Mahathir Mohammad, Pakatan Harapan (PH) was at fault for the low incomes of the settlers in Felda, with some incomes at RM74 (S$ 24.4) per month.
Wan retorted that a "corrupt" man had been appointed by Najib to lead Felda. Under Tan Sri Mohd Isa Abdul Samad's leadership, Felda amassed RM 8 million (S$ 2.63 million) in debt and was rocked by several financial scandals.
The former Prime Minister declined to answer Wan's allegations. However, he reiterated that the financial help given to Felda settlers were not bribes.
Netizens reacted against Chef Wan and called for a boycott of his products. Wan is an ambassador of online shopping platform Go Shop, and commenters have been actively spamming its Facebook page with messages expressing their disapproval of Chef Wan.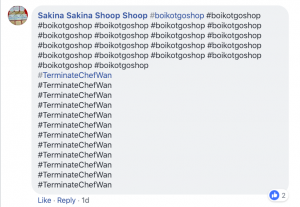 On Monday, Chef Wan took to Instagram for his apology to Najib. The Chef's settings are now private but his apology was printed in the Malay Mail.
"To DS Najib this morning I apologize openly for the coarse language that I used when I was at my angriest! But if we make a big mistake we must swallow our pride to admit our mistakes as I have done this morning. Yes, I admit I was wrong when I was possessed by the devil and got angry!"
However, the chef remained bloody but unbowed, taking aim at those who called for his boycott and defending his position.
"The truth is always the truth, and anyone who reads and understands properly what you have gone through as a child of FELDA will always support you for the truth and standby your honesty and integrity.
To supporters of DS Najib, I can only say do not be instigators, OK! You can all fly your kites la and say whatever you want to say about me as I do not care."
But other Malaysians have come to Wan's defense, including Democratic Action Party adviser Lim Kit Sian, who wrote on his website, "Chef Wan, the world-famous celebrity chef whose real name is Redzuanwan Ismail, should be the role model for all young Felda settlers in Malaysia to become world champions and not to emulate wrong models to become whether the king of kleptocracy or of trolls."
Lim went on to expound on the "three greatest failures" Najib had as Malaysia's Prime Minister in his post.
Read related: Ex-PM Najib the social media guru?
https://theindependent.sg.sg/ex-pm-najib-the-social-media-guru/
Follow us on Social Media
Send in your scoops to news@theindependent.sg